Greenhouse Polythene Prices in Kenya depend on the microns and the size, and it is usually Ksh 100 per square meter. Aqua Hub is the greatest place to buy affordable greenhouse paper in Kenya. Different greenhouse polythene films are priced differently in Kenya. With three distinct micron counts and UV treatments, our greenhouse polythene sheet variants come in diverse kinds. Low and high altitude areas may both utilize greenhouse polythene.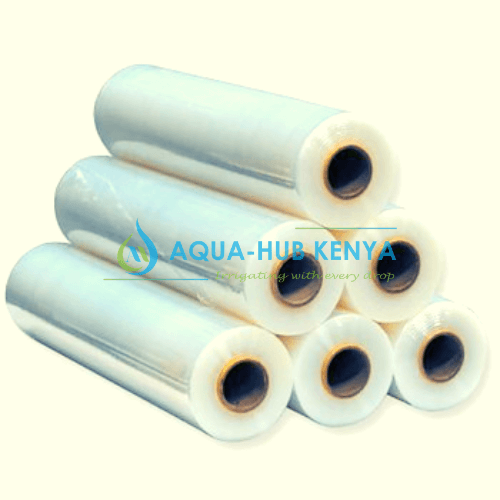 A ventilation net is useful in hot climates to promote air circulation and cooling. With crop production in mind, our polythene sheeting for greenhouses is professionally crafted. This addresses the choice of color, the weight of the paper, UV protection, and leak resistance. Whether a wooden or metallic greenhouse is used, the type of polythene paper used has no bearing on the construction. Similar to how the choice of paper color is unaffected by the greenhouse's architecture (vented or tunnel), so too. The kind of polythene cover you use for your greenhouse depends on the crop you produce.
What are the types of greenhouse polythene and their prices in Kenya?
In Kenya, we have many types of polythene greenhouses. The two basic colors of greenhouse polythene are clear and yellow. The second sort of greenhouse is milky white. The type you select will be determined by the crop you are cultivating. In Kenya, our greenhouse polythene covers cost Ksh 100 per square meter and are available in the colors shown above.
| | | |
| --- | --- | --- |
| Color | Microns | Prices (Ksh) |
| Yellow | 200 | 100/- |
| Milky White | 200 | 100/- |
| Clear | 200 | 100/- |
Types of Greenhouse Polythene and their Ideal crops
Clear (sometimes referred to as milky white) and yellow are the two primary hues of greenhouse polythene. The color options will depend on the crop cultivated. Yellow greenhouse films are ideal for colder climates and higher elevations. They are quite good at avoiding drips and fog. Growers of cucumbers and vibrant plants, mainly flowers, come highly recommended. Nectarine Clear or milky white greenhouse films are appropriate for farms in high elevations or areas with extremely low temperatures. They are somewhat warmer at night than they are during the day. They are ideal for plants like peppers and tomatoes.
| | | |
| --- | --- | --- |
| Color | Microns | Ideal climate & Crops |
| Yellow | 200 | Colder temperatures and higher altitudesCucumbers and colorful plants, primarily flowers |
| Milky White | 200 | High elevations or areas with extremely low temperatures.Peppers and tomatoes. |
| Clear | 200 | High elevations or areas with extremely low temperatures. Peppers and tomatoes. |
Aqua Hub Limited offers the best and highest-quality greenhouse polythene paper. Our greenhouse polythene paper costs in Kenya are really competitive. We also provide all greenhouse equipment required for greenhouse building. We are also a certified greenhouse installation firm in Kenya. Contact us for the greatest greenhouse offers in NAIROBI at 0790719020 or ELDORET at 0759372241.