The cost of greenhouse paper varies according on thickness. The most common is 200 microns, which costs roughly Ksh. 96 per square meter. Aqua Hub is Kenya's leading supplier of greenhouse paper. We are a Kenyan greenhouse company that sells several types of greenhouse equipment. In Kenya, the pricing of various greenhouse polythene sheets vary. We provide three separate greenhouse polythene sheet variants, each with a different micron count and UV treatment. Greenhouse polythene may help both high- and low-altitude areas. Our polyethylene for greenhouses comprises high-quality low-density polyethylene that is clear, strong, and long-lasting. It is resistant to the weather, will not rip, and allows more light in for plant photosynthesis.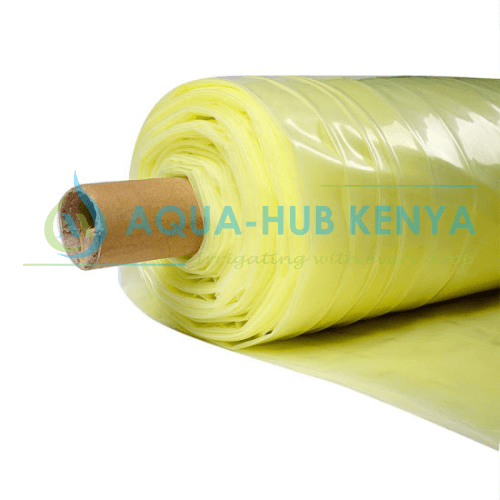 Greenhouse paper in Kenya
Greenhouse paper, also known as a greenhouse polythene sheet, is a form of plastic material that is commonly used to wrap and protect a greenhouse from the elements. The greenhouse's UV-treated polythene covering is 200 microns thick. It is available in white and yellow.
Greenhouse sheets' primary tasks are to separate the interior from the outside environment and to transmit as much controlled light as possible. The cover encourages plant development while also allowing light to get through. We use mild stabilizers to increase the tensile strength of the cover.
Our UV-protected polythene for greenhouses is extremely strong and long-lasting. They are simple to set up. The polythene covering of the greenhouse protects the crops from winds, rain, insects, and other natural calamities.
What is the cost of greenhouse paper?
Our greenhouse paper is available in three distinct colors at the same price. The polythene greenhouse cover costs Ksh 96 per square meter and is available in white and peach.
| | |
| --- | --- |
| Color | Prices |
| Yellow, 200 Microns | 96/- |
| Milky White, 200 Microns | 96/- |
| Clear, 200 Microns | 96/- |
Benefits of greenhouse paper
The major goals of greenhouse paper are to maintain the inside environment's isolation from the external environment and to transmit as much regulated light as is practical. The cover promotes plant development and improves light transmission. The quantity of light stabilizers we apply to the cover increases its tensile strength. Our UV-protected polythene for greenhouses is incredibly durable and sturdy. They are easy to put together. The polythene greenhouse roof physically shields the crops from winds, rain, insects, and other natural calamities.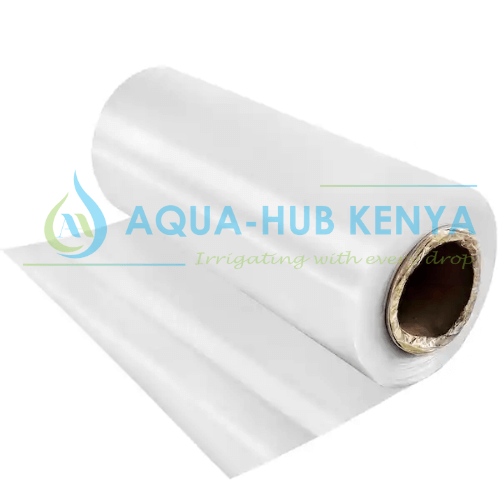 Consequently, it extends your growth season. The growth season is also extended into the winter.
Growing a variety of plants, especially high-value ones, can help you enhance your income.
Bug problems may be reduced if you grow your vegetables in a greenhouse. This includes bugs, rodents, and illnesses.
The environment is ideal for the plants to thrive.
Plants are protected from weather-related damage.
Less dangerous insecticides are employed.
Two examples of helpful insects that are protected are bees and ladybirds.
Aqua Hub Limited provides the best and nicest greenhouse polythene paper. In Kenya, our greenhouse polythene paper is incredibly affordable. We also offer all of the greenhouse equipment needed to construct a greenhouse. We are a licensed Kenyan company that provides greenhouse installation services. For the best greenhouse pricing, please contact us at NAIROBI: 0790719020 or ELDORET: 0759372241.