The cost of greenhouse drip kit depend on the size of the greenhouse. The larger the greenhouse the more expensive the greenhouse kit. However, Aqua have provide high-quality greenhouse kits at very affordable prices. Aqua Hub Limited provides a Greenhouse Drip Kit for watering crops in greenhouses. The price depends on the size of the greenhouse and the vegetables grown. Greenhouse Drip Kit is appropriate for many farmers since drip line irrigation is widely recognized as one of the best greenhouse irrigation methods. The Greenhouse Drip Kit pricing is usually in the greenhouse cost we deliver to our clients. We can also give the equipment if you already have a greenhouse.
Drip lines, filtration units, and main and sub-main pipe connections are the three most significant components of a drip kit. Drip lines allow for direct nutrition and water supply to the root zone in the greenhouse. The Filtration Unit cleans the water by eliminating impurities that may clog the emitters. The size of the irrigation system to be installed determines the type of irrigation water filter to be utilized.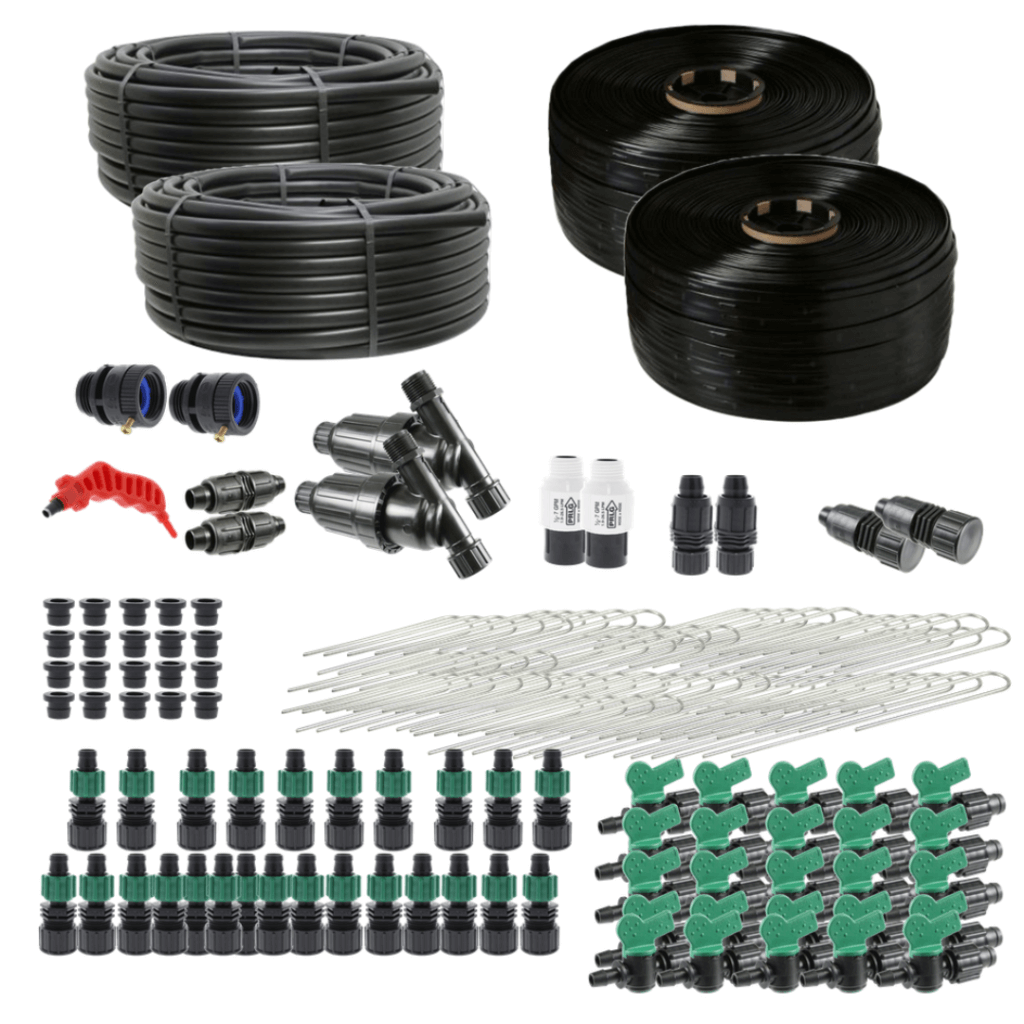 A disc filter or a screen filter can be applicable. Drip lines must be fed by main pipes that link to the farm irrigation water supply. PVC or HDPE pipes may be the most often utilized kind of pipes. Metal or wood tank stands are available. The desire and convenience of the farmer are the deciding criteria, albeit metallic ones will endure longer.
What are the prices of greenhouse kits?
Greenhouses are required for a successful farming enterprise. They are beneficial to the growth of fruits and vegetables. The cost of a greenhouse in Kenya varies according to its size and construction style. Wooden greenhouses cost between Ksh. 100,000 and Ksh. 300,000, but steel/metallic and polycarbonate greenhouses cost between Ksh. 150,000 and Ksh. 600,000, depending on size and quality of construction.
We have a variety of greenhouse sizes available. Greenhouse sizes range from 8 by 15 m to 8 by 24 m, and from 8 by 30 m to 16 by 30 m for both wooden and steel greenhouses. The price is affected by the size and kind of greenhouse. The cost of the greenhouse drip kit is included in the greenhouse quote.
| | | | |
| --- | --- | --- | --- |
| Size | Basic | Standard | Premium |
| 8×15 | 225,000 | 250,000 | 280,000 |
| 8×24 | 240,000 | 282,000 | 298,000 |
| 8×30 | 340,000 | 375,000 | 410,000 |
| 10×30 | 420,000 | 492,000 | 517,000 |
| 16×30 | 690,000 | 722,000 | 765,000 |