Aqua Hub Kenya provides Greenhouse Drip Kit that is applicable for the irrigation of crops in the greenhouse. The kit varies depending on the size of the greenhouse and the crops that you plant. Greenhouse Drip Kit is ideal for several farmers since most of them consider drip line irrigation as one of the best irrigation system that is applicable in greenhouses. In most cases, the Greenhouse Drip Kit price is together in the greenhouse pricing that we give to the clients. We can also provide you with the kit in case you already have the greenhouse in place.
Why use Greenhouse Drip Kit
The Greenhouse Drip Irrigation Kit is capable of watering up to 35 plants. This is a comprehensive, self-contained drip irrigation kit that includes everything you need to set up a functional system. This kit's drip irrigation tubing (or tape) may be cut using regular household scissors, a box cutter, or tin snips.
This kit comes with everything you need to connect to any normal outdoor water faucet or garden hose. All threaded irrigation components require just manual tightening. The image displayed may not accurately portray the things included in this package.
It comes with high-quality accessories, including a 12 mm drip line constructed of durable materials for simple administration of soluble fertilizers. The designing is for special take off because they offer lateral plugging capabilities, which are useful when there is need for partial irrigation.
What are the components of greenhouse drip kit?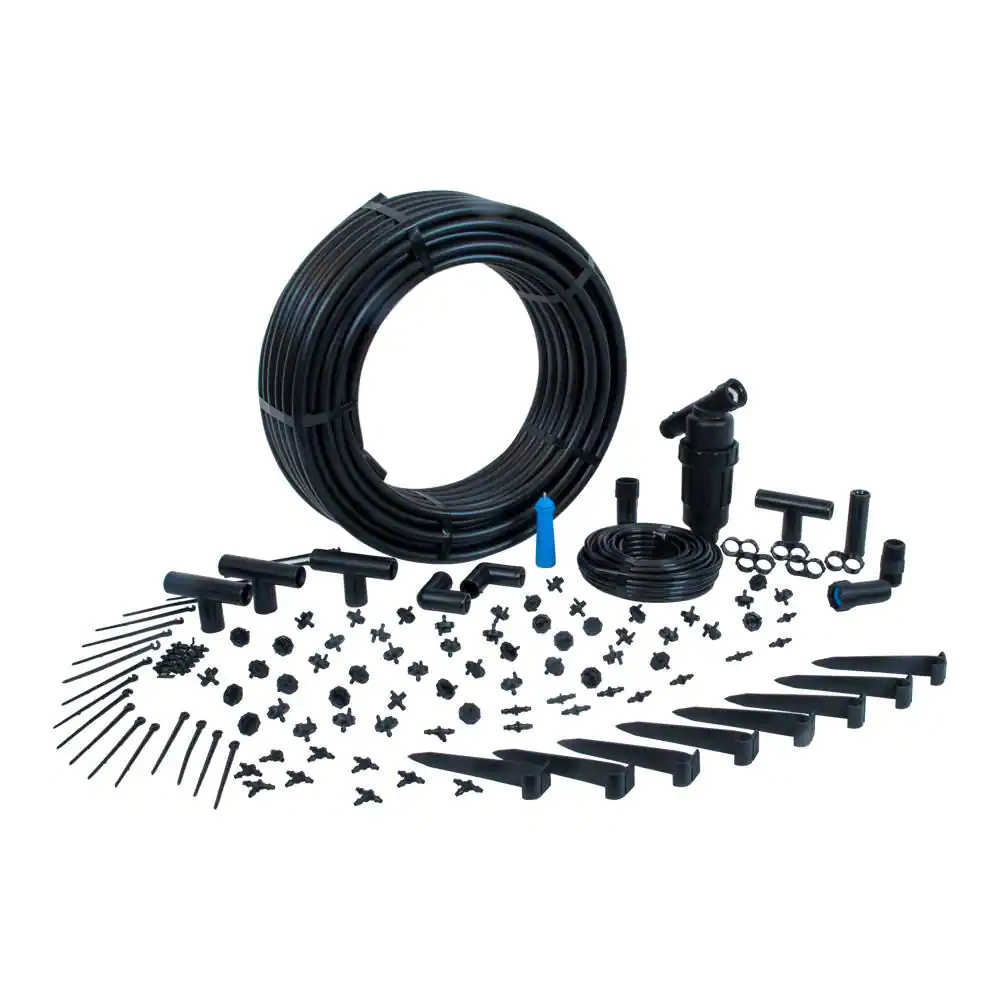 Tank & Suitable Tank Stand
Tank Connection
Filtration System
Main Pipe Connection
Sub-Main Pipe
Pipe to Drip Connections (Start connectors and Control Valves)
Drip Lines
End Lines (Drip Ends)
The tank stand can either be wooden or metallic. It all depends on the farmer's preference and convenience, although metallic ones will endure longer.
Important components of the drip kit
The most important components of drip kit are drip lines, Filtration Unit, Main and Sub Main Pipe Connection. Drip lines allow water and nutrients to go straight to the targeted area that is the root zone in the greenhouse. The Filtration Unit cleans up the water by removing particles that could block the emitters. The choice of irrigation water filter is dependent on the size of the irrigation system that one is to install. Screen filter or disc filter can be used. Drip lines should be served by main pipes which connect to the source of water to be used on the farm for irrigation. The choice of the main pipe to be used can be of two types, HDPE pipes and PVC pipes.