The best greenhouse company in Kenya is Aqua Hub. We take delight in offering reasonably priced greenhouses, greenhouse construction supplies, irrigation systems, dam liners, and other agricultural inputs to Kenyan farmers. In Kenya, we have developed a specialty in greenhouse construction. Our greenhouse prices are reasonable and reliable. Professionals from Aqua Hub Kenya design unique constructions that we guarantee to be stable.
Aqua Hub Kenya is the major supplier of metallic and wood greenhouses in Kenya. We provide two types of greenhouse structures: tunnel greenhouses and vent greenhouses. Our greenhouses are either metal or wood. The determination of cost of a greenhouse is by the materials applicable to construct it. A metallic greenhouse, for example, costs more than a wooden greenhouse since it costs more to construct and install.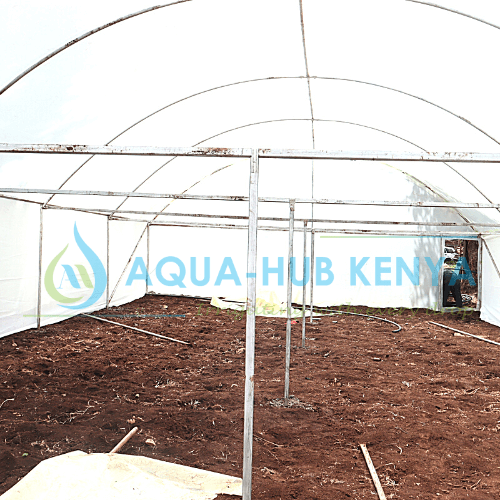 Our Quality Greenhouses in Kenya
We provide both metal and wooden greenhouses in a variety of sizes and styles. While wooden greenhouses have an A-frame design, metal greenhouses have a tunnel shape. The strong, 4.5-meter-tall frames of our greenhouses are constructed of premium materials for long-term use. In order to accommodate certain climatic conditions, we build greenhouses.
In hotter climates, we cover greenhouse structures with nets to allow for ventilation. We wrap the majority of the surface with polythene to aid in the retention of heat in cold environments. There is a 6-year lifespan and a 3-year manufacturing guarantee on Aqua Hub's greenhouse polythene. We cover with three layers of polythene to help with heat retention. They have UV protection, air pockets, and Antidrip features to resist the harshest sunlight.
Unpredictability of the weather is one of the most challenging parts of growing plants outside. Lack of rain at crucial points in the plant's life cycle will cost farmers money. Drip irrigation, an alternate farming method that we shall look at as the second technology, is used in greenhouses to prevent this. 40% of Kenya's areas are dry for a sizable portion of the year, which presents a considerable problem for outdoor farming. Then, farmers pick greenhouses with drip irrigation systems.
Another reason for greenhouse farming is the potential for diseases and pests. Insects of all kinds, including aphids, white flies, moths, spiders, and others, are common in Kenyan ecosystems. Low yields and poor quality are caused by these insects, which are detrimental to the health of the plants. Farmers turn to greenhouse farming as a solution because it keeps pests at bay and makes management simple.
The advantages of greenhouses are summarized as follows:
In comparison to regular farming, greenhouses consume substantially less water since they can store moisture.
Increases crop quality while shortening cropping time.
To suit the requirements of the plants, it carefully controls temperature and humidity.
The best place to grow high-value crops is in a greenhouse.
It is also possible to grow vegetables out of season in greenhouses.
Pest control is not too difficult.
Due to the fact that crops can grow in a range of climates, it is extremely adaptable.
The price of a greenhouse in Kenya varies depending on its size and type of construction. Wooden greenhouses range in price from Ksh. 100,000 to Ksh. 300,000, but steel, metallic, and polycarbonate greenhouses can cost anywhere between Ksh. 150,000 and Ksh. 600,000, depending on their size and quality of construction. We are a greenhouse company with a range of greenhouse sizes. The sizes of greenhouses range from 8 by 15 m to 8 by 24 m, 8 by 30 m to 16 by 30 m for both wooden and steel greenhouses. The size and type of the greenhouse affect the price.