Greenhouse for Sale in Kenya|Aqua Hub Kenya is the best greenhouse kits supplier and construction company in Kenya with a wide customer base.
We have completed the construction of 500+ successful projects and greenhouse structures for our clients in the last 3 years. We have all the greenhouse construction materials and expert technicians to conduct the site construction and supervision.
Greenhouse Farming in Kenya
Kenyan farmers have widely adopted green house farming because of assured productions all over the season. A green house environment is a controlled microclimate with hot air and very low humidity. The rate of crop growth, maturity, and production is higher in a greenhouse due to the warmth and availability of water and air for respiration.
How profitable is greenhouse farming in Kenya?
Greenhouse farming in Kenya is a viable and highly profitable venture. Most farmers can afford to start greenhouse farming to enhance high income generation in crop production, no matter how costly it can be. You can opt to start with low budget wooden greenhouses of small dimensions and keep planning for a better and bigger structure with time. The government through financial institutions and banks can offer loans to farmers who have an interest of starting green house farming.
Most parts of the country have experience high humidity, thus slow plant growth and in turn lower production. Some plants also need shade and protection from insects, pests, and diseases. Therefore, green house farming is the best solution to enhance high quality and quantity in production.
Best Crops to Grow in Green house in Kenya
Green house Tomato Farming in Kenya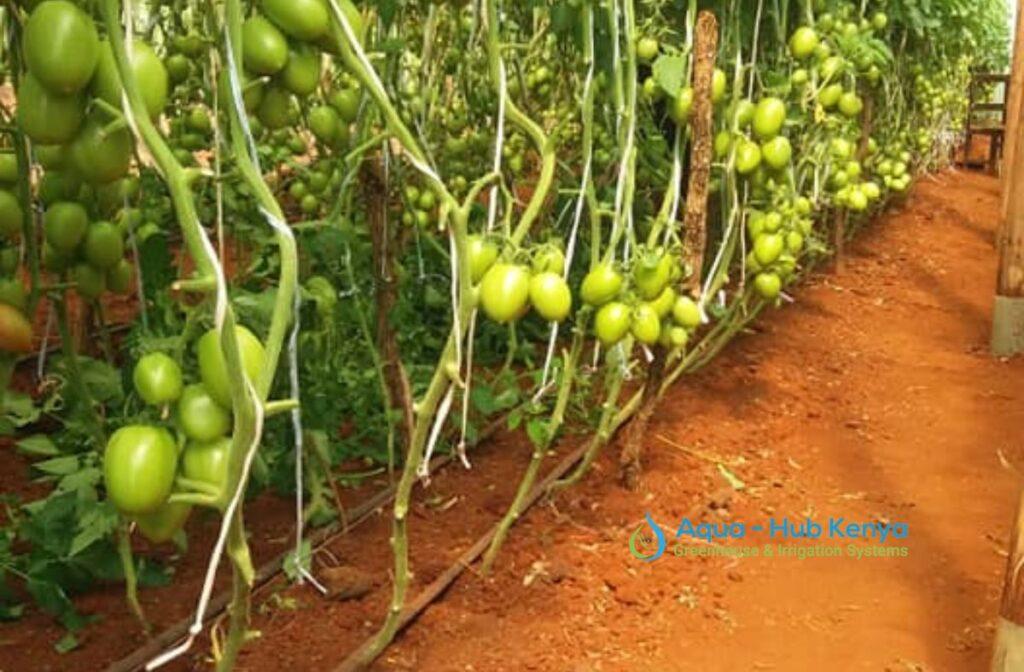 The best method of growing tomatoes is under green house farming. Tomatoes can be grown as an outfield crop, but we do not encourage farmers doing so because tomatoes are highly affected by humidity.
High humid levels cause tomatoes to grow slowly, develop blight and lower the number of tomato fruits produced. Heavy winds as well damages the stems and flower buds of tomato plants, causing a very low yield.
Tomatoes are highly affected by diseases, pests, and rodents, thus requires a controlled an environment free from pests and diseases.
Moreover, greenhouse farmers offer better support structures for tall propagation and high number of fruit production in tomato plants.
The support allows the aeration between the plants and prevent disease and rodent accumulation.
Tomatoes also needs a controlled irrigation system such as drip irrigation that applies to greenhouse farming to prevent fungal infections in foliage and buds.
Greenhouse Capsicum Farming in Kenya
Capsicum does well in a hot environmental condition such as a greenhouse.

Capsicum requires a lot of water and good air circulation for proper growth rate.
It is highly profitable and generates a high yield when grown under a greenhouse.
The harvesting season can go up to 4 times a season depending on the climatic conditions and maintenance.
Strawberries are more productive when grown under a greenhouse.

Strawberries inside a greenhouse are less affected by pests and diseases, as the green house structures protect them.
Strawberries require more water for growth and fruit. The strawberries are grown in pots or planting bags using coco peat or special soil inside a greenhouse.
This is because coco peat has a good water absorption and wetting capacity.
Normally, underground drip irrigation method is suitable for irrigation of greenhouse strawberries.
Strawberries need a temperature of 60–80 degrees Celsius, especially during the flowering period.
A large ventilation is necessary for pollination of strawberry plants.
The wind is the primary agent of pollination in strawberries and flowers inside a green house.
Strawberries require mulching paper to prevent weed accumulation.
Green house Materials for Sale in Kenya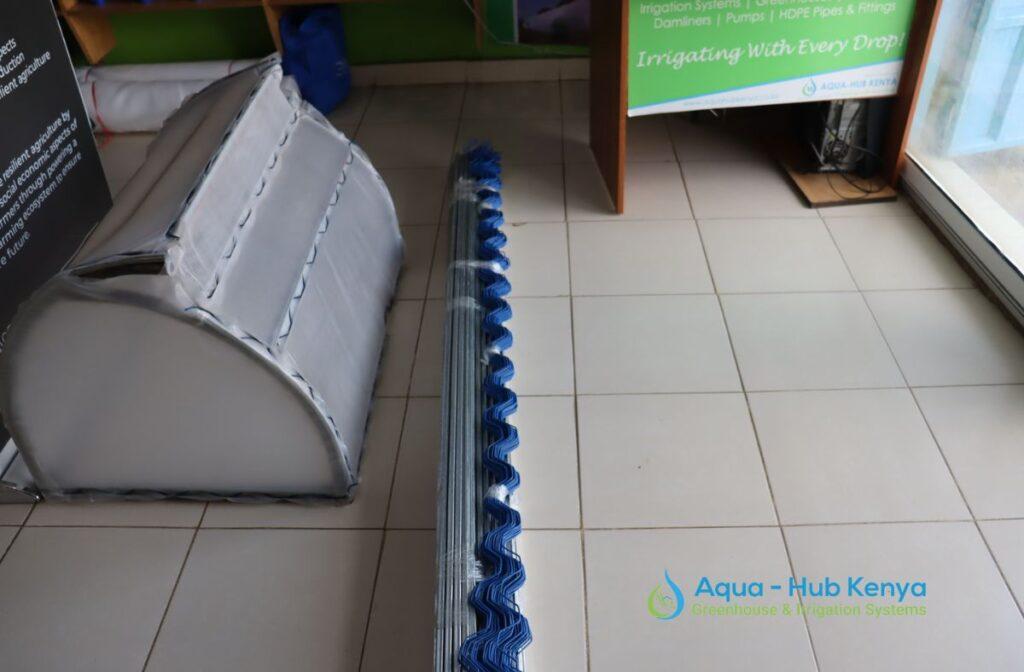 The key materials for construction and set up of a permanent green house are available in surplus at the premises and branches of Aqua Hub Kenya. The materials required and their cost varies according to the size, type, design, and quality of the green house materials.
Wooden Poles
Nails
Wooden Frames (Roofing)
Greenhouse Polythene Paper
Shade or insect netting
Cement or ballast
Tanks
Drip Kits & Pipes
Farming protective wear
Insect Nettings for Ventilation
Steel Profiles and Steel bars for the structure
Wiggle wires
Greenhouse polythene film ( 200 microns UV treated)
Insect net (ventilation)
Screws or bolts and nuts
Drip irrigation system
Water tanks and Tank Stands
Plant twines
Farming protective wear (glass, boots, helmet)
 Spraying equipment (spray pumps)
Seedling trays
Coco peat and other planting media
Greenhouse Farming tips in Kenya
Basic for a common or simple greenhouse kits are the must need or compulsory materials you should purchase to set an effective structure. These products are:
Water Tanks & Tank Stands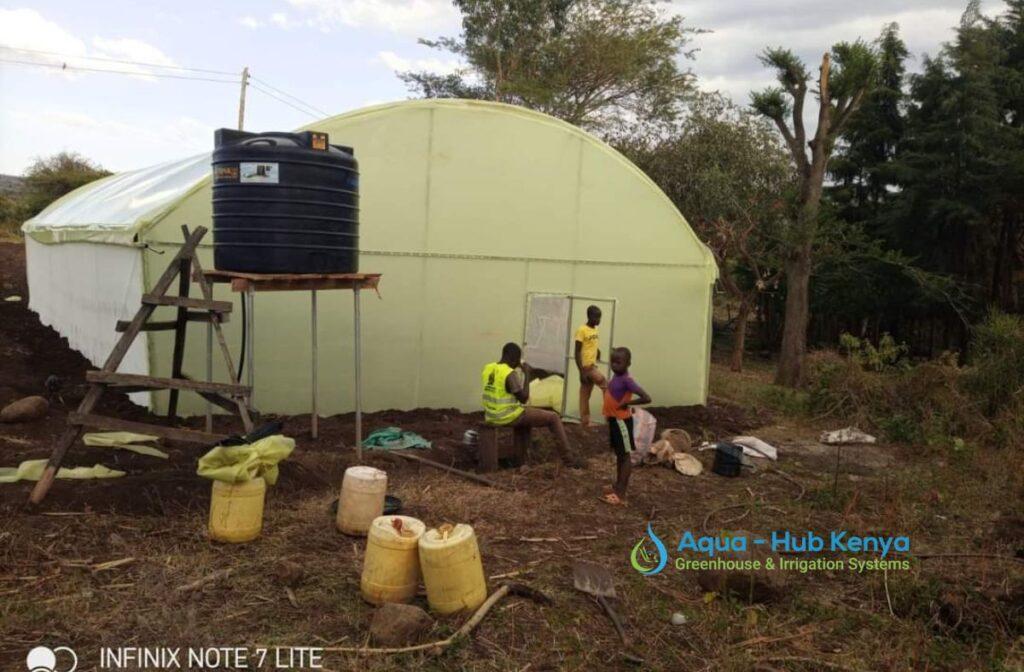 Water tanks are the best and main source of greenhouse water for irrigation. You need to buy a tank size that can store large water volume for a while. Pumping water daily is costly in terms of fuel or electricity bills. Tanks should be raised to enhance gravitational water flow in a greenhouse irrigation system.
Irrigation System (Drip Irrigation for Green houses)
A drip irrigation system is the best and reliable method of irrigation in greenhouse farming. Plants in a greenhouse kits experience high rate of respiration and photosynthesis, which always require water. The high temperature is the main reason for high water requirement.
Drip irrigation is easy to set up, takes less space and an efficient and water saving method. The use of drip also lowers the chances of diseases and infection in crops. Drip connection to the water tanks supplies constant and efficient supply of water and fertilizers to crops.
Drip kits and connection services are available at Aqua Hub Kenya at different charges depending on the greenhouse kits or farm size.
Green house Polythene covers.
Green house polythene covers are the most important part of a green house structure. They are available in 200 microns , Yellow or White. Green house polythene paper are flexible and transparent HDPE materials for covering the green house structure. The use of green house covers makes it possible for light to enter the structure and provides insulation for a hot environment.
Aqua Hub polythene covers are hard quality and suitable for wooden and metallic green houses.
Our polythene covers are HDPE plastic materials that are capable of lasting for a long time while still in good condition.
Ventilation Materials (insect nets)
Ventilations require netting materials to allow air entry while blocking insects and birds from damaging plants in a green house. Ventilations need to be big enough and fitted with a proper insect netting material to enhance aeration and temperature regulation.
We sell Shade nets materials for ventilations at different prices depending on the size.
Galvanized Steel Profiles, Wires, and Screws (greenhouse kits)
The greenhouse Structure is normally built using galvanized steel bars attached together using screws or nuts. Steel bars is strong and thus holds the greenhouse polythene covering to form a complete structure. Wires holds the greenhouse polythene onto the metal or wooden structure.
Aqua Hub supplies and fabricates steel profiles at affordable prices.
How to Construct a Green house in Kenya
To construct a green house, a client should consider all the requirements necessary for green house construction before the actual process begins. However, there are factors to consider determining the quantity of materials and types or design of green house to build.
The land should be flat
Direction of the wind should favour the green house structure
Drainage of the soil is also a key factor
Client prepares the Land for Construction. Clearing the land and digging to remove roots and rocks.
Our technicians conduct a site pre-visit to determine the suitability.
 Once determined suitable, measurements are taken and recorded.
Construction materials are packed and transported to the site according to the measurements quoted.
The actual building and erection of the structure. Steel materials galvanized and jointed together.
Polythene cover attached.
Takes up to 3 days depending on the structure and size.
Preparation of beds and planting of crops
Drip irrigation System installed.
 The green house is now fully functional.
Greenhouse kits Prices in Kenya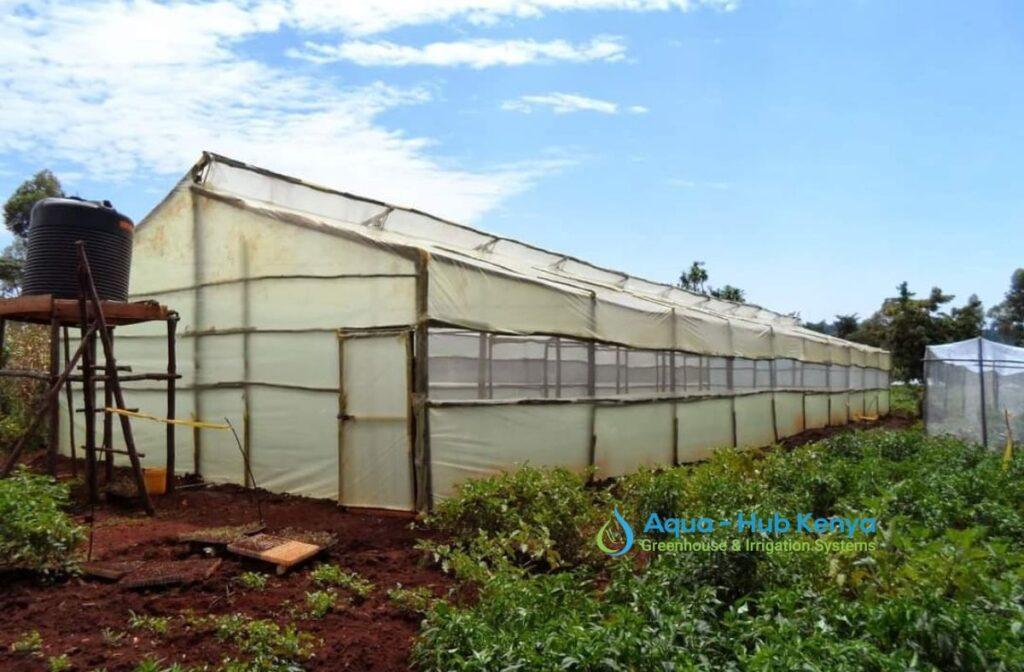 Greenhouses prices in Kenya ranges from KES. 99,000 to KES. 450,000 for the standard sizes . Both wooden and metallic structures.
Type of Greenhouse
Size in Square meters
 Cost in (KES.)

Metallic greenhouse

8mx15m
KES. 200,000
8mx24m
KES. 270,000
8mx30m
KES.  340,000
16mx30m
KES. 650,000

Wooden Greenhouse

8mx15m
KES. 165,000
8mx24m
KES. 180,000
8mx30m
KES. 240,000
16mx30m
KES. 360,000
Where to buy greenhouses in Kenya
AQUA-HUB KENYA LIMITED – 0790719020