Most farmers are embracing Drip Lines and drip line irrigation in Kenya. We have discussed this subject ;
Drip Lines in Kenya are pipes that enhance water flow in a pattern.
Drip pipes permit only a sizeable droplet of water to the plant root base. Drip kits are available in various spacings and thickness. This information is equally important.
15 cm spacing – For onions,carrots and garlic
20 cm spacing -For tomatoes,capsicum,vegetables etc
30 cm -For cabbages, Kales etc
Drip Lines Irrigation Kits in Kenya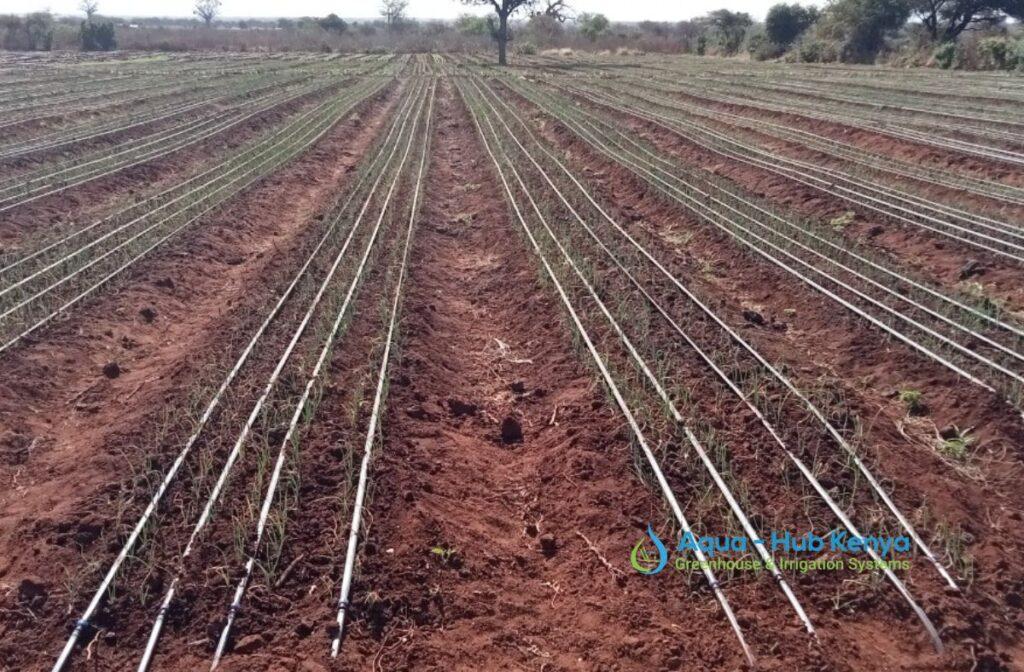 First thing to remember,drip irrigation kits are the components that make up a drip irrigation system. They exist for different crops. Some crops that are spaced sparsely would other methods such as Button Drip systems.
Materials Required for a Complete Drip Kit in Kenya 
Most drip kit components are plastic (HDPE) pipes and fittings. Plastic materials are efficient and less costly to maintain since they are not prone to rust and corrosion.
Aqua Hub drip kits are UV resistant materials, thus more resistant to radiation and cold weather conditions.
Drip lines pipes and connector fittings are hard plastic materials which cannot burst or break unless high heat is introduced or cut purposely. A complete set of Aqua Hub Drip Kit Comes with the Following items:
Tank Connection
Our drip kits have tank connection that is basic and easy to understand,Tank connector connects then female adaptor . It depends on the tank height and elbow would be introduced.
We advise our clients to provide the tank and tank stands before starting of irrigation
Filters for Irrigation in Kenya
A filtration unit is another important requirement in drip irrigation systems.
Normally drip lines clogs due to silt accumulation on the pipes leading to plant water supply challenges.
The cause of soil or sand accumulation could be a dirty water source.
Filters trap soil or particles in water to prevent them from blocking the drip line pipes.
Aqua Hub Kenya solves this problem with Screen Filters for irrigation and Disc Filters
How to connect filters for irrigation in Kenya
 Ball Corks ( Control valves ) for irrigation in Kenya
Ball corks and valves are useful to control the water passage from the mainline pipes to a section of a farm.
We divide our acres in blocks because it allows water to flow to the far end by use of gravity, different from using a pump to obtain pressure .
Another key point is to make easy your irrigation system, that is, if you have more than one crop species.
Secondly, if you want seamless drip line irrigation
Main Line and Sub Main Line pipes ( HDPE or PVC Pipes)
HDPE mainline pipes take water from the source to the branching sub-mainline pipes.
Furthermore, it acts as the main delivery to the whole farm
How to connect irrigation Pipes to drip lines
Drip pipes are flexible compared to the main pipes . Basically, this allows the drip connectors to fit and connect it to the main line ( HDPE Pipes).
Irrigation Drip laterals connectors include the following, i.e;
Rubber ( Washer) – To provide anti leakage
Drip Starters – Connects to the rubber
Drip mini valves-This connects to the drip lines and provides control mechanism
Drip End lines -Acts as the end corks for the drip line
Drip Lines
Drip pipes or drip emitters – They have holes spaced equally to enable distribution of water to plants. Our drip lines have a spacing of 15, 20 and 30 cm respectively depending on the crop or number of lines to use in a farm section.
How do Drip Kit Work?
Drip irrigation is a smart irrigation technique for balancing water supply to crops compared to other methods, because of saving water and prevention of diseases and infections.
Some fungal infections and bacterial diseases spread due to water contact in leaf foliage and fruits. Water flows through the underground mainline and sub-mainline pipes, then to the drip lines on the ground surface at the base of plant roots.
The underground layout of the mainline pipes is to enhance efficiency and avoid the pipe connection from taking much space.
Once drip starters or valves are opened, the pipes flow to the mainline pipes and is distributed to the sub mainline pipes. The sub-main line pipes distribute water to the drip pipes at the edges of the farm sections.
The level of water that is released to the ground depends on the amount of hole spacing, the diameter of the drip line pipe and the size of the holes.
Drip lines release water and only wets the area near the root zone. This prevents the growth of weeds and accumulation of pests. e.g. blight in tomatoes.
Drip irrigation has low labour requirement, only one person to open and close water connection and supervision.
Drip lines also distribute fertilizers in liquid mixture. A mixture of water and fertilizer is easily to distribute to plants, instead of manual input of solid crystals.
How to install drip irrigation kits by Aqua Hub Kenya
Firstly, prepare the land by digging and removing stones.
Secondly, Set up a tank Connection coupled with tank connector and HDPE Fittings.
Also prepare beds for installation of drip lines.
Leave a space of 1.5 m for a footpath between the beds.
Dig ditches 2 feet deep and 1 feet wide.
Lay mainline and Sub-mainline pipes on the ditches.
 Lay the drip lines 1-3 m apart, depending on the crop type.
Connect mainline pipe to the tank and to sub mainline pipes.
Another key point,Connect sub-mainline pipes to drip lines.
Finally,burry the trenches
Thereafter,start the connection to test it.
Drip Laterals for Sale in Kenya 
The cost of drip lines in Kenya depends on the Vendor, size, and length of the drip line.
However,our drip lines have a diameter of 16 mm and a full length of 1000 m for a complete roll.
Basically,we sell at an average price of KES. 8,000 per Roll
Cost of 1 acre Drip Kit in Kenya.
| | | | |
| --- | --- | --- | --- |
| Acreage ( Size of the Land) | 1 Line per bed | 2 lines per bed | 3 Lines per bed |
| 1 acre | KES. 75,000 | KES.130,000 | KES.160,000 |
| 1/2 acre | KES.40,000 | KES.61,000 | KES.71,000 |
| 1/4 acre | KES.28,000 | KES.40,000 | KES.50,000 |
| 1/8 acre | KES.13,000 | KES.23,000 | KES.26,000 |
Where to Buy Drip Lines Kits in Kenya
Aqua Hub Kenya is the best and ideal place to buy drip kits in Kenya.
Call 0790719020 or email: info@aquahubkenya.co.ke.
Drip Irrigation Installation in Kenya
We install drip irrigation kits in all parts of the country for the purpose of water holding soil. The soil should be loamy and less compact to be preventing water logging. Most parts of the country have the soil required for drip irrigation,even though lowlands have clay soil.
Conclusion
Generally,Drip irrigation offers a lucrative and great return on your agricultural investment. Aqua Hub through its quality training and affordable product offers gives you a chance to better your production with smart irrigation solutions.