Impact sprinklers are metallic or plastic sprinklers that are applicable to water land and simulate rainfall. It is the type of sprinkler for irrigation most frequently. They have a back-and-forth rotational design. The power of the water that is ejecteable propels the sprinkler head in a circular motion. The sprinkler pivots on a bearing at the top of the threaded connection nut as a result of this force.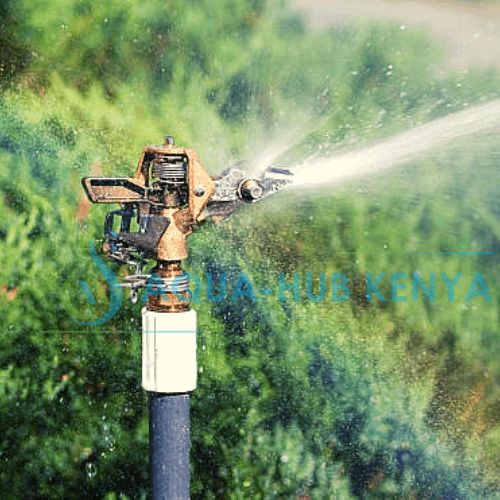 A diffuser pin that resembles a flat screw in the front may be adjustable to move the water, and another knob that regulates the total water pressure can be used to increase or decrease the distance.
How impact sprinkler works
The thread connection nut to which the sprinkler head is attachable has support by a bearing. The force of the outgoing water propels the head in a circular motion, and at least one arm extends from the head. A spring continually forces the sprinkler arm back into the water stream. There is scattering of water stream and somewhat reoriented as the arm strikes it, creating a consistent watering area surrounding the sprinkler.
Some full-circle impact heads have an additional, short-range "spreader" nozzle that covers the duty of close-range watering coverage that part-circle heads' quick "return cycle" previously served.
Water flow may be changed from a full-circle design to one with reduced coverage by moving the restricting collars. By turning these restricting collars with your fingers, you may acquire the required area of coverage.
Impact heads have a continuous flow route, which reduces their susceptibility to clogging and damage from sand and debris in the water. They are therefore appropriate for systems utilizing well water. Impact heads differ from other sprinkler kinds in that they usually invariably have male pipe threads as opposed to female threads on practically all other sprinkler types.
How to Fix an Impact Sprinkler Head
Get Rid of Simple Issues
Knowing exactly what's wrong with the impact sprinkler is necessary before you take any action to fix it. You can do a few tests to identify the issue. Check for the apparent when you perform some basic troubleshooting. Verify that the water pressure is at the appropriate level for your model. The timer is set properly. The master shutoff valve is open, the flow control is open, and the master shutoff valve is open. If any of these are off, fix them and see if the issue resolves itself.
Test your water pressure, please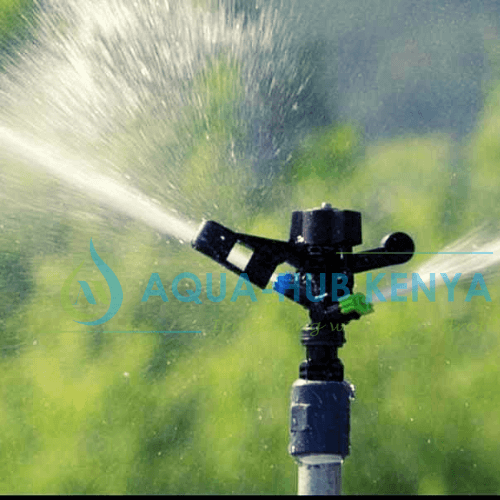 Rotational stalling of impact sprinklers is one of their most frequent problems. Go to a functional sprinkler head and stop the water flow with your hand to rule out a basic water pressure issue. If the other heads begin to rotate, you just need to raise water pressure in the system and unlock the flow control, both of which are straightforward tasks. The irrigation valves in the rotors will likely require fixing if that doesn't work.
Clear any debris from the sprinkler parts.
The sprinkler won't water your grass as it should if it is unclean or if trash blocks any sections. Check for any accumulation in or around the nozzle, swivel bearing, and inlet after removing the sprinkler. To remove debris, a tiny pin or needle can occasionally be put into the nozzle. But you should never drill into or otherwise tamper with the nozzle since doing so might result in irreversible damage. Clean any remaining water deposits with a vinegar-and-water solution after washing the sprinkler to remove oil and other debris.
Look for worn, damaged, or misaligned parts.
Examine your sprinkler carefully while you clean it to see whether any parts require replacement or adjustment. At first sight, you could see damage, so save yourself some bother and contrast the faulty sprinkler with one that is still functional. Any defective components should be easier to spot this way.
We provide impact sprinklers made of plastic and metal. We supply the more powerful sprinklers. Impact sprinklers of excellent quality and inexpensive cost are available from us. You can contact us in NAIROBI at 0790719020 or in ELDORET at 0759372241.