A significant irrigation equipment supplier in Kenya and East Africa is Aqua Hub. The tools, equipment, and materials we supply for irrigation vary depending on the system a farmer chooses. In Kenya, we use drip kits, rain hose systems, rain gun sprinklers, impact sprinklers, and pop-up sprinklers as irrigation methods. We provide and set up a range of irrigation equipment. Crop type, topography, water availability, location, and client budget all play a role in this. Aqua Hub specializes in the supply and installation of agricultural power equipment, greenhouses, agricultural nets, water pumps, irrigation equipment, and greenhouses.
The various types of irrigation equipment we provide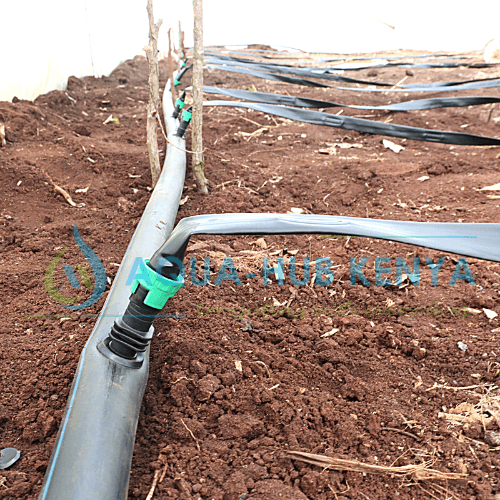 An equipment used to design, maintain, or repair irrigation systems is known as an irrigation equipment. We normally sell irrigation equipment under a few major categories, including drip, underground, sprinkler, hose, and irrigation timer tools. In order to establish overhead irrigation systems, we also have drip irrigation components including connectors, pipes, and sprinklers. Together, these devices assist to precisely manage the water flow to vegetable and flower plants.
Along with pop-up heads and sprinklers, irrigation timers, sprayers, and other underground irrigation equipment are also available from us. The underground irrigation system, one of the most common varieties of irrigation systems, uses them. Both large and small lawns, flower gardens, and vegetable gardens can use this approach. Custom landscaping projects usually make use of underground infrastructure.
The types of irrigation systems that we offer
We install and service drip lines, sprinklers, micro-sprinklers, micro-jets, rain guns, and center pivots, as well as provide irrigation solutions for a variety of crops such as fruits, vegetables, flowers, and trees, combining the benefits of low water volume with precise coverage. We provide services for any irrigation systems that you may require for your farm. Some of the irrigation systems that we offer are;
Overhead irrigation
Pivot center
Center Fertigation unit
Water measuring equipment for agriculture
Steel water tanks
Complete pump house
Consideration when selecting irrigation system
Topography
The geography of your land is something you need to consider when getting an irrigation system. Overall, your farm's slope is determined by the topography. You should be aware that some irrigation equipment cannot operate well in a location with a high slope.
However, certain irrigation systems work best on level surfaces; otherwise, watering efforts would be ineffective. It is advised that you get drip or sprinkler irrigation systems from irrigation equipment providers in Kenya if you live in a region with higher terrain.
Type of soil
The type of soil you have affects the irrigation system you need to buy. Sandy soils often have a high rate of infiltration and a poor ability to hold water. As a result, these soils require regular, modest watering treatments, including sprinkler or drip irrigation. However, you may rely on the three major irrigation methods for loam and clay soils. Clay soil, however, benefits greatly from surface watering because to its poor penetration rate.
Climate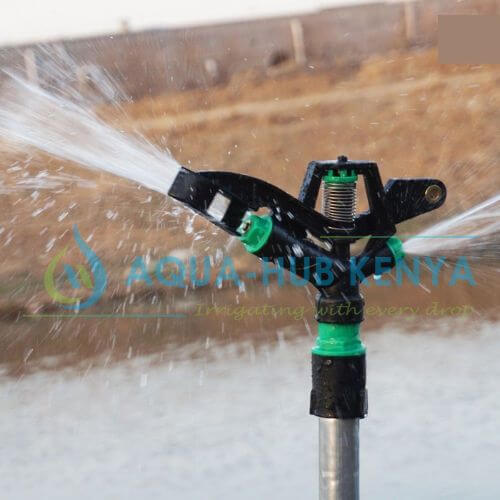 The performance of your irrigation system is also significantly influenced by the climate. Drip irrigation is the way to go if you are in a region that frequently encounters severe winds. In these circumstances, a sprinkler system may fail you miserably. Overall, sprinkler and drip irrigation systems are chosen over other types of systems due to their flexibility in meeting various watering needs on your farm.
The presence of water
You should also take local water availability into account. Water is scarce in some parts of Kenya, therefore you need to install a system that uses water efficiently, such a drip system. For places with abundant of water readily hand, the surface irrigation system is suitable.
The water's composition must also be taken into consideration. In comparison to other techniques, drip irrigation applies comparatively less water to the soil of your farm, thus you may use it if the water has dissolved salts.
Where to buy irrigation equipment in Kenya
Interested in irrigation systems? The top supplier of irrigation equipment in the nation is Aqua Hub. We are pleased with the accomplishments of our clients in Kenya and elsewhere, as well as with the general success of the agriculture industry. This highlights our company strategy, which is to promote the use of contemporary technology to improve the utilization of agricultural water and irrigation resources while giving priority to customer happiness and service quality. Contact us at ELDORET: 0759372241 or NAIROBI: 0790719020.