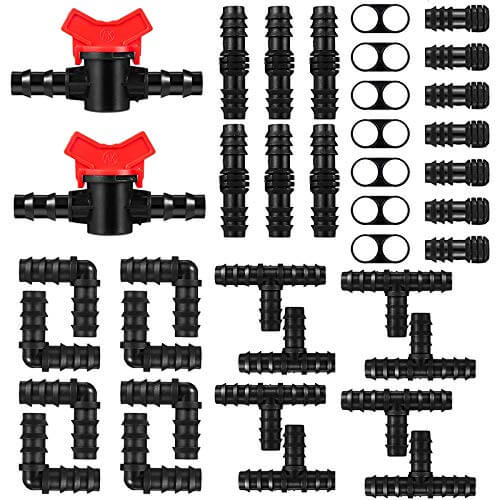 Farmers, merchants, and irrigation professionals benefit from Aqua Hub's low prices on drip irrigation fittings in Kenya. In tropical equatorial settings, drip irrigation components made of UV-treated plastic can be used in greenhouses and open fields. Our customers receive technical help from our expertise in drip irrigation. Our drip fittings are renowned for their excellent craftsmanship and straightforward installation. Using specifications from our many manufacturers, we customize them for African farmers. A drip irrigation system's fittings each have a specific function.
What are Drip Irrigation Fittings in Kenya?
Drip line fittings are a part of the drip irrigation system. They are used for joining several tube components together. You'll need the right fittings to join drip lines, tubing, and other equipment to one other and to your water supply if you're using or building a drip irrigation system to save water and benefit your plants. Aqua Hub offers one of the most comprehensive collections of drip line fittings.
What are the prices of drip connectors?
| | | |
| --- | --- | --- |
| Item | Size | Cost |
| Mini Valve(Pe to Drip) | 16mm | 45 |
| Mini Valve(Pe to Pe) | 16mm | 45 |
| Mini Valve(Drip to Drip) | 16mm | 45 |
| Start Connector( Pe to Drip) | 16mm | 15 |
| Barbed Start Connector | 16mm | 15 |
| Grommet Rubber | 16mm | 8 |
| Drip End Line | 16mm | 15 |
| Drip to Drip Connector | 16mm | 15 |
| Barbed Elbow | 16mm | 25 |
| Barbed Tee | 16mm | 30 |
Types of Drip irrigation fittings
Customers frequently ask us what tools are required for drip irrigation. This is a wonderful question, and the answer is very dependent on your circumstances, the crops you cultivate, where you reside, and other elements. To better assist you comprehend what is offered, below is a quick description. There are several components that are reachable. While emitters and tubing can supply water on their own, a drip system without fittings is nothing more than a hose with leaks. Fittings provide a more sophisticated and efficient irrigation system.
These are a few of the kinds: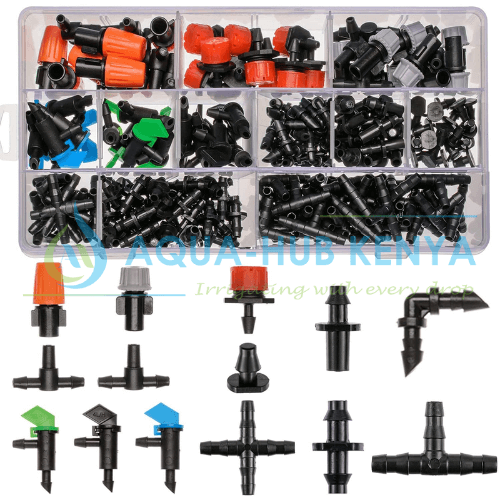 Starter connector: The starter connector is a grooved accessory with grooves on both ends. The short end is fitted with rubber to connect to the PVC or HDPE water pipe. The drip line meets the long.
Mini valve: This connects the PVC or HDPE water pipe to the drip line, just like the starter connector. It supplies water to the drip line from the mainline, just like the starter connector. The only difference is that it has a tap to control the drip line's water flow.
Rubber/ grommet: This is the seal between the water supply line and the starter connector or mini valve that prevents water leakage. The rubber of the 'H' or 'T' type works well here.
Drip Connector: It connects the two ends of the drip line.
Drip End Cap: The installation of the cap is at the end of the drip line.
When utilized in an irrigation system, our drip fittings can handle high water pressure. Even under extreme pressure, they don't leak, split, or detach. We sell them individually or as sets with drip irrigation. The correct installation of these fittings in major irrigation projects permits perfect irrigation water transit through the system to each plant. Contact information for us is as follows: ELDORET: 0759372241 | NAIROBI: 0790719020