We offer Irrigation Filters in Kenya of various diameters and kinds. Regardless matter how pure your water seems to be, it must be filtered for irrigation. There is need for irrigation filter in every irrigation system. A filter guarantees that no pollutants enter the water and clog your drip kit emitters, causing losses. Irrigation water filters are an important part of every irrigation system. They collect dirt and debris that might otherwise block the system and prevent water from flowing freely to the crop.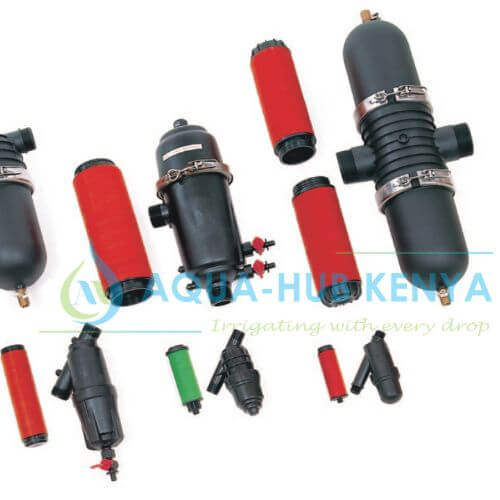 A micro irrigation system's heart is the filtration unit. Regardless of how pure the input water is, a filter offers an added layer of protection against particles entering the irrigation system. Drip emitters can become clogged by even minute particles in the water. Unfortunately, most of the time we don't discover a blocked dripper until we see a plant wilting, and by then it's too late. We strongly advise that you install a filter on your system. Every one of our drip irrigation kits comes with a filter.
Irrigation Filters in Kenya
Irrigation water filters are agricultural instruments applicable for irrigation that we install into the main water supply system. Where a clean irrigation water system is to be used, water filters are usually used. As a general rule, a clear irrigation system requires clean water that is free of debris. When debris enters the main water supply line, it causes clogging of drip emitters. This is the primary reason why irrigation water filters should be included in every drip or micro sprinkler irrigation system, as well as any irrigation system that requires pure water.
A sprinkler system's lifespan is increased with filters. They are essential, especially for drip kits since they guard against emitter obstruction. Water is seldom seen in its purest form. Sometimes physical, chemical, and biological contaminants are present in the same water. Your irrigation system's filtering needs must be met, which is why Aqua-hub Kenya offers a variety of filters. These filters protect plants against a multitude of illnesses that are spread by dirty water, which is a major ecological concern. They assist you in purifying your water by removing physical contaminants like leaves.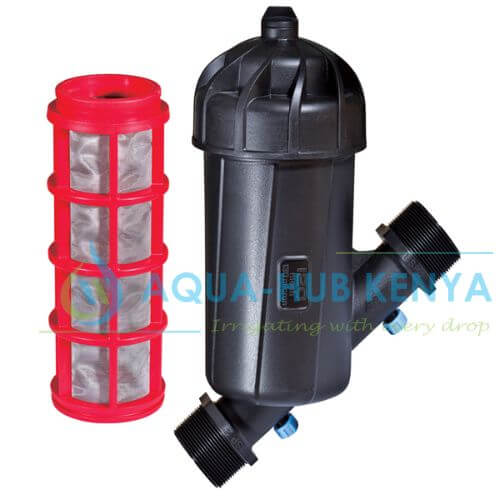 Types of Irrigation Filters in Kenya
In Kenya, we offer you a selection of irrigation filters. The elements employed determine the types of filters. Screens and discs are the two basic categories of filter components. The substance you are removing from your system will determine whether you use a screen or disc filter.
A disc filter is the most frequent form of water filter used in irrigation. They are high-capacity filtration devices that operate from inside. The unclean water is poured into a central drum before being ejected via discs. They are composed of woven filter fabrics that filter particles from the influent stream.
It's a filter, just like any other, and its purpose is to keep suspended particles. It all started with an idea to filter irrigation water. And it eventually found applications in all water-related industries. Disc filters can be argued to have evolved from basket-type filters, which employ metal mesh as the filtering media.
| | | |
| --- | --- | --- |
| Filter Size in (mm) | Coverage (Acres) | Cost in Ksh |
| 25 mm | Up to ¼ Acre | 1,300 |
| 32 mm | Up to ½ Acre | 1,800 |
| 50 mm | Up to 2 Acres |  3,000 |
| 63 mm | Up to 5 Acres | 14,200 |
A screen filter is a sort of filtration system that separates aggregates and other fine particles from water for irrigation using a constrictive or flexible screen. Farmers whose water is provided by gravity are most likely to utilize this filter. It uses a cloth-like screen composed of plastic or steel gauze to filter water at low pressure. It is simple to maintain screen filters by periodically cleaning the screen inside to remove accumulated dirt and other particle material. The least expensive, they cannot function in extremely contaminated water since they clog quickly.
| | | | |
| --- | --- | --- | --- |
| Filter Size in (mm) | Coverage (Acres) | Mesh Rate | Cost in Ksh |
| 25 mm | Up to ¼ Acre | 120 | 900 |
| 32 mm | Up to ½ Acre | 120 | 1,200 |
| 50 mm | Up to 2 Acres | 120 | 2,600 |
| 63 mm | Up to 5 Acres | 120 | 3,550 |
Buy the best quality Irrigation Filters in Kenya at Aqua Hub Kenya, available in various sizes at affordable prices. Contact us for more information: NAIROBI: 0790719020 | ELDORET: 0759372241