1 Acre Drip Kit in Kenya is specifically designed to ensure that you consume less water while increasing your output. A successful Drip Kit for 1 Acre design must take into account a number of factors. Efficiency, dependability, and consistency are the three main factors you take into account while designing drip kits. When growing crops for commercial purposes, consistency is essential, since changes in the water supply directly affect how consistently crops grow.
Aqua Hub Kenya provides drip kit solutions in 1 Acre, 1/2 Acre, 1/4 Acre, and 1/8 Acre increments. We have unique offers on kitchen garden drip kit systems. Prices differ based on the crop. This is due to the fact that each crop requires a varied number of rows/lines per bed. The width of the planting beds varies depending on the crop kind. The 0.8M wide beds are for 1 and 2 drip row crops. Beds are 1M wide for three rows of drip crops and 1.2M wide for four rows of drip lines. The larger the crop, the more rows, and the wider the bed.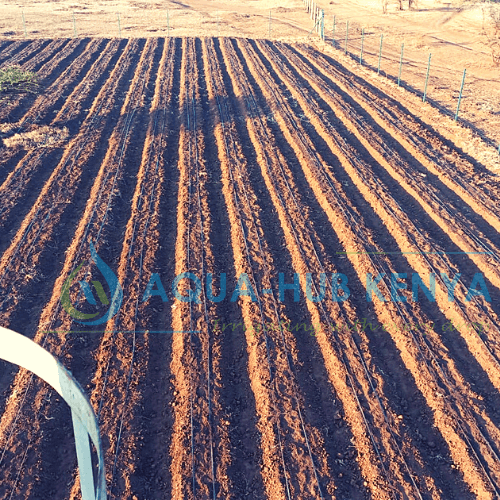 Components of 1 Acre Drip kit in Kenya
Tank & Suitable Tank Stand
Tank Connection
Filtration System
Main Pipe Connection
Sub-Main Pipe
Pipe to Drip Connections (Start connectors and Control Valves)
Drip Lines
End Lines (Drip Ends)
What is the price for Acre Drip kit?
A Drip Kit for 1 Acre can cost anything between 65,000 and 130,000 Kenyan Shillings. The price depend on how many drip lines are per bed. The cost is typically less expensive when only one drip line is provided per bed than when three lines are. It is important to keep in mind that depending on the type of crop you grow, you need different amounts of drip lines for each crop. There should only be one drip line per bed for some crops, two for others, and so on. Tomatoes, capsicums, sukuma wiki, and other plants do well with two drip lines. Three drip lines are included in each box of drip irrigation for beds of garlic and onions.
| | | | |
| --- | --- | --- | --- |
| Size / Lines Per Bed | 1 Line | 2 Lines | 3 Lines |
| 1 Acre | 66,500 | 96,500 | 133,000 |
Suitable crops and required drip lines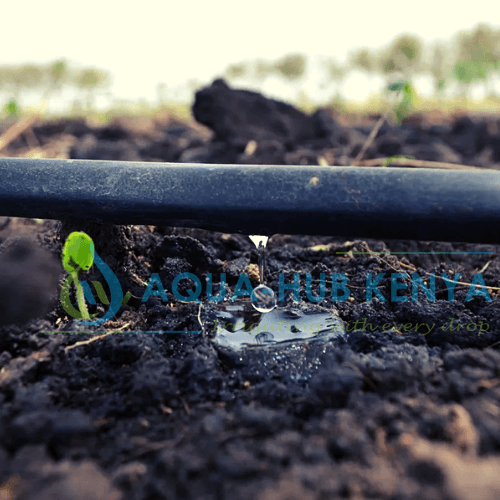 When calculating the number of drip lines needed per bed, we must consider the crops that will be grown. Crops require variable quantities of water and are planted in a variety of methods. As a result, although some beds may only require one drip line, others may require multiple. Watermelons benefit from a drip kit with one line per bed. Capsicums (Pilipili Hoho), cabbages, tomatoes, maize, managu, spinach, and sukuma wiki can all benefit from a drip kit with two lines per bed (kale). The three-line rip kit is great for onions, carrots, and garlic.
Life expectancy is high.
Drip irrigation is the most efficient and cost-effective irrigation technology for a wide range of crops.
The drip lines feature unique single chamber polyethylene tubes with an injection-molded dripper attached to the inner wall.
Each dripper has a filter intake to ensure optimal clogging resistance.
The distance between drippers can be adjusted between 10 cm, 15 cm, 20 cm, 30 cm, 40 cm, 45 cm, and 60 cm. 
It is suitable for all crops and climates.
It is not affected by agricultural fertilizers or chemicals.
Aqua Hub provides Kenya's best and most economical Drip Kit for 1 Acre. We also provide advice on which crops are most suited to each form of drip irrigation. For further information, call NAIROBI at 0790719020 or ELDORET at 0759372241.