Greenhouses in Kenya
Aqua Hub Kenya offers the best and most affordable Greenhouse and Shade Houses in Kenya because the concentration is to provide a one-stop-shop for all irrigation and micro-irrigation services in Kenya and Africa at large. We interact with farmers from various divides across our counties providing the most digitized farming techniques through greenhouse farming. Most of our customers enjoy the most rated markets of quality fresh produce from their farms.
Installation Process
Firstly Greenhouses in Kenya can be wooden or metallic in structure. Aqua Hub Kenya Limited helps the farmers and stakeholders by carrying out the site visit surveys, design, and installation of the most suitable greenhouses with respect to the area of interest. This happens because we treasure and value customer specifications so as to enrich and offer quality services. However, our team may consider taking a number of days during the installation process depending on the type and size of the greenhouse in question. In conclusion, it takes a minimum of 3 days and a maximum of 15 days for construction units to be finalized and commissioned by our teams.
W

hy

choose greenhou

se
L

onger

growing seasons as the sun

'

s radiation are trapped in the structure, therefore,

retaining the heat hence ensuring they can be used even in a cold climate

M

ore

plant o

ptions.

Y

ou

can grow a variety of plants as it provides an environment to

experiment with

new pl

ants that are not found in the local

area

W

eather

protection ensures your crops do grow all year long that

guarantying

productivity

P

est

and destructive animal protection.

T

he

safety of your crops ensures returned

yields

S

aves

energy and investme

nt.
S

pecifications

of Greenhouse Polythene
T

hickness

–

200

m

icro

n

s.

D

imensions

–

available

from 4 meter

s in

width to 16meters.
There are UV–stabilized and can therefore withstand the harsh tropical climates
A

vailable

colors include;
Y

ellow

C

lear

M

ilky

white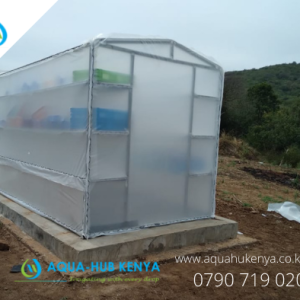 Solar Dryers
Aqua Hub Kenya offers the best and most suitable dryers for commercial use. Our dryers are mainly for fruits and vegetables and other special foods on demand.
Components of our dryers 
Greenhouse polythene ( UV-Treated, 200 microns )
Steel / Wooden Structure ( With specific measurements to suit the volume of the matter to be dried )
Ventilation and Shelving netting ( UV-Treated )
The black substance absorbs heat ( Dam liners )
Ventilation fans ( Special cases )
What are the Measurements we have?
In most cases we tailormake our installations to quench customers needs but the most basics are ,
        1.5 m  x 1.5 m x 1m
      2 m x 2 m x 1.5 m
     3 m x 2 m x 2 m
Read More below including our prices.