Depending on the size, insect net prices in Kenya range from Ksh 10,000 to Ksh 20,000. The cost of insects in Kenya varies according to the size that you need. Our insect nets provide complete protection against all insect pests that harm developing crops at any stage. We rank among the top manufacturers and suppliers of bug nets in the nation. Our insect nets are affordable and of excellent quality. It is suitable for organic farmers since it lowers the price of pesticide use and the time needed for agricultural spraying. At Aqua Hub Kenya, you can purchase insect nets at reasonable costs. Available in various textures and sizes.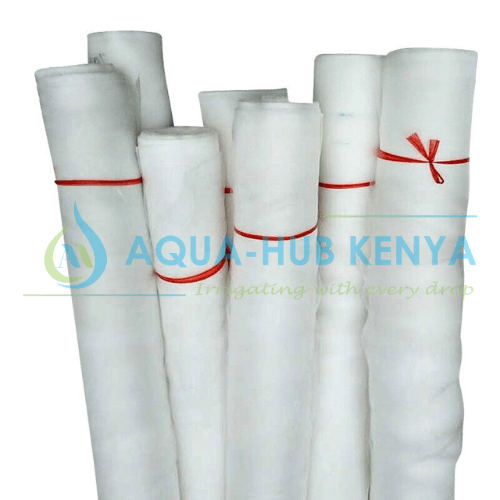 What are insect nets?
Ant-insect nets are made of a thin cloth that resembles a row cover but is more porous and thinner. Use insect netting over crops when there is no need to insulate them, especially if there is a lot of pest or bird pressure. It does not obstruct rain or overhead irrigation and transmits up to 85% of the sunlight that is available.
Insect nets are important for reducing crop damage by keeping pest insects out of greenhouses and net houses. For the construction of inexpensive greenhouses and net houses, anti-insect greenhouse net is advised. It has the potential to reduce pesticide use by up to 80% while increasing vegetable yields by up to 40%.
The Net, a High-Density Polyethylene (HDPE) net, can be used to shield cultivate horticulture crops. This contains vegetables, fruit, and ornamentals to shift microclimates and keep pest insects and birds at bay.
What are the insect net prices in Kenya?
| | |
| --- | --- |
| Size | Price (Ksh) |
| 2.5 x 50 m | 10,000 |
| 2.5 x 100 m | 20,000 |
| 3 x 50 m | 13,200 |
| 5.5 x 30 m | 12,375 |
It has UV treatment. This stops UV rays from bouncing off crops and prematurely degrading the net. The net has a useful life of six years.
The surface of white bug netting is extremely reflective and repellent to insects.
They are available in two pore sizes: 0.4mm and 0.9mm. The former repels even the smallest insects, such as white flies, whilst the latter's pore size may not. Agricultural insect nets with 0.4mm pore widths are used for crops that are economically harmed by such insects. Tomato and sweet pepper are two examples. Herbs and tree crops, which do not attract white flies, benefit from 0.9mm. The 0.4mm net is 20% more expensive than the 0.9mm net.
Depending on the size of their project, growers can choose between two widths: 3 meters and 5.5 meters.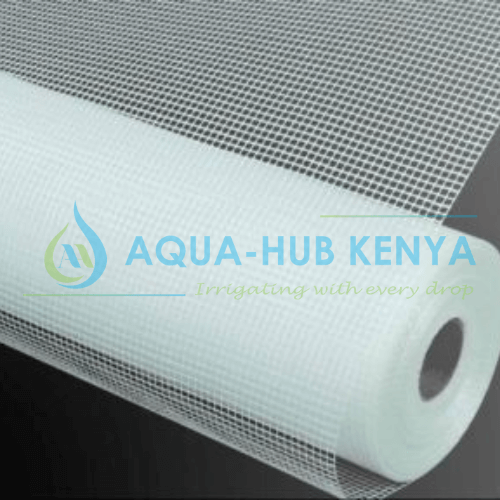 What are the benefits of insect nets?
The primary function of bug netting is to keep insects out by acting as a physical barrier. It will keep the majority of insect pests away from your crops as long as the plants are completely covered and the edges are firmly pinned to the ground. They may keep aphids, Japanese beetles, grasshoppers, leaf miners, cabbage worms, root maggots, and certain vine borers at bay.
It is suited for organic farmers and helps to save expenditures and time spent on the farm spraying insects.
In greenhouses, an insect net can help keep pest insects at bay.
Useful for building natural solar dryers. Bug nets cover the airflow vents in the greenhouse.
Furthermore, they are a component of the shelf that prevents little goods such as rice from slipping off when drying.
Aqua Hub Kenya is a well-known agricultural net provider, merchant, and installer. We have offices in both Nairobi and Eldoret. We are a reliable supplier of agricultural supplies and management strategies. For more information, please call 0790719020.