Metallic Greenhouses in Kenya |Metal greenhouses frame, as the name suggest, are made of metal structures and galvanized steel fabrics but covered with hard polythene material cover. The greenhouses are strong and effective green house structures that can withstand harsh conditions of the environment.
Nearly all metallic greenhouse structures are durable and highly effective for an ultimately profitable greenhouse farming venture.
Metal Greenhouses in Kenya by Aqua Hub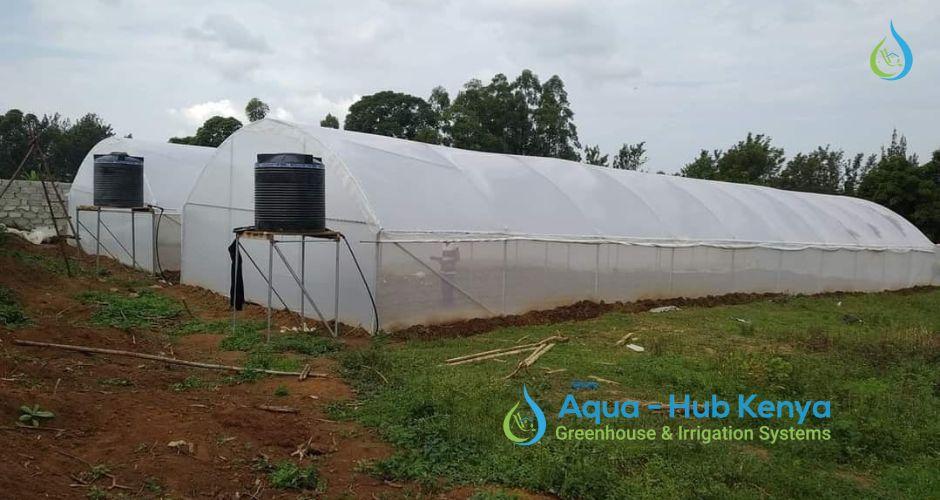 Aqua Hub Kenya is popular for efficient green house construction and supply services for the best prices of greenhouses in Kenya.
Our greenhouse construction services include supply of greenhouse construction materials, fabrication and joining of metal greenhouse. Furthermore, we also conduct field surveys in client's greenhouse projects to monitor and check the suitability of areas set aside for greenhouse construction.
An important thing about engaging us in your greenhouse project is that you can be sure of a typically generational greenhouse structure with our close supervision.
Detailed Greenhouse Construction Survey
During such visits, we always check the climatic conditions of an area (humidity), conduct soil PH tests, check the terrain of an area and check the wind flow strength and direction.
We conduct all these tests and processes in order to enhance effectiveness and solid structure of a greenhouse in your farm. We can determine the requirements and size of a metallic greenhouse structure that fits the budget and crops you want to start growing after visiting and checking your area set aside.
Greenhouse Farming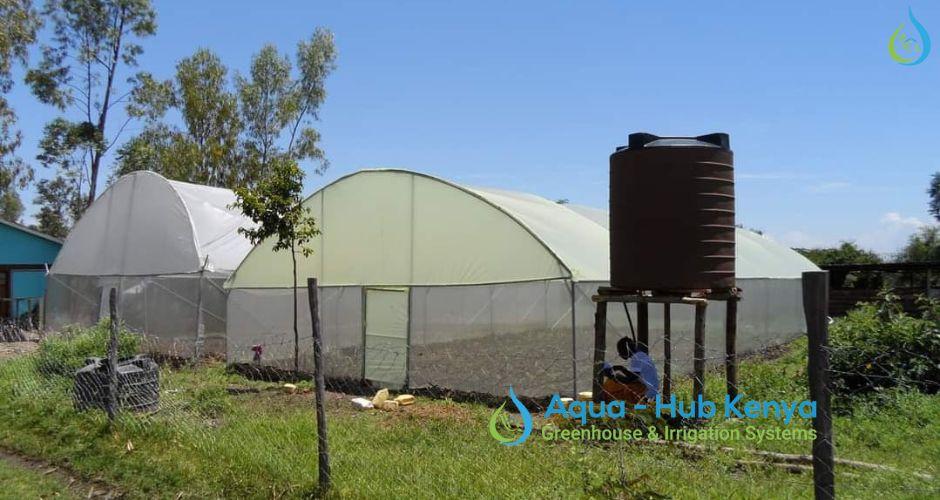 Greenhouse farming is the cultivation of crops inside a controlled green house environment. A green house environment is a warm and better temperate microclimate for higher growth rate of plants.
In Kenya, greenhouse farming is suitable to a variety of plants with warm temperature conditions that a greenhouse environment provides. Such plants include:
Tomato
Horticultural crops such as flowers
Vegetables like
Peppers
Fruits e.g., strawberries
Beans and French peas
Materials for Constructing Metallic Greenhouses in Kenya
Building metallic structures require materials such as galvanized steel, wires, screws, gutters, insect nets and irrigation systems. Other requirements that should be available to enhance greenhouse farming i.e., tanks, pipes, crop support, shelves, and shade materials.
Prices of Metallic Greenhouses in Kenya
Price of greenhouses in Kenya can vary in case the type of material is a matter of consideration. For instance, Metallic greenhouses are more costly than wooden greenhouses. This is because wooden greenhouse materials are cheaper than metallic greenhouse materials. In addition to being expensive, metallic greenhouse profiles need to be fabricated, a cost addition factor.
Our
Sizes and Costs for
Metallic Greenhouses in Kenya
The price of metal greenhouse frames also depends on the dimension and size of the greenhouse.
We have the following dimension sizes of greenhouses commonly suitable for construction.
8 by 16 m
8 by 24 m
8 by 30 m
16 by 30 m
Type of Greenhouse
Size in Square meters
 Cost in (KES.)

Metallic greenhouse

8mx15m
KES. 200,000
8mx24m
KES. 270,000
8×30
KES.  340,000
16×30
KES. 650,000
Low-Cost Greenhouse Sizes and Prices in Kenya
Low-Cost Metallic Greenhouses in Kenya consist of cheap and readily available construction materials such as wood, tree trunk poles, nails, and cheap polytene paper.
Affordable materials can be used to set up environment suitable greenhouses that will function well to enhance warm conditions, though not for a long time.
Sizes and Prices of Low-Cost Greenhouses
Greenhouse sizes with a low cost and material requirement can be as small as 8 by 12 m or 8 by 15 m.
The prices of low-cost greenhouses are shown in the table below.
| | |
| --- | --- |
| Size in Square meters |  Cost (KES.) |
| 8mx15m | KES. 165,000 |
| 8mx24m | KES. 180,000 |
| 8mx30m | KES. 240,000 |
| 16mx30m | KES. 360,000 |
Previously used polythene paper can also be applied to construction of low-cost greenhouses. Generally, cheap polythene covers still in good condition can be brought to utility in a new greenhouse structure.
Clearly, low-cost Metallic Greenhouses in Kenya means that the materials do not last long. However, cheap wood materials or lumber can be treated to enhance durability and resistance to decay.
Treating involves application of wood preservatives or paint which makes it waterproof.
Challenges of Greenhouse Farming in Kenya
Notably, greenhouse farming has a number of challenges that results due to different circumstances. They include challenges such as:
Pest and disease accumulation obviously cause huge damage to crops in greenhouses.
Strong winds coupled with harsh climatic conditions or rainfall.
High cost of setting up greenhouses owing to the fact that metal greenhouse construction frame materials are expensive.
High cost of inputs and fertilizers. Here, farmers can opt for organic fertilizers.
Scarcity of water also affects the irrigation of plants.
Poor market prices of agricultural produce since Kenyan markets are scarce and the country relies on exports.
Lack of nearby markets for farm yield due to low demands in farm produce.
Lack of lower interest rate loans and grants to farmers
Lack of enough space for setting up metal greenhouse frame.
Crops go bad because of poor roads access to the market and lack of enough crop drying facilities.
FAQs
Is greenhouse Farming in Kenya profitable?
Yes. In fact, the income you can generate from green house farming yield has a higher turnover which exceeds the overall cost of construction.
What are the Possible ways to deal with Greenhouse farming pests?
Though there are no perfect ways to wipe out pests and diseases in your green houses, some few ways are helpful. They include methods such as:
Use of pesticides and insecticides, but not often.
Crop rotation along the year can later result in lower disease infection risks. Besides that, it improves soil fertility.
Growing media when farming in places prone to weed growth.
Mulching can also prevent pest and insects, except for tall flowering plants.
Weeding practices certainly lowers pests.
What are greenhouse gases?
Greenhouse gases are gases in the green house environment. The gases include nitrogen, carbon dioxide and Sulphur which cause suffocation.
What is the purpose of Greenhouse Nets?
Nets provide ventilation and air inlets in order to prevent suffocation of plants. Agricultural netting materials such as shade nets and insect nets are suitable for use as green house nets.
Which Agricultural Net to use instead of Insect nets and Why?
Unlike insect nets, shade nets have different mesh levels. For example, a shade net has 35% , 55%, 75% and 90% light penetration levels.
Despite of differences in mesh levels both nets can be used as green house nets.  Nevertherless, the crops to grow will determine the net to use.