Agricultural nets are sunlight and temperature regulator materials for growing and providing optimum conditions to certain crops. Shade netting, besides regulating temperature, minimizes wind damage and pest and disease accumulation in plants. In Kenya, garden Agricultural netting has become an appropriate farming trend to adopt since it is highly beneficial to use. Most parts of the country experience unsuitable cold and hot climatic conditions, which can be regulated using Agricultural netting for plants. Garden Shade nettings are normally black or green in colour to absorb heat from the surrounding environment.
Shade Nets Sizes and Prices in Kenya
Aqua Hub Kenya retails and sells agricultural shade net materials at various sizes and prices.
The available sizes for our on-sale are standard dimensions of 4 by 50 Square meters shade nets. We do not customize or cut shade nets materials because most Agricultural nets or shade houses are bigger than standard Agricultural net measurements.
The prices of Agricultural nets also varies depending on the percentage or filtration level of shade netting material. Our prices are shown in the table below:
| | | |
| --- | --- | --- |
| Shade rate (Filtration rate %) | Length (meters) | Price (KSH) |
| 35% | 4 x 50 | 13,000 |
| 55% | 4 x 50 | 16,000 |
| 75% | 4 x 50 | 19,000 |
| 90% | 4 x 50 | 30,000 |
Types and uses of Agricultural Shade Nets in Kenya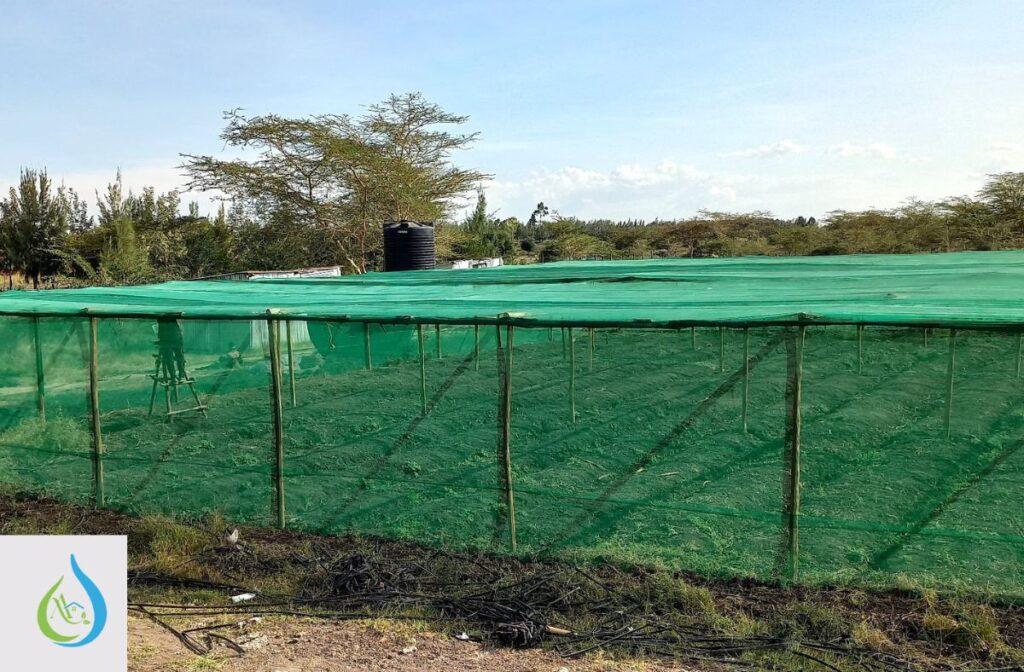 There are different types of Agricultural nets with a variation in Agricultural net density and light filtration percentages.
According to  netting Density
Knitted Agricultural Nets – Common types of Agricultural nets for growing crops. Light and similar to mosquito nets but more hard and stronger netting materials. They have light and different penetration levels of sunlight to enhance for propagation of a variety of crops depending on sunlight requirements.
Woven Agricultural nets – Heavy Agricultural nets types which are made of high density polythene materials. They fully block or resist the penetration of the sun . That is 100 percent filtration levels.
Therefore, Common Agricultural net densities include:
35 % Agricultural net – filters nearly a third or 30 percent of the sunlight rays to enter the shade net structure.
55% shade nets – Allows 45 percent of sunlight to reach plants.
75 % shade nettings – Allows only a quarter of the sunlight rays to enter the shade net or shade house.
90 % shade nets – 90 percent Agricultural nets has a high density of knitting. Only allows 10 percent of sunlight to penetrate through.
All the different Agricultural net filtration levels have different agricultural crop production purposes.
Young seedlings require 75 % or 90 % filtration levels. Examples are:
Tree seedlings – cypress , cedar, mahogany, blue gum, mango,
Fruit seedlings – citrus, avocadoes , melons.
Vegetable seedlings – cabbage, kales, carrots, spinach, Swiss chards, beet roots, pepper, etc..,
Cash crops – Tea, coffee plants, cocoa,
Flowers – rose flowers, Sun flower
For mature plants, 35 % and 55 % Agricultural nets are necessary. Nearly all short growing mature plants that can be grown under shades. For instance, suitable plants include:
Maize plants
Peas
Onions
Strawberries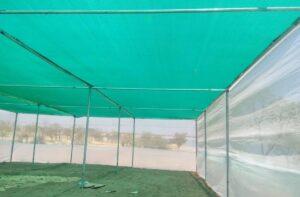 Greenhouse farming – Agricultural nets are applied in greenhouses as side netting materials for insect, wind and bird control purposes.
Nurseries – Tree and seedling nurseries require shade nets to prevent high evaporation, radiation and animal interference. Young seedlings are fragile and needs a secure place that allows enough air, optimum temperature, light and moisture to enter.
Horticulture – Some horticultural crops such as flowers, pyrethrum, tea, etc.., requires a hot and less humid environment for a maximum productivity. Greenhouses flower farming requires sufficient shade nets for cooling and ventilation purposes.
Open-field Cultivation or garden shade netting- For growing crops in the open fields in hot regions or very cold and windy environments.
Car parking – To reduce the effects of sun radiation on vehicles.
Poultry or bird farming – Providing favorable feeding points to chicken, goose, ducks and doves. The netting material als0 prevents predators i.e. eagles , crows and squirrels.
Choosing Agricultural Nets
Making a choice on which net type or penetration level to purchase is a major concern especially when you don't have awareness or you are new to Agricultural net farming.  Generally, you want to have a agricultural net material that will  suit the crops you are planning to grow and function effectively for a long time. On the same note, you don't want to spend much as the budget may limit you.
Always consider the quality of the material, the crops you are growing and the size of your structure. Reputable and reliable suppliers such as Aqua Hub Kenya are best for quality agricultural net materials.
Where to Purchase Garden shade netting for plants In Kenya
Aqua Hub Kenya has quality agricultural net materials. We sell UV treated shade net materials at affordable market prices.  Apart from sales we also conduct delivery, consultation and installation services to our clients at affordable prices.
Reach us on:
Mobile; 0790719020
Email ; info@aquahubkenya.co.ke.