Aqua Hub deals in supply and construction of galvanized metallic greenhouses in Kenya. We offer cheap cost of galvanized Metallic greenhouses or steel greenhouses to enhance easier farming.
Metallic Greenhouses are nowadays made from galvanized steel profiles and bars. This is ideal to enhance the extent of strength and durability with a goal of enhancing continuous profitability.
What are Galvanized Metallic Bars?
Galvanized steel bars are steel metals coated with a protective layer of zinc to prevent rust and corrosion. This is possible because zinc metals do not rust.
While other metals are also suitable for greenhouse use, galvanized steel is a strong and long-lasting choice.
How to Galvanize Steel bars
Steel rods are dipped in a pool of hot liquefied zinc and removed for cooling.
Galvanized steel bars are suitable for hot, cold, moist, and acidic soil environments.
Components of Galvanized steel Greenhouses
Steel greenhouses consist of galvanized steel profiles, polythene covers and wires attached together to offer a strong structure for crops. Other components include;
Water tanks – Ideal storage equipment for water supplied to a greenhouse.
Planting trays – Planting trays are essential in a greenhouse especially when you are propagating seeds.
Drip irrigation system – Supplies water to greenhouse plants. It is the most suitable irrigation system to use because it takes minimum space and delivers water in a precise manner.
Crop support structures – Offers support to some greenhouse plants with weak stems. Normally installed on the planting lines.
Mulching paper – Polythene plastic film that prevents heat or sunlight from dehydrating the soil.
Stakes – Pins or plastics that holds drip lines on to the ground.
Shade nets – Covers the ventilation spaces. The mesh structure of shade nets makes it suitable for use. It also prevents entry of insects and birds.
How do we Construct Galvanized Greenhouses?
We first make a visit to the site to consider and inspect its suitability.
We provide a client with a quotation according to the size you want.
Then delivery of the materials to the site on the first day.
Casuals dig the holes for installing steel frames on day 2. Should be 30 cm deep and 1 m apart.
Install the steel frames onto the holes. Attach using cement still on day 2 and wait for 2 days for the cement to dry.
Attach the steel profiles to the steel poles using screws and attach the polythene cover.
Fit the cover using wires on the same day.
You can install drip kits, crop support structures and gutters later.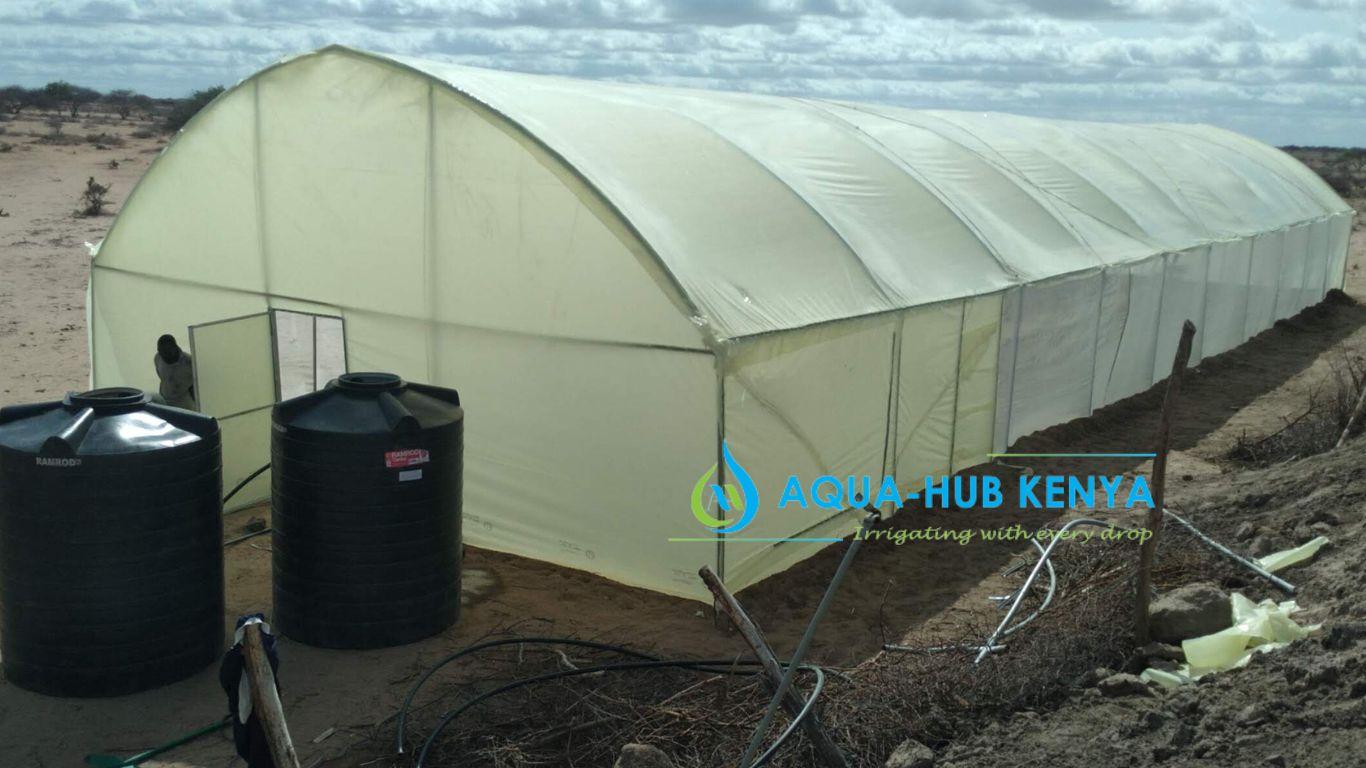 Benefits of Galvanized Metallic Greenhouses
Lower maintenance costs – Galvanized greenhouses are strong. They hardly develop damages hence they require less repair budgets.
Resistance to environmental hazards and winds – can withstand heavy rainfall and frost. The tunnel or vent shape resist the accumulation of frost or ice on the roofs.
Expansion and Contraction of structures – The polythene cover contracts during cold and expand during hot days without breaking.
Resistance to UV rays – The polythene cover is UV resistant and prevents plant exposure to harmful radiation.
Lower impact of Pest and disease – The green house structure provides protection to plants from pest invasion.
Higher yield in Production – The higher efficiency of steel green houses allows for higher rate of production.
Wide variety of crops – Greenhouses suits a wide range of crops including tomato, capsicum, flowers, peppers, grapes, orchids and many more.
Cost of Galvanized Metallic Greenhouses in Kenya
The cost of metallic greenhouses varies as per the size and cost of construction materials.
Aqua hub Kenya prices for Various green house sizes are shown below;
| | |
| --- | --- |
| Size in Square meters |  Cost in (KES) |
| 8mx15m | KES. 200,000 |
| 8mx24m | KES. 270,000 |
| 8×30 | KES.  340,000 |
| 16×30 | KES. 650,000 |
Call 0790719020