Greenhouse price in Kenya varies depending on how big it is and how it was built. In Kenya, greenhouse prices per unit area reduce as greenhouse size increases, hence there is a clear correlation between the two. Depending on size and construction quality, wooden greenhouses may cost anywhere between Ksh. 100,000 and Ksh. 300,000, while steel, aluminium, and polycarbonate greenhouses can cost anywhere between Ksh. 150,000 and Ksh. 600,000 We provide greenhouses in a range of sizes. The sizes of wooden and steel greenhouses range from 8 15 m to 8 24 m and from 8 30 m to 16 30 m. The size and kind of the greenhouse have an impact on the cost.
What are the components of a greenhouse?
The cost of a greenhouse in Kenya includes the cost of greenhouse construction, greenhouse materials, and other components. Our greenhouse cost in Kenya includes;
Structure (Wood or Steel).
UV Polythene paper for greenhouses.
Drip irrigation kit for greenhouse.
System of filtration
Optional agricultural net for ventilation.
System of shade netting.
One option to cultivate plants year-round for food is in a greenhouse. This is due to the fact that it protects them from the weather while enabling light to enter and warm the interior. In a unique agricultural practice known as greenhouse farming, vegetables are grown in covered structures that are typically made of translucent or semitransparent materials. The main goal of greenhouses is to offer ideal conditions for growth while safeguarding crops from inclement weather and vermin.
In colder climates, greenhouse agriculture is another way to produce foods that are native to warmer climates, such as growing tomatoes in some parts of Kenya. In greenhouses, it is possible to control the temperature, humidity, light, and ventilation. This makes it possible for the farmer to create and maintain suitable micro-ecosystems for their plants, helping them to grow robust, enticing, nourishing, and delicious plants.
What is greenhouse price in Kenya?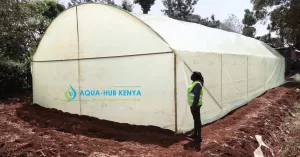 A successful farming operation necessitates the use of greenhouses. They are great for growing fruits and vegetables. Greenhouse prices in Kenya vary according to size and material used in construction. Steel, metallic, and polycarbonate greenhouses cost between Ksh. 150,000 and Ksh. 600,000, depending on size and degree of construction.
| | | | |
| --- | --- | --- | --- |
| Size | Basic | Standard | Premium |
| 8×15 | 225,000 | 250,000 | 280,000 |
| 8×24 | 240,000 | 282,000 | 298,000 |
| 8×30 | 340,000 | 375,000 | 410,000 |
| 10×30 | 420,000 | 492,000 | 517,000 |
| 16×30 | 690,000 | 722,000 | 765,000 |
We offer greenhouses of various sizes. The sizes of both wooden and metallic greenhouses range from 8 by 15 m to 8 by 24 m, and 8 by 30 m to 16 by 30 m. The cost of a greenhouse varies according to its size and kind. They are available in many sizes and forms, as well as materials and heating procedures. Metal and wood greenhouses are available from Aqua Hub. Our greenhouse rates vary depending on the type of greenhouse, its size, and any other services required. The prices of wooden greenhouses and metallic greenhouses differ. There are three varieties of greenhouses available from us: basic, standard, and premium.