Buy Greenhouse Materials in Kenya
Buy Greenhouse Materials in Kenya |Greenhouse farming is a modern agribusiness venture which has enhanced the growth of plants in well-built and effective greenhouse structures.
Aqua Hub Kenya Metallic Greenhouses
Aqua Hub Kenya has all the above greenhouse construction materials. We deal with both wooden and metallic green houses. We sell metallic greenhouse construction materials and deliver them to respective customers at any part of the country.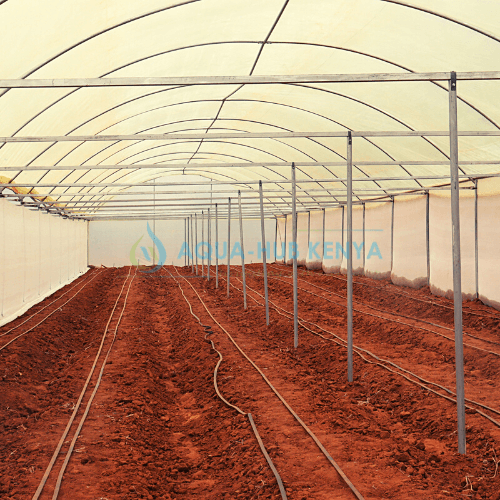 Why Greenhouses
The aim of propagating plants in greenhouses is to achieve fast sprouting and quality production. Greenhouse farming also ensures controlled farming environment with favourable conditions and pest free environment.
Greenhouse Materials
Greenhouses are built using the following materials.
Greenhouse covers or films – for top part or roofing of greenhouses.
Steel metal bars – for building greenhouse structures (skeleton structure to be covered by greenhouse covers)
Wiggle wires – for attaching greenhouse covers to metal bars.
Screws – for joining metal bars together.
Insect nets – used to keep off insects from the greenhouses. For side netting.
Shade nets – Can be used as side nets.
Wooden poles – for building structures in wooden greenhouses.
Nails – attaching wooden poles together (wooden greenhouses)
Other Materials to buy for Greenhouse Farming
Water tanks
Irrigation System Kits (Drip kits)
Plant twines
Water taps & valves
Water Filters
Greenhouse materials Specifications
Our greenhouse materials come in dimensions or various measurement sizes.
Greenhouse covers can White or yellow.
We sell covers suitable for the following greenhouse sizes.
8 by 9 m
8 by 15 m
8 by 20 m
8 by 24 m
8 by 30 m
Steel bars are available in standard lengths.
Cost of buying Greenhouse materials in Kenya
We offer green house materials as a package price depending on the size of the greenhouse. We assign technicians to conduct the construction process at affordable prices to be paid by the client. Look at the table below.
Type of Greenhouse
Size in Square meters
 Cost in (KES.)

Metallic greenhouse

8mx15m
KES. 200,000
8mx24m
KES. 270,000
8×30
KES.  340,000
16×30
KES. 650,000

Wooden Greenhouse

8mx15m
KES. 165,000
8mx24m
KES. 180,000
8mx30m
KES. 240,000
16mx30m
KES. 360,000
Visit or contact Aqua Hub Kenya for green house materials and other respective green house services.
We always visit our customers farms for consultation and inspection of green house construction projects, soil testing, suitability of the site check and green house setup process.
NB: Delivery Costs should be provided by the client.
Our Location
We are located in Nairobi at Benedicta, Utawala and Eldoret at Annex, Jamboni near Moi University Town Campus.
Contact us 0790719020 or email info@aquahubkenya.co.ke.