Types of Dam Liners in Kenya
Types of Dam Liners in Kenya | Dam liners are the primary materials for lining dams to avoid excessive water loss that usually occurs through underground seepage and overflow spillage.
Aqua Hub Kenya has the effectively tested and recommends its quality Dam liners for use as the primary cementing material on your Dams, ponds, and recreation pools.
Various Types of Dam Liners in Kenya
Our Liners are categorized according to the type of material they are made from.
HDPE Dam Liners –Dam Liners made of High-density Polythene material. The HDPE material is UV treated and normally withstands cold and extreme heat. HDPE dam liners are hard, resistant to tear, stretch and wear. They are joined by welding.
 

PVC Dam Liners

– Dam Liners of Polyvinyl chloride material. PVC dam Liners are heavier than HDPE dam liners and more flexible. Joining them is easier.
Low Density HDPE – HDPE dam liners made of low-density material. They are light and more convenient than HDPE and PVC dam liners.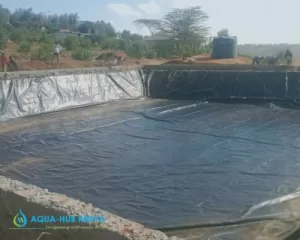 Our Dam Liner Specifications
We specify our dam liners according to the thickness sizes.  Large dams or projects go hand in hand with high thickness liners because the volume of water may break the liner.
0.3 mm – The thinnest gauge dam liner. It is a hard cover material with 30 microns thickness. It is suitable for small projects and dams built on smooth surfaces.
0.5 mm – Dam liner of 50 microns thickness. Normally used in medium projects with slightly rough and sandy soil surfaces.
 0.75 mm – 75 microns dam liner. It is best for medium and large-scale projects built on rough soil surfaces. The dams built using this thickness material normally withstand long periods of water sustainability without damage.
1 mm – The highest thickness dam liner material for construction. 1000 microns thickness level best for large scale projects in areas with rough and rocky terrains.
Cost of Our Dam Liners Per Size
| | |
| --- | --- |
| Gauge/ Thickness  | Cost per square meters |
| 0.30 mm | KES. 210/- |
| 0.50 mm | KES. 240/- |
| 0.75 mm | KES.330/- |
| 1.00 mm | KES. 410/- |
Buy Quality Dam lining covers at Aqua Hub Kenya. Our prices are affordable to everyone planning to construct or build dams.
Call 0790719020 or email info@aquahubkenya.co.ke.