Aqua Hub Kenya provides you with very high-quality dam liners at an affordable price. We are among the leading suppliers and installers of dam liner in the country. The volume of water contained and the type of surface determine the best dam liner to employ. A thicker liner is preferable if the reservoir is big. A lighter gauge liner will work if the pond's surface is smooth. The longevity of our damliners has earned them a stellar reputation in the industry. Having a dam liner guarantees that there will be collection and storage of water for later use, mostly for irrigation but also for human and animal use. The quality dam liners can be used to collect water from boreholes and wells, rivers, and runoffs, and then stored for distribution to the community.
Quality and Long Lasting Dam Liners
Altering patterns of precipitation and irregular seasonal transitions are rapidly becoming the norm across Africa. This is the reason why more and more farmers are realizing the need of agricultural water conservation. Aqua Hub is the only manufacturer in Kenya that offers UV-treated black dam liners specifically designed for tropical regions. The walls and floors of water reservoirs in Kenya are lined with our liners, which are also for sale there. This is done so that there is no loss of water due to seepage into the soil.
Our dam liners are welded at the factory to ensure that they will not leak over the entirety of their useful lives. Leaking is a regular occurrence with a geomembrane that has been hand welded, and we only permit it in situations when factory welding would be impracticable.

The Thickness/Gauges of our Dam Liners
The dam liners come in different thickness. When selecting the dam liner to use, you will have to check on your project and the area of the dam liner installation. The dam liners with the different thicknesses are used for different project and applicable in different areas. The various thicknesses and gauges of dam liners, as well as their lifespans and potential applications, are listed in the table below.
| | | |
| --- | --- | --- |
| Thickness | Lifespan | Uses |
| 0.3 mm | 5 – 10 years | Suitable for light projects up to 200 square meters in size. Without murram or stones on a flat surface. |
| 0.5 mm | 10 -15 years | Medium-sized projects; between 200 m and 1,000 m square feet. Works on a surface that is a little bit rough, like one with some murram |
| 0.75 mm | 15 -20 years | Suitable for projects ranging from 200 m square feet to any scale. Can handle rocky or stony terrain. |
| 1.0 mm | 20 -30 years | Recommended for projects of any size over 1,000M sq. Can handle rough, stony, or rocky surfaces. |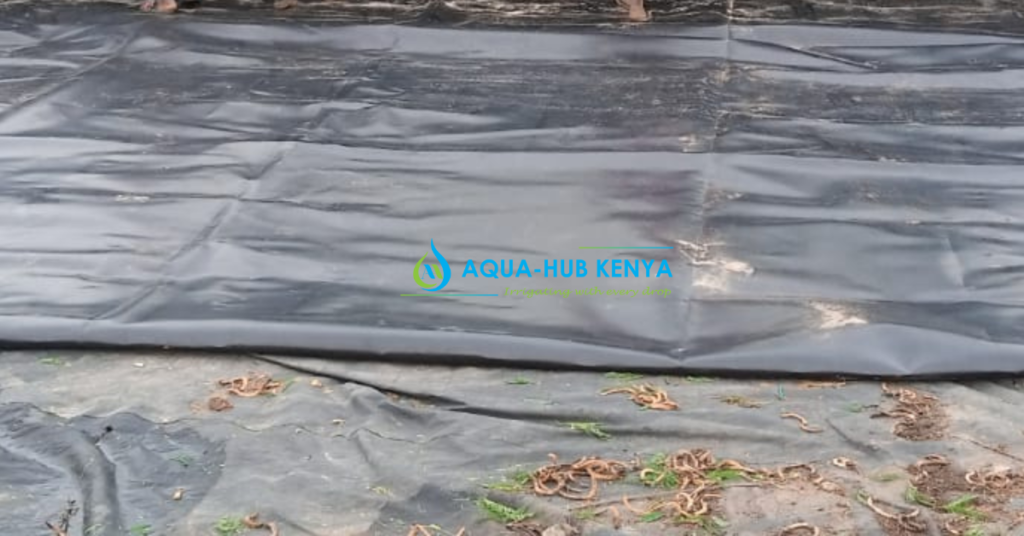 What are the types of Dam Liners?
We provide dam liners in thicknesses of 0.3 mm, 0.5 mm, 0.75 mm, and 1 mm. They come in widths that match the reservoir's or tank's size and form. Dam liners may be divided into HDPE, PVC, and LLDPE Dam liners. HDPE Dam liners are the most durable and resistant to UV and weathering, making them ideal for long-term use. Long-term dam projects benefit greatly from their use. Dam liners made of PVC are lightweight, soft, and simple to transport and install. However, because of their instability, they should not be useable for long-term endeavors. Easy to install, LLDPE Dam liners are made of soft material. Tensile strength is low, which means they are more prone to deformations and rips.
Liner widths of 8 meters and lengths of up to 250 meters are available from Aqua Hub. Custom welding (or machine joining) is done to accommodate your reservoir size during dam liner installation. In Kenya, Aqua Hub solely provides HDPE dam liner. Not all recycled dam lining materials will endure more than five years, but those made from virgin material will be far longer-lasting.
The prices of our Quality Dam Liners
The table below compares the pricing of several dam liners based on their thickness and weight per meter square.
| | | |
| --- | --- | --- |
| Thickness | Weight per meter square in Kgs | Price per meter square in KES |
| 0.3 mm | 0.35 kg | 190 |
| 0.5 mm | 0.46 kg | 215 |
| 0.75 mm | 0.88 kg | 295 |
| 1 mm | 0.91 kg | 340 |
Aqua Hub Kenya offers the highest quality dam liners. We also provide dam liner installation at extremely reasonable pricing. For the work, we have a team of highly qualified technicians. For dam liner services, please contact us at NAIROBI: 0790719020 or ELDORET: 0759372241.