Dam Liners Suppliers in Kenya
Dam Liner Suppliers in Kenya | Aqua Hub Kenya is the most reliable and effective dealer in Dam Liner installation and Dam Lining material for sale.
We have a stock of quality and durable Dam Liners in different sizes and thickness gauges.
Choosing Dam Liners
The determinant factors for suitable dam liners to be installed on your dams or pond solely relies on the soil type of your farm.
If your farm has high soil permeability, you must purchase a quality and high thickness gauge dam liner to prevent water loss to the soil. The durability of the Dam Liner will also be considered so that you won't spend much money maintaining your dams.
Dam Liner Sizes and Costs 
Our Dam Liners are of different sizes that are categorized depending on the thickness level. The different Dam liner sizes include:
0.3 mm
0.5 mm
0.75 mm
1 mm sizes.
Our dam liners are available in standard width of 8 meters.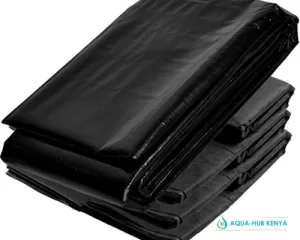 How to Join Dam Liners
Spread the separate dam liners you want to join on a flat surface.
Pull one dam liner to slightly overlap on top of the other dam liner by 5 inches.
Carry out welding to attach the two liners together.
Leave the dam liners to cool for the joint to be firm.
Before purchasing a Dam Liner, the farmer should consult us for a visit to supervise and advise on the right place to build the dam considering the type and soil features of your area. Getting the right measurement for your Dams will ensure the right size of Dam Liners to ensure that it fits well in your Dams to enable effective storage of water.
We record measurements of your preferred dam sizes and supply you with a Dam Liner Suited for your Dams.
| | |
| --- | --- |
| Gauge/ Thickness  | Cost per square meters |
| 0.30 mm | KES. 210/- |
| 0.50 mm | KES. 240/- |
| 0.75 mm | KES.330/- |
| 1.00 mm | KES. 410/- |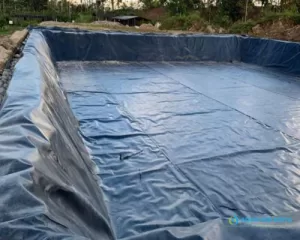 Dam Liner Suppliers in Kenya
Aqua Hub Kenya is your immediate Dam Liner Supplier in Kenya.
You will always benefit from our Quality Dam Liner installation services at an affordable price. We provide quality dam Liners made of UV treated polythene material which can last long for more than 30 years depending on the thickness of the Liner.