Mulching Paper for Sale in Kenya
Mulching Paper for Sale in Kenya |Plants compete for water, nutrients, and gases with weeds. Covering the ground can boost plant growth and prevent growth of weeds. Consequently, ground covering prevents water loss through evaporation.
Mulching is the practice of using mulches to cover the ground for moisture and nutrients development.
Aqua Hub Kenya has environment friendly, quality and effective mulching papers.
We recommend mulching paper as the primary material to protect the ground from exposure to erosion and growth of weeds during propagation of seeds or plants.
Why Mulching?
Mulching is essential in the breakdown and formation of nutrients and humus. For soil with eroded topsoil, mulches form a fertile top layer of soil.
Mulches decay with time and decompose to form organic matter which provides nutrients and support growth of plants.
Mulches preserve nutrients by preventing the heat of the Sun rays from damaging the microorganisms that provide nutrients to soil.
Mulching is the best method of controlling weeds as it reduces the use of pesticides that adversely affects soil fertility.
Types of Mulches
 Organic Mulches – kitchen remains, vegetable remains, sawdust, compost manure, grass, maize stalks.
Inorganic Mulches – Plastic covers and landscape fabrics.
Choosing Mulching Paper
There are several factors to look at when choosing the best mulching paper for your crops. We assist our farmers in considering the following factors in choosing the best papers for their farms.
 

UV Resistance

– Good mulching papers are made of UV resistant polythene material that resist adverse weather conditions and are highly durable.
Gauge/Thickness – The choice of thickness of mulching paper depends on the crop water needs.

Colour

– Mulching paper colour depends on the crop, type of soil and place. In most cases, black mulching papers are used since they absorb heat and curbs weed growth. They also provide soil warmth for growth.
 Width – width of the paper depends on the farm size.
Applying Mulching Paper for Sale in Kenya
Prepared seedbeds at a flat place.
Make small planting lines/tunnels using a stick or rake.
Plant the seeds at required spacing depending on the plant.
Place mulching paper, saw dust or grass to cover the bed. Place the paper or saw dust at the required distances according to the type of plants and the spacing done.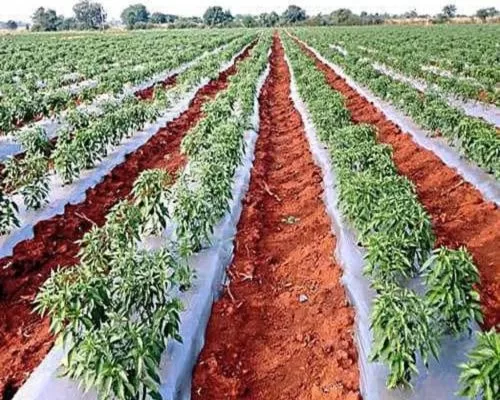 Cost of Mulching Paper for Sale in Kenya
| | |
| --- | --- |
| Thickness level |  Cost(KES) of 500 m  |
| 60 microns |  KES. 52,000  |
| 80 microns |  KES. 64,000 |
Where To Buy Mulching Paper in Kenya
Aqua Hub Kenya is the ideal place to get quality Mulching papers. We have mulching papers of 60 and 80 microns sizes.
Call 0790719020 or email info@aquahubkenya.co.ke