Seed Trays in Kenya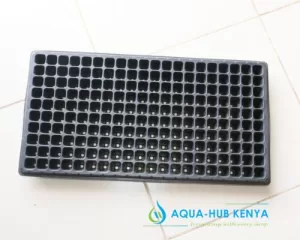 Seed Trays in Kenya | Planting Trays are containers made of plastic polythene materials for propagating seeds.
They have planting cells which are 4 mm deep and 2 cm diameter.
Seed Trays in Kenya by Aqua Hub
Get yourself quality Seed Trays for Propagation on your orchards from Aqua Hub Kenya. Our trays are made of quality UV treated plastic materials. You don't have to worry about the cost as our Seed tray prices are affordable and inclusive for all.
Why we Recommend Our Seed Trays
They hold planting medium or soil together to prevent water from eroding the Soil and uprooting seedlings.
Our trays have high seed holding capacity. The number of cells on our trays ranges from 40 to 288. The cell sizes vary depending on the plant you are propagating.
With our Quality seed trays you can be sure of 100 percent successful seed germination and growth until a period of transplant.
Quality Features of Our Trays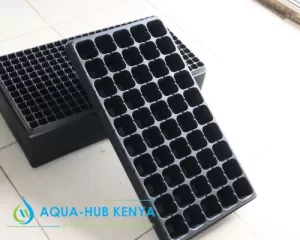 Our planting trays withstands extreme ultraviolet radiation from the sun. The Polythene materials used in planting trays manufacturing resist the effect of the sun's radiation.
Our trays have seed holders/cells for sowing seeds. The cells separate seedlings roots from intertwining and competition of nutrients. Each Seedling can access equal amounts of water and nutrients for growth.
Our trays are light and therefore easy to carry and plant seeds.
 Our trays are durable. They last for a long time due to manufacture from fresh strong polymer materials.
Our seedling trays are black to absorb warmth from the ground for germination of seeds.
Best Planting Medium to Use 
The best medium for planting seeds should be permeable and light for proper seed germination. It should also be free from salts and minerals that can harm seeds.
Coco peat is normally the best media to use in Seedling Trays as it is light and soft for easier shooting of seeds.
Normal soil is also applicable, but coco peat is the best.
How to Propagate Seeds using Trays
Mix Coco peat or topsoil with fertilizer or manure.
Place the planting medium on the planting tray cells.
Irrigate your seeds daily until they are ready to transplant (Transplanting normally takes place 4–6 weeks after germination).
Where to Place Seed Trays
Seedling Trays are free from direct sunlight when you keep them inside greenhouses, shade houses or under any shades. Too much heat from the Sun can harm germinating seedlings while too much water can lead to slow germination and growth of seeds.
Cost of Seed Trays in Kenya
The cost of our Seedling trays is KES. 140 each.
Call 0790719020 or email info@aquahubkenya.co.ke for inquiries.
You can also visit our office in Benedicta, Utawala along the Eastern Bypass in Nairobi or Jamboni, Annex near Moi university in Eldoret.