Water Harvesting Using Dam Liners is increasing being adopted by farmers. There are instances when Kenyan farmers are unable to carry out their day-to-day activities because of water shortages. In the event of a drought, Kenyans can stockpile water because of its strategic location, which means it receives a good amount of rain throughout the year. Water collecting and storage is becoming a reality as the weather patterns change. Where the earth is excessively permeable, dam liners provide an easy solution for waterproofing and lining water pans and ponds. Harvested water can be utilized for a variety of purposes in the future, including irrigation, drinking, animal husbandry, fish aquaculture, and even household purposes.
What are the reasons for Water Harvesting Using Dam Liners?
Kenya is one of the world's most water-stressed countries, with a per capita water use of less than 600 cubic meters, much below the global average of 1,000 cubic meters. If the country's millions of people aren't already in danger of starvation due to severe drought, they must now contend with the devastation of flash floods. One of the biggest problems to sustainable food production throughout the world is water scarcity, and climate change scientists say it will only get worse as the world's population grows. Water harvesting and irrigation technology, on the other hand, can help local farmers solve this problem.

Farmers' greatest option for harvesting rainwater is dam liners. Dam liners do a good job of keeping water in its place. It's also important to keep your water management system leak-free, as water management fees can quickly add up. The good news is that they may also help you save money by repairing system leaks. The liners do a good job of keeping water out. They don't allow water from the system to slowly soak into the surrounding soil, since they're not highly permeable. Therefore, Water Harvesting Using Dam Liners is the best solution
What are the characteristics of a good dam liner?
If you use dams or ponds to store water, the liner needs to be made of the best materials so that the reservoir doesn't leak, and it lasts a long time.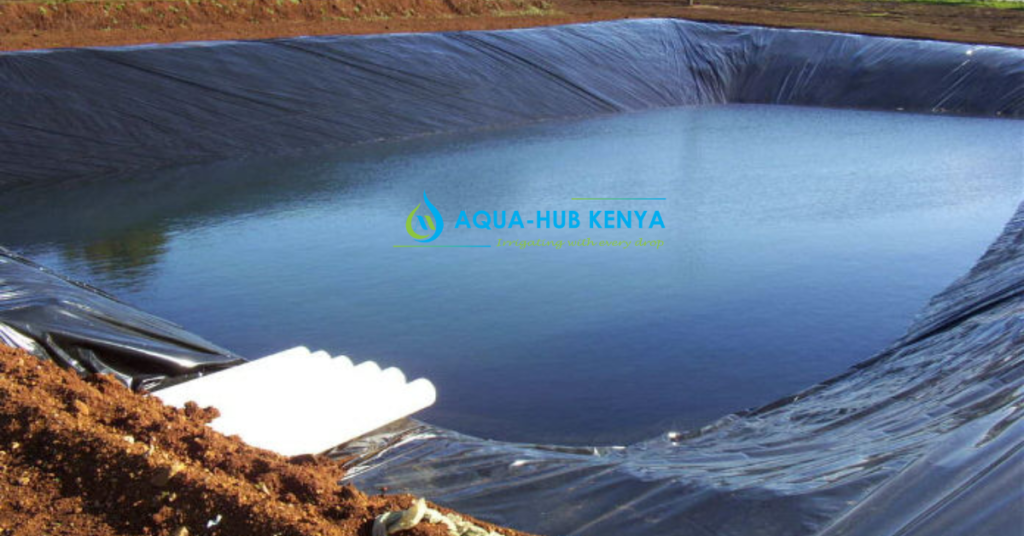 Good dam liners must be treated with UV to make them last longer. So, they can last anywhere from 5 to 30 years, depending on how thick they are and how thick the gauge is.
They should not be made from recycled materials, but from virgin materials.
For dam liners or pond liners, you need materials that are hard to wear down or puncture.
It should be easy on the farmer's wallet. Before buying dam liners, you should always think about, among other things, the type of material, the thickness, and the size of the dam.
What are the different sizes of dam liners and their uses?
The many kinds of dam liners are shown in the following table. Thickness, recommended usage, size, and longevity are all taken into account.
| | | | | |
| --- | --- | --- | --- | --- |
| Type | 0.3 mm (300 microns) | 0.5 mm (500 microns) | 0.75 mm (750 microns) | 1 mm (1000 microns) |
| Use & Recommendation | Suitable for 200-square-meter light installations. Recommended for flat, murram-free areas. | Good for 200 to 1,000 square feet projects. Works on a slightly rough surface, such as one that has some murram | Suitable for 200 square metres and larger projects. Rock or stone-friendly. | Recommended for projects of any size over 1,000M sq. Can handle rough, stony, or rocky surfaces. |
| Dimensions | Projects up to 200 square meters in size | Between 200 m and 1,000 m square feet. | Ranging from 200 m square feet to any scale. | For projects of any size over 1,000M sq. |
| Lifespan | 5 – 10 years | 10 – 15 years | 15 – 20 years | 20 – 30 years |
Ponds and Dam Construction
Water collection is a must-do for farms. Ponds, and dams can store gathered water. Without adequate technique, ponds and dams offer a major risk to the environment, the people surrounding them, and the owner. Aqua Hub designs, registers, and builds the best quality dams and ponds at affordable prices.
Good and safe dam and pond construction involves simple things like knowing the soil, ground gradient, overflow spillway, catchment area, and silt control. Getting the correct construction equipment might save money. Good dam and pond building outcomes require the right equipment.
Dam liner Supplier in Kenya
Looking for high density polyethylene lining materials in thicknesses of 0.3, 0.5, and 1.0 millimeters that are nice and of high quality? The well-known and highly suggested dealer and national provider of dam liners is Aqua Hub Kenya. All groups of farmers involved in fish breeding (aquaculture), urban agriculture for creating vertical gardens, and water collecting and storage services like and utilize our liners. Please call us at NAIROBI: 0790719020 or ELDORET: 0759372241 if you need dam liner services.