HDPE fittings are components that strengthen both water and gas pipelines. They link HDPE pipes that transport fluids like water and gas. They are particularly reliable when it comes to high pressure when in use in the mining sector, irrigation, plant engineering, and municipal drinking water systems. Placing a stainless steel ring, for example, around such a fitting will ensure maximum durability.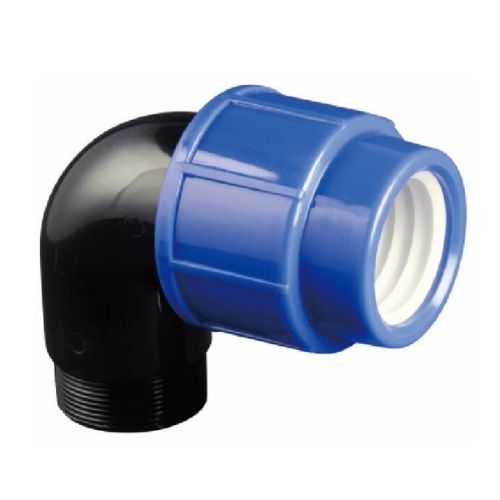 What are HDPE Fittings?
They are plastic pieces that are to operate with HDPE pipes in a variety of ways. HDPE pipes connects to each other or to other pipes. They work on HDPE pipes to link them to each other or to other pipes in irrigation, such as PVC, GI, delivery, or PVR pipes.
They are connecting equipment for HDPE pipes that convey fluids like water and gas. Leading organizations in the gas and water transfer industries use HDPE pipes. They use them in a variety of applications. They fittings extends the chosen pipes over time or to have numerous exits. The fittings improve the strength and longevity of the pipes. Fittings that are simple to install save money.
The initials HDPE stand for high density polyethylene. It's a thermoplastic polymer, coming from ethylene monomer. It is the sort of pipe that securely transport liquids and gases. The advantages of HDPE pipes are their resistance to high pressure, flexibility, and low weight.
It has a wide range of applications, including agricultural irrigation water systems, drinking water, waste water, and marine discharge systems, as well as fire stations and fish farms.
Because of its chemical qualities, HDPE pipes keep the fluids flowing through them safe. With the support of fittings, these pipes transport fluids while also providing trust. HDPE pipes are significant because they are easy to install and transport. The HDPE industry is expanding in popularity.
Advantages of HDPE Fittings
The HDPE industry is continually developing for a variety of reasons. The following are some of the reasons:
Chemical resistance is high.
Preserve fluid's characteristics.
Flexibility.
Technique for easy installation.
Transport is simple.
Appropriate transportation.
High pressure resistance.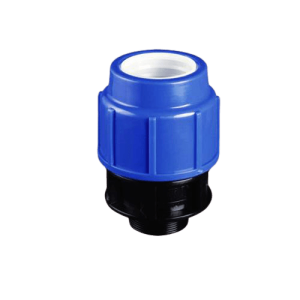 HDPE pipes have a very high molecular weight. As a result, it avoids abrasion and damage. It is chemically resistant. Moisture and water have no negative impact on it. HDPE fittings allow reliable water and gas transport.
Adaptors, both male and female. They join HDPE pipes to other pipe types like as PVC, GI, delivery, and PVR. They also link it to water tanks and pumps.
Equal and reducing connections are two types of connectors. Equal connectors join pipes of the same diameter. Reducer connectors join HDPE pipes of various diameters.
Equal elbows, male elbows, and female elbows are all examples of elbows. The usage is to shift the direction of the pipe to the left, right, up, or down. Our elbows are 90 degrees or 45 degrees.
End caps of various sizes are available. The fixing is at the pipe's end and cork or seal it to restrict water flow.
Equal tees, male or female threaded tees, and reducer tees are all available. Equal tees join HDPE pipes of the same diameter. The threaded tees connect HDPE pipe to saddle clamps, tank connections, ball valves/ball corks, and other pipe types. Reducer tees join HDPE pipes of various diameters.
Usage Areas of HDPE fittings
The HDPE pipe fittings can be installed in a variety of ways, as described below. It should be noted that pipe fittings should be done in different parts of the plan depending on the type of fittings included in the design specifications.
HDPE pipes are typically manufactured with two simple ends. As a result, in order to connect the two branches, one simple end of a branch must be connected to the other simple end with a connection to each other. The following are the various methods for connecting HDPE pipes, accessories, and valves:
Thermal Butt (Butt fusion).
Thermal bushing.
Electro Fusion.
Flange.
Extrusion.
Bolting.
Rubber gasket latching.
Do you need HDPE Pipes and Fittings in Nairobi, Kenya? Aqua Hub offers HDPE fittings such as immediate coupling unions, elbows, saddle clamps, reduced unions (couplings), end caps, female threaded tees, male/female threaded adapters, and male/female threaded elbows, equal tees, reducing tees, and PP equal valves.