PVC fittings are useful to link PVC pipes together. Pipe fittings join pipes together and allow you to tailor your plumbing to your specific requirements. PVC fittings come in a variety of shapes and sizes. They provide a variety of functions, including rainfall drainage. In plumbing systems, numerous types of pipe fittings are available for various purposes and functions. In a plumbing system, a pipe fitting is employed. It connects two or more pipes of the same or different diameters. The flow is being regulated or measured. The PVC fittings are situated here.
What are PVC Fittings?
Different types of PVC pipe fittings exist. A fitting is a removable pipe element that joins two pipes or tubing together. Mechanical and plumbing processes both need fittings. Connectors are another name for PVC fittings. Fittings are constructed of a variety of materials and vary depending on the manufacturer.
Fittings and their compatibility with not just one another, but also with the tubing or pipe they're meant for, can be one of the most difficult aspects of irrigation design and installation. You've probably heard a variety of terminology for various types of PVC fittings, such as Slip, Socket, Spigot, Slide, and Bite.
For standard size, PVC pipe and fittings employ a nominal system. This ensures that any components with the same size in their name are interchangeable. For example, all 1″ fittings will fit on 1″ pipe. That appears to be very basic, right? The outer diameter (OD) of PVC pipe is bigger than the size indicated in its name, which might be misleading. This implies that a 1″ PVC pipe will have a bigger OD than a 1″ PVC fitting, and a 1″ PVC fitting will have a larger OD than the pipe.
The nominal size is the most critical consideration when working with PVC pipe and fittings. Regardless matter whether the pipe is schedule 40 or 80, a 1″ fitting will fit on a 1″ pipe. So, despite a 1″ socket fitting has a wider aperture than a 1″ pipe, it will fit since the pipe's OD is also bigger than 1″.
You may need to utilize a PVC fitting with non-PVC pipe at some point. In this scenario, the OD of the pipe you're utilizing is more essential than the nominal size. They will be compatible as long as the pipe's outer diameter (OD) matches the inner diameter (ID) of the fitting it is going into. However, just because they have the same nominal size, a 1″ fitting and a 1″ carbon steel pipe may not be compatible. Before you spend money on pieces that might not work together, make sure you do your homework. You may also get guidance from Aqua Hub.
A list of some of the most widely used PVC fittings is provided below. Each item includes a description of the fitment as well as potential applications and usage.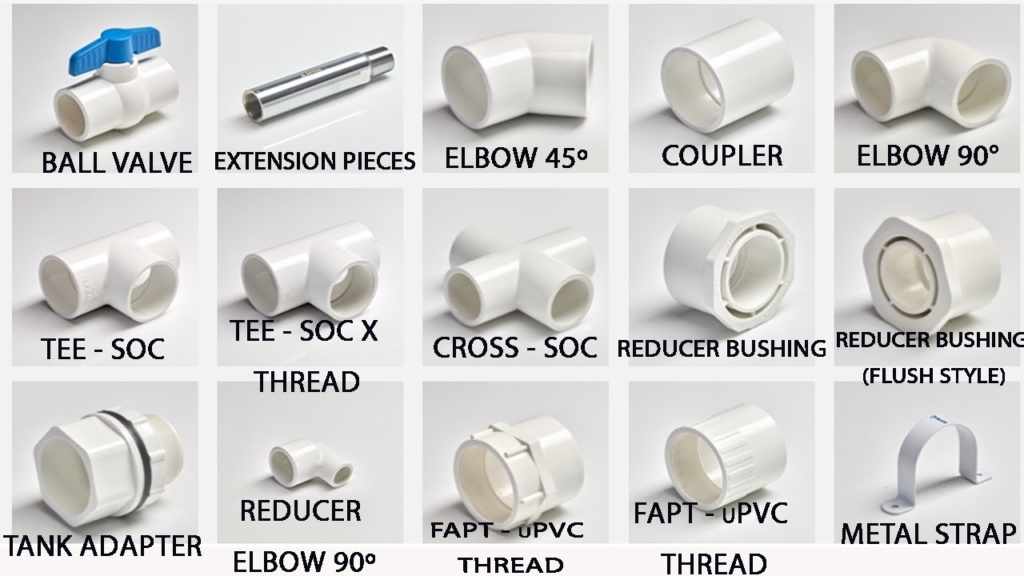 PVC tees have three ends: two in a straight line and one at a 90-degree angle on the side. Tees are 90-degree connections that allow a line to be separated into two distinct lines. Tees can also combine two lines into one main line. They're also common in PVC buildings. Tees are a flexible fitting that are among the most often used parts in the plumbing industry. Although most tees come with sliding socket ends, threaded versions are also available.
If your piping system has to turn or get around something, you'll need to bend your pipeline around with PVC elbows. Elbows are most often found at 90-degree and 45-degree angles, allowing you to direct your pipeline anyway you choose. Side elbows are a distinct element that is frequently utilized as a corner in projects such as canopies, tents, displays, and boxes. They have three ends rather than two. Although most elbows have sliding socket ends, threaded variants are also available.
Crosses
Crosses are a significantly less frequent form of fitting that connects four sections of pipe. They have four slip connectors that meet at 90-degree angles to produce a "plus" shape (S x S x S x S). When constructing a framework out of PVC pipe, PVC cross fittings are commonly employed. Crosses may give a lot of structural stability to a structure. They can also split fluid flow in multiple directions.
Unions, like couplings, join items, but they are not as permanent and may be readily disassembled. PVC unions are frequently used in the construction of temporary constructions, such as tent supports, and may be disassembled when the structure is no longer required. They have a ring in the center that divides the two ends, allowing for simple disassembly and maintenance.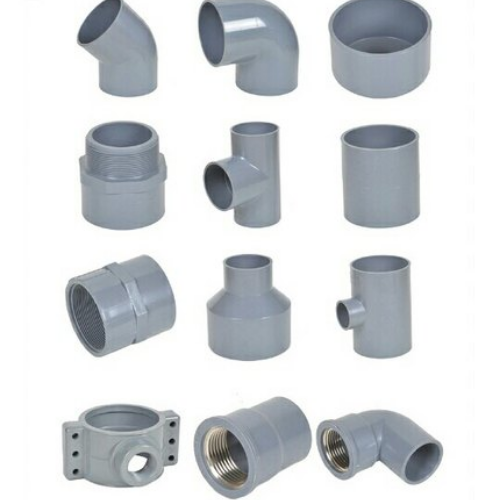 Couplings are one of the simplest (and most affordable) forms of PVC fittings. They are a tiny component that permanently joins or "couples" one part to another. They may connect pipe to pipe and fitting to pipe. Some even reduce to allow you to connect a tiny pipe to a large pipe or vice versa. Depending on your needs, couplings are available with slip or female-threaded ends.
Plugs and Caps
Caps only have one job: to stop the flow. They are installed at the end of a pipeline that does not require connecting to another. They can put a halt to a pipeline you want to grow later or provide you quick access to a system when you need it. It may also provide pipe in PVC construction projects a completed look. Caps can have a socket or female-threaded end and go around or outside the pipe.
Plugs are similar to caps, however they halt the flow in a fitting rather than a pipe. Plugs are inserted into the fitting as a result. This indicates that they are either spigot or male-threaded.
Adapters (Female and Male)
Adapters, often known as reduction couplings, are a multipurpose fitting. These fittings modify the end type of a pipe, allowing it to connect to a variety of fittings and pipes. To connect to a limitless number of pipes and fittings, they might have threaded or slide socket ends. Male or female threaded adapters, as well as socket or spigot adapters, are available.
Bushings are similar to adapters, except they are designed to join pipes of various diameters by lowering the fitting size. They are threaded, which distinguishes them from other types of fittings. This enables for a variety of connections and simplifies pipeline maintenance and modification. Bushings are commonly used in landscaping and aquaculture because they operate better with water than rust-prone metal fittings.
Nipples
Two female ends of a PVC system may need to be joined in various instances. This work requires a nipple fitting. Nipples are male-threaded fittings having two male threaded ends. Because this type of fitting necessitates a tight fit, schedule 80 PVC is usually used. They are, however, still compatible with schedule 40 components.
Flanges
Flanges are fittings that allow accessories and other objects to be attached to pipe. They can also improve pipe strength. The most frequent sort of flange is situated at the toilet's base. Flanges are disc-shaped fittings that provide a tight seal by forcing two surfaces together using bolts, clamps, edges, or compressive force. Most flanges, on the other hand, employ bolts to connect the two surfaces. Slip or threaded PVC flanges are offered. Flanges are often built of schedule 80 PVC due to the strength required.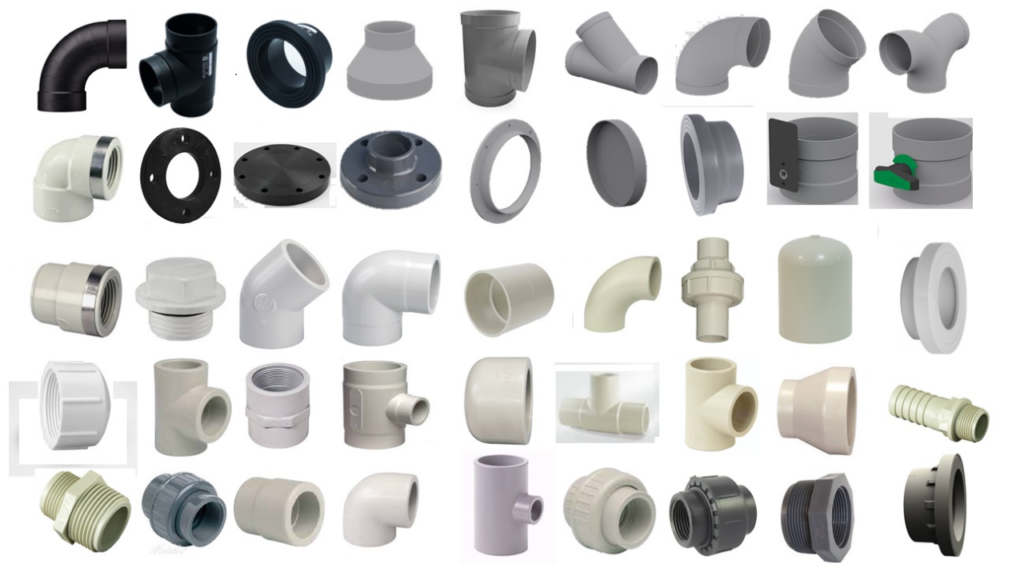 PVC fittings, like PVC pipes, are available in a variety of styles on the market today. Each connection is intended for a certain purpose and use, and each has advantages and downsides. Manufacturers and distributors are as numerous as PVC connections. Aqua Hub is a well-known distributor of a comprehensive selection of high-quality PVC pipes and fittings.