What are HDPE Pipes?
HDPE pipes are flexible plastic pipes that are used to transport water, irrigation, gas, and other fluids. HDPE pipes are made of high density polyethylene, making them stronger than other piping systems. They are one-of-a-kind pipes in that they do not require gluing to connect. They are high-pressure pipes that can withstand high levels of water and gas pressure. Aqua Hub Limited provides HDPE pipes in Kenya.
What determines the HDPE pipe thickness choice?
The force of the water. The internal pressure at which water will flow. For example, a farmer with gravitational water flow will use the lowest gauge, PN6. Another grower who uses a water pump will use a thicker pipe that can withstand the pressure of the pump. The thicker the pipe is, the higher the pressure from the water pump.
Exposure to the elements. Some growers prefer pipes to be laid on the surface, while others prefer them to be buried beneath the ground. The former will use thicker pipes that can withstand mechanical damage as well as prolonged UV exposure. Because the pipes are not exposed to the sun's degrading UV radiation and are not subject to mechanical damage, they will be used by the latter.
Benefits of HDPE pipe?
Resistant to chemicals and corrosion.
HDPE is a lightweight and flexible plastic. At 30m radiuses and above, the pipes can be easily bent.
In comparison to PVC and GI pipes, the pipe comes in long lengths of more than 100m. The number of joints is reduced as a result.
Because of its physical strength, it is resistant to abrasion.
When compared to PVC, they have the best UV resistance, making them easy to expose on the surface.
Because HDPE is smooth on the inside, it has lower frictional losses. Pumping costs are reduced as a result.
Because of the butt fusion and compression fittings techniques used, there are no leaks in the joints.
 Uses of HDPE irrigation pipes?
Irrigation
Clean water supply
Electrical and telecommunication conduits
Gas Transfer
Mining industries
Sewerage lines.
What are the Irrigation water pipe sizes in Kenya?
The following sizes and specifications are available in HDPE pipes.
| | |
| --- | --- |
| Size | Strength |
| 16 mm to 450 mm | PN6-PN25 |
How are Water pipes are joined?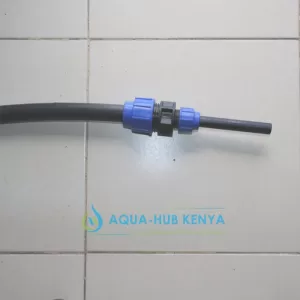 PE compression fittings or butt fusion can be used to join HDPE pipes. PE fittings are commonly used to join pipes up to 90 mm. In the Butt Welding method, two ends of the pipes are heated and welded with a butt welding machine, then pushed toward each other by pressure at a specific temperature. The welding method can be used to join HDPE pipes up to 1200 mm in diameter.
What are the prices of HDPE pipes in Kenya?
| | | | |
| --- | --- | --- | --- |
| Diameter | Length | Bar | Price (KSH) |
| 16 mm | 100 meters | PN6 | 1,700 |
| 20 mm | 100 meters | PN6 | 2,800 |
| 25 mm | 100 meters | PN6 | 3,500 |
| 32 mm | 100 meters | PN6 | 4,500 |
| 40 mm | 100 meters | PN6 | 7,500 |
| 50 mm | 100 meters | PN6 | 11,000 |
| 63 mm | 100 meters | PN6 | 17,000 |
| 75 mm | 100 meters | PN6 | 25,000 |
| 90 mm | 100 meters | PN6 | 35,000 |
Where to buy irrigation pipes in Kenya
Visit Aqua Hub Kenya Nairobi & Eldoret Branches for all your solutions : NAIROBI : 0790719020 | ELDORET : 0759372241