HDPE Pipes in Kenya are by Aqua Hub Kenya, we are the best rated company for irrigation systems.
Kenyan market has embraced the use of these pipes because they are compatible with almost all other systems.
HDPE Pipes in Kenya by Aqua Hub, Kenya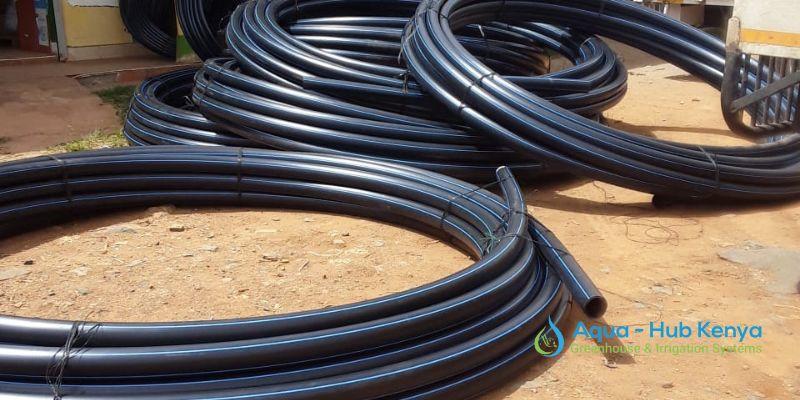 The choice of water pipes for irrigation by Aqua Hub depends on various factors, for instance if we use it in irrigation in Kenya they consider the following;
Water Sources

– If it's a shallow well, we used suction pipes, but for the case of long distances this applies
Water Harvesting technique – Also this matters if the farmers use large volumes we need big sizes of the pipes

Distribution of water to the farm

– In case of irrigation such as drip systems. HDPE Pipes plays crucial roles in the subdivisions.
How to join HDPE Pipes
The basic connection of HDPE Pipes is learned and understood by the farmers because the process is very easy ;
Loosen the outer cap of the connector
Detach the black strainer to make sure there is a rubber washer in the connector
Restore back the strainer
Insert the HDPE Pipe from behind
Make sure you have the white tightener in place
Push the pipe to the limit end
Start tightening the outer cover to seal all the possible leakages
Apply the same for both ends as shown below:

Water Pipes for Irrigation prices in Kenya
| | | | | |
| --- | --- | --- | --- | --- |
| | HDPE Pipe Size | | Cost per meter in KSH. | Pressure in Bars |
| | 16 mm | | 18/- | Pn-6 |
| | 20 mm | | 34/- |  Pn-6 |
| | 25 mm | | 40/- |  Pn-6 |
| | 32 mm | | 50/- |  Pn-6 |
| | 40 mm | | 65/- |  Pn-6 |
| | 50 mm | | 100/- |  Pn-6 |
| | 63 mm | | 170/- |  Pn-6 |
| | 75 mm | | 225/- |  Pn-6 |
| | 90 mm | | 330/- |  Pn-6 |
| | 110 mm | | 485/- |  Pn-6 |
| | | | | |
Advantages of using water pipes for Irrigation in Kenya
Affordable and easy to use
They are UV-Treated and can withstand high temperatures
They are flexible and can bend
They resist corrosions
Can connect to other types of pipes

Where to buy HDPE pipes in Kenya
Visit Aqua Hub Kenya and its branches for irrigation pipes in Kenya. We have branches in NAIROBI : 0790719020 | ELDORET : 0759372241 where we serve you also with all the fittings for the pipes