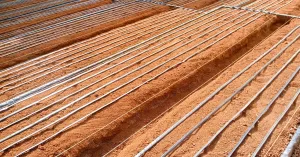 Drip irrigation in Kenya is a simple and consistent way of allowing water to percolate through the roots of plants. Water intake is distributed in an equal percentage for all plants. We offer every component required for drip line irrigation. The drip fittings and drip lines make up our drip irrigation systems. We do offer drip irrigation for sale, either alone or in drip irrigation kits. Prices for drip components vary based on type and amount. The cost of the drip kits varies according to the size of the farm. Our drip kit rates are typically based on the farm's acreage and the number of lines per bed.
A drip line roll might cost between Ksh 8,000 and Ksh 9000 in total. The cost calculation may also take into account the amount of land needed and the number of lines to be installed per bed. The lowest and greatest acreages are 1 Acre and 1 Acre, respectively. There may be one, two, or three lines per bed, depending on the crops you are producing. Prices here therefore range from Ksh 10,000 to Ksh 130,000.
Drip irrigation kits
Drip tapes (drip emitters)
Drip fittings
HDPE pipes
Screen filters
Water source (water harvesting using dam liner)
PVC Pipes
How to choose the best irrigation system for your crops
Based on the crop that you are growing, we have various irrigation systems. They include;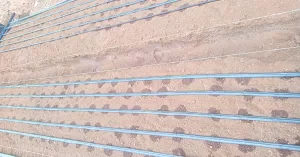 Open field irrigation system – the use of drip emitters.
Button drip irrigation systems
Rain gun and sprinkler irrigation systems in Kenya
Rain hose irrigation – the use of perforated drip pipes
The choice of the above irrigation systems depend on the location and the expected output per acre.
1 Acre drip irrigation kit price in Kenya
Items required for 1 acre drip kit;
Start connector – approximately 100 pieces
Rubber – approximately 100 pieces
Take off – approximately 100 pieces
HDPE pipe 16 mm – approximately 100 meters
HDPE pipe 50 mm – approximately 200 meters
HDPE pipe 32 mm – approximately 400 meters
Filtration system – at least 1 unit
Control systems – at least 1 unit
Drip tape – approximately 8000 meters
Tank connection system
Low cost irrigation kit (For Kitchen garden)
Based on the size of your garden, various irrigation systems can apply. They include;
Kitchen garden drip kit
Garden hose sprayer
Low pressure sprinkler
Drip irrigation kit prices in Kenya
| | | | |
| --- | --- | --- | --- |
| Size / Lines Per Bed | 1 Line | 2 Lines | 3 Lines |
| 1 Acre | 65,000 | 95,000 | 130,000 |
| 1/2 Acre | 30,000 | 45,000 | 60,000 |
| 1/4 Acre | 16,000 | 25,000 | 35,000 |
| 1/8 Acre | 10,000 | 15,000 | 20,000 |
How to install drip irrigation in Kenya
The installation steps for drip irrigation in Kenya are as follows;
Survey of the location
Identifying the water source
Preparation of the site
Laying of the pipes
Filter installation
Connection to the water source
Testing the system
The reason you should use drip irrigation
It delivers a precise amount of water to the location where it's needed.
Reduces overwatering.
It saves water.
It helps you save money.
With the use of a timer, the process can be completely automated.
It aids in the prevention of mildew on the leaves.
Reduces diseases that can grow and spread on wet leaves
Call us on 0790719020 for all your irrigation needs.