Drip irrigation for Tomatoes in Kenya | Adequate water and fertilizers are necessary for producing tomatoes in greenhouses, gardens, and open farms. Most parts of Kenya are low rainfall zones and cannot meet the water and drainage requirements for growth of tomatoes.
Which method is best for Tomatoes?
The best irrigation method to apply on tomatoes is drip irrigation. It is the best method to distribute water and nutrients to tomato plants.
Why drip irrigation in Tomato farming?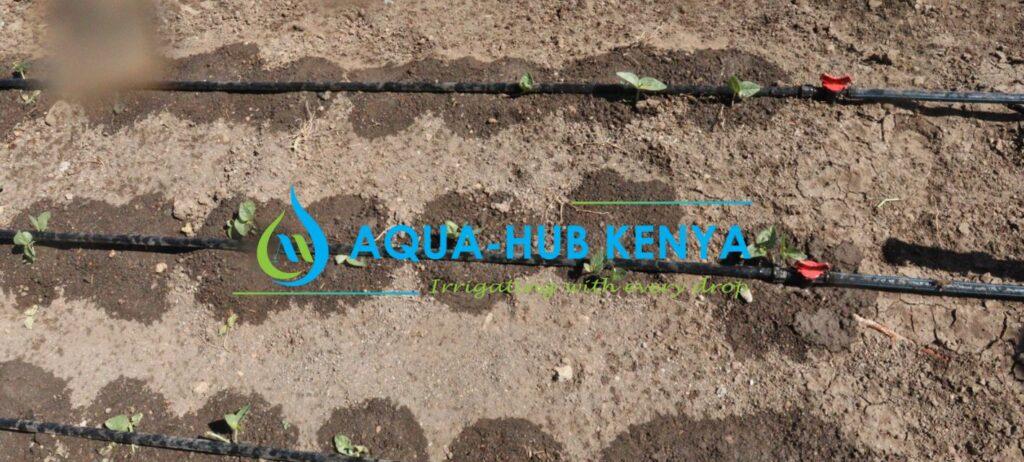 Drip irrigation offers a steady flow of water with a distribution to tomato plants in droplets, thereby saving a lot of water. Drip irrigation also maintains an equal and uniform distribution of water to plant roots all over farm sections.
Tomato Drip emitter Spacing
30 cm drip emitters are best for tomato plants grown in open fields. This spacing is suitable to enhance aeration and prevent diseases. Tomato plants can develop big stems and leaves that can cover large areas.
When planted in greenhouses, they require support structures or twines, therefore a 20 cm spacing can be suitable.
Row Spacing
Drip lines or plant lines need to be spaced 1 m apart.
The plant beds for tomatoes should take 3 drip lines or rows per bed.
Components of Tomato Drip Kit
Water Tanks
Mainline Pipes (HDPE or PVC)
Sub Mainline Pipes
Connector Fitting
Ball Valves
Fertilizer injectors
Filters
Drip emitter (20 or 30 cm)
Water Requirements
Tomatoes require high water levels especially during the flowering period. Less watered tomato plants develop fewer flowers leading to few tomatoes fruit production.
Irrigation for 3–4 weeks after transplanting is convenient for production of more tomatoes. During flowering season, it is good to water daily for maximum flower and fruit development.
Therefore, sustainable, and timely irrigation is the solution to producing tomatoes of quality and surplus yields.
Tomatoes need constant irrigation depending on the water holding ability of the soil.
Tomatoes have a tap root system but cannot sustain its water requirements during the dry seasons.
Advantages of Drip irrigation in Tomato production
Quality tomato produce
Large and juicy tomato fruits.
Higher yield of tomato harvest.
Lower production and maintenance costs.
Higher management of pests and diseases.
Uniform distribution of nutrients and fertilizers
Balance in growth and production of all tomato plants.
Lower level of soil erosion.
Higher growth rate and shorter production periods.
Cost of Tomato Drip Kits
Aqua Hub Kenya has the exact cost for the drip kits required per acre and other small farm units. These costs are as shown below.
| | | | |
| --- | --- | --- | --- |
| Size/ Line per bed | 1 Line | 2 lines | 3 Lines |
| 1 acre | 75,000 | 130,000 | 160,000 |
| 1/2 acre | 40,000 | 61,000 | 71,000 |
| 1/4 acre | 28,000 | 40,000 | 50,000 |
| 1/8 acre | 13,000 | 23,000 | 26,000 |
Where to Buy Tomato Drip Kits in Kenya
Aqua Hub Kenya is the ideal place to buy drip kits and fittings. We have quality pipes, drip kits, sprinklers, rain hose pipes and other products at affordable prices.
Contact 0790719020