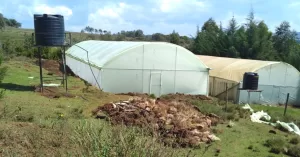 Metallic greenhouse in Kenya costs between Ksh. 240,000 and Ksh. 700,000, depending on size and crop population requirements. A Metallic/steel greenhouse is a form of greenhouse construction that is built with steel greenhouse frame rather than wooden greenhouse frame. Because of its longevity, strength, and capacity to survive extreme climatic conditions, galvanised greenhouses are becoming increasingly popular in Kenya. The design is intended to resist Kenya's harsh climate. They include strong winds, torrential rain, and extreme heat. You can also make them any greenhouse size or form you choose, giving for an optimal growing environment. This steel galvanized greenhouses are both affordable and long-lasting.
Selecting the right greenhouse covering
The greenhouse building materials by Aqua Hub Kenya are the best and affordable. Our greenhouse kits come with the following;
Metallic greenhouse Structure (made with the best materials)
Greenhouse Polythene Cover (200 microns, UV Treated, 5 Years Guarantee)
Insect Nets (Top ventilation)
Drip Irrigation Kit
Irrigation Filtration Unit
Side Polythene cover Roll-Ups for Ventilation
Crop Support System
Entry Pouch
Other features such as water tanks and soil testing are on special request by the clients
How to build Cheap greenhouse in Kenya
Constructing a steel greenhouse in Kenya can be a complex process, but here are some general steps to follow:
Site selection: Choose a level area that receives ample sunlight and is well-drained.
Greenhouse Design: Determine the dimensions and layout of the greenhouse.
Greenhouse fabrication: This involves steel frame greenhouse elements that are to be used.
Assembling the greenhouse structure: The assembling of the greenhouse structure is done using bolts or welding
Installation of greenhouse cover: Install the greenhouse polythene cover over the steel frame.
Tank connection and filtration: Connection of the tank that will be used and also the irrigation filter.
Drip kits: Installation of the irrigation drip kit that is to be used in the greenhouse.
Greenhouse Size and price in Kenya
| | | | | |
| --- | --- | --- | --- | --- |
| Width | Length | Crop Numbers | Construction cost | Installation period |
| 8 Meters | 15 Meters | 450- 500 | 240,000 | 2 – 3 Days |
| 8 Meters | 24 Meters | 700-800 | 270,000 | 3 – 4 Days |
| 8 Meters | 30 Meters | 1000-1200 | 365,000 | 4 – 6 Days |
|  16 Meters | 30 Meters | 1500- 2000 | 700,000 | 5 – 7 Days |
Types of Metallic greenhouse in Kenya
We have two types of metallic greenhouses in Kenya. They are;
Vent metallic structure
It comes with the following features;
It's a V-shaped structure
3 ventilation ends
Apex height of 4.50 meters
Standard furniture bars (Metallic)
Customized entry pouch
Tunnel metallic structure
It has the following features;
Doom shape design (Half moon shape)
Apex height of 4.20 to 4.50 meters
2 ventilation ends with side roll-up
Standard entry pouch
Other extras by Aqua Hub Kenya
Seedling trays to the limit of crop population of the greenhouse.
Coco peat enough for the provided trays.
16 liter knap sack sprayer.
Water tank (at client's cost).
Production manual for the entire period.
Full time technicians (Throughout the installation period).
Transport and accommodation for the technician.
Casual at client's cost.
Nylon twine – 1000 meters for crop support
NB: Delivery cost is borne by the client.