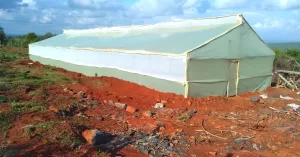 There are several options for affordable wooden greenhouses in Kenya. This depends on your specific needs and budget. Your needs and budget are the main determinants of the size of the wooden greenhouse that you will need. With lower budget you get a smaller affordable greenhouse and vice versa. An affordable wooden greenhouse in Kenya might cost anywhere from Ksh 165,000 to Ksh 390,000. Affordable wooden greenhouses can be constructed using locally available wood and poles. Compared to metal greenhouses, they are less expensive.
Sizes of Wooden greenhouses in Kenya
The size of greenhouses in Kenya can vary depending on a variety of factors. These include the crop being grown, the available land area, and the investment budget. However, the most commonly used greenhouse sizes in Kenya are;
8 by 15 Meters
8 by 24 Meters
8 by 30 Meters
16 by 30 Meters
Components in wooden greenhouse kits
Wooden Structure (Made of round poles)




Greenhouse Polythene (UV Treated 5 years guarantee)

Insect 

Nets

Drip 

Irrigation Kit


Main 

Pipe 

& 

Fittings

Tank 

Connection

Irrigation Filtration Unit
Wooden greenhouse in Kenya by Aqua Hub KE.
Aqua Hub Kenya greenhouses are affordable and the best in the Kenyan market. Apart from the usual components of wooden greenhouse. We have distinct extras that come with our greenhouses as follows;
 Vented type structure with an extra top ventilation chamber

Average apex height of 4.50 metres, ideal for all types of crops

Wooden round poles and assorted fittings necessary for the locality

Crop support systems comes with sterilizing wire (For holding plants)

We also shall provide nylon twine (1000 meters long)

Aqua Hub greenhouses also comes with a 16 Litre Knapsack sprayer 

We only provide 1000 litre tanks (Any additional is at client's cost)

We shall provide propagation seedlings (To the limit of crop population in the greenhouse)

Our costings also covers coco peat to the limit of seedlings trays supplied

Our greenhouse cost and prices in Kenya have a full time technician at site 

Casuals (To be provided by the client)

Delivery cost is borne by the client
Extra services on request by clients are Water Tank, Crop support, Entry pouch and Soil testing
Cost and sizes of Wooden greenhouses in Kenya
| | | | | |
| --- | --- | --- | --- | --- |
| Greenhouse width | Greenhouse length | Number of crops | Cost of Construction | Installation period |
| 8 Meters | 15 Meters | 450- 500 | 165,000 | 2 – 3 Days |
| 8 Meters | 24 Meters | 700-800 | 180,000 | 3 – 4 Days |
| 8 Meters | 30 Meters | 1000-1200 | 240,000 | 4 – 6 Days |
| 16 Meters | 30 Meters | 1500- 2000 | 390,000 | 5 – 7 Days |
Greenhouse construction steps
Choose a suitable location for the greenhouse
Design the structure: Decide on the size and shape of the greenhouse.
Procure materials: Gather the necessary structural materials.
Construct the frame: Assemble the greenhouse using timber.
Install the greenhouse polythene: Cover the frame with plastic sheeting.
Install the suitable irrigation system considering the plants you are growing.
Plant and maintain the plants: Plant the plants and maintain them accordingly.
Monitor and adjust: Regularly monitor the temperature and humidity levels in the greenhouse and adjust the vents and windows accordingly.
Crops suitable for wooden greenhouse farming
Affordable wooden greenhouses in Kenya are suitable for growing a wide range of crops. Here are some crops that are particularly suitable for wooden greenhouse farming in Kenya:
Tomatoes: Due to their high value, demand, and suitability for greenhouse conditions.
Capsicums and bell peppers: These crops also do well in greenhouse conditions.
Cucumbers: Does well in warm and humid greenhouse conditions.
Lettuce: It can be grown year-round and has a relatively short growing cycle.
Herbs: A wide range of herbs can be grown successfully in a wooden greenhouse in Kenya.
Strawberries: Can be grown in a greenhouse environment and provide high yields per plant.
Protection of wooden greenhouses
Check and maintain the walls and roof of the greenhouse on a regular basis.
To lessen the chance of drafts, make sure the greenhouse is tightly sealed.
To shield the roof from severe weather, cover it with a sheet of plastic or metal.
To keep pests out of the greenhouse, use insect screens.
To prevent decay, treat and paint the wood using only non-toxic substances.
To shield the wood from the outdoors, paint or apply a sealer.
Clean the interior of the greenhouse frequently to get rid of dirt and trash.
All flammable materials should be kept out of the greenhouse.
Check the greenhouse's framework frequently for signs of rot or damage.
To keep the wooden greenhouse dry in the rain, cover it with a water-resistant covering.