Fish pond Liners in Kenya or Fishpond liners for sale in Kenya
Pond liners are normally used in fish pond farming in Lowland areas of the country and parts with less permeable soil types such as clay soil
Fishpond liners for sale in Kenya
The introduction of fish pond liners has widened the practice of fish rearing as most farmers have adapted it. Laying fish pond liners helps preserve water in your pond and thus cannot limit the places to conduct fish farming.
Fish pond Liners in Kenya by Aqua Hub
Fish pond Liners are waterproof polythene plastic materials placed in ponds and dams to prevent water loss through soil absorption. They are normally black and vary in thickness and size according to the size of the pond.
Aqua Hub Kenya is a certified vendor in manufactured fish pond liners that matches the role of water preservation in your ponds.
We sell our fish pond liners at various sizes depending on the size of the customer's ponds. Our common sizes come in 0.3 mm,0.5 mm,0.75 mm and 1.0 mm thickness sizes.
Benefits of Fish pond Liners
UV Resistance – Fish pond Liners are designed to resist corrosion and burn from ultraviolet radiation since they are made from polythene plastic polymers.
Cheap to maintain – Fish pond Liners are affordable and long-lasting thus you spend less cost in repairs and maintenance.
Durable – Fish pond liners are highly durable especially when made from new polythene material. They can last for up to 50 years depending on the size of thickness.
Flexible and easy to install– Fish pond liners are flexible hence easier to fold and spread easily during installation.
Installing Fish pond Liners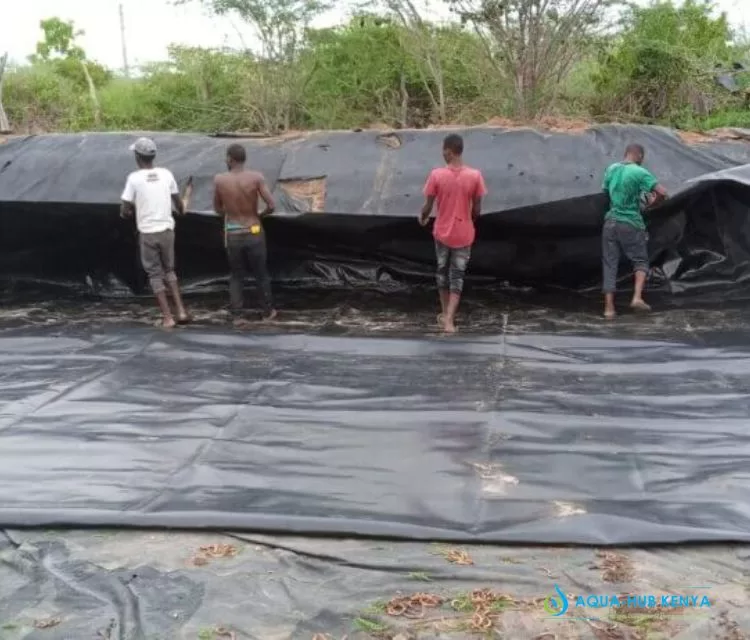 Construct Ponds using excavators or human labour (Consider the measurements of the Dam Liner)
Dig trenches around the pool (about 2 feet deep).
Ensure the pond surface has a flat and smooth level.
 Fit Pond/dam liners on the Pond while ensuring the extension part enters the trenches.
Cover the trenches with soil to hold the extension.
Pump water to the pond.
Conditions to meet For Proper Pond Liner Installation
The process of fitting liners into your ponds and dams is an easy procedure but can result in serious problems if not well adhered to. The problems may include fish death and floods that may destroy surrounding vegetation and property. To avoid these issues occurring in the future the following conditions should be met:
 A proper place with a strong soil structure should be set for building fish ponds.
The place should be a flat surface with slightly heavy soil that can hold pond liners.
The size of the dam built should be equal to the dam liner.
Outlets should be available to prevent salt accumulation from killing fish.
Silt filters should also be fitted to trap soil that may accumulate.
Pond Liner Prices in Kenya
| | |
| --- | --- |
| Gauge/ Thickness  | Cost per square meters |
| 0.30 mm | KES. 210/- |
| 0.50 mm | KES. 240/- |
| 0.75 mm | KES.330/- |
| 1.00 mm | KES. 410/- |
Where to Buy Fish pond Liners in Kenya
Aqua hub Kenya is the ideal place to buy fish pond lining materials at affordable prices. We also conduct after-sales services that mainly focus on installation of fish pond liners to our customers at affordable cost.
Call 0790719020 or email info@aquahubkenya.co.ke.