We provide and install fish pond liners for big commercial ponds as well as tiny water gardens, which are necessary for keeping your pond waterproof. Because the fabric is very impermeable, our fish pond liners keep pond water from slowly seeping into the earth below. Our pond liners are aquaculture safe and designed for fish ponds. It's a flexible fabric with a wide range of applications and uses. We utilize heavy-duty materials that are resistant to the environment and UV-treated to prevent sun damage. The fish ponds are easy to build, and we can manufacture custom sizes to ensure that you receive just what you need.
Fish Pond Liners
Water is prevented from seeping into the ground by pond liners. They stop water loss by creating an impermeable barrier between the water and the soil. In order to maintain optimum water levels in the pond, the fish pond liner makes sure that there is no water seepage. A pond liner also keeps the fish distinct from other critters that can slither in from the ground. You can easily maintain your fish business with our selection of premium liners and the lowest fish pond liner costs in Kenya.
What's the Purpose of a Pond Liner?
The primary purpose of a pond liner is to prevent water leakage from your pond. Without a liner, water will slowly leak out of your pond and onto the surrounding ground, unless you dig your pond in particularly clay-rich soil.
As a result, you would have to replenish your pond on a daily, weekly, or even more regular basis, which would be time-consuming and severely disrupt both fish and plant life.
Even if your land is clay-rich, it usually makes sense to use a pond liner. Even clay will absorb water, thus your pond will nonetheless slowly lose water over time.
Pond liners provide benefits for your pond's flora in addition to sealing in water. Pond liners can act as bases for more substrate to be layered on top of, or as substrates for plants to cling onto.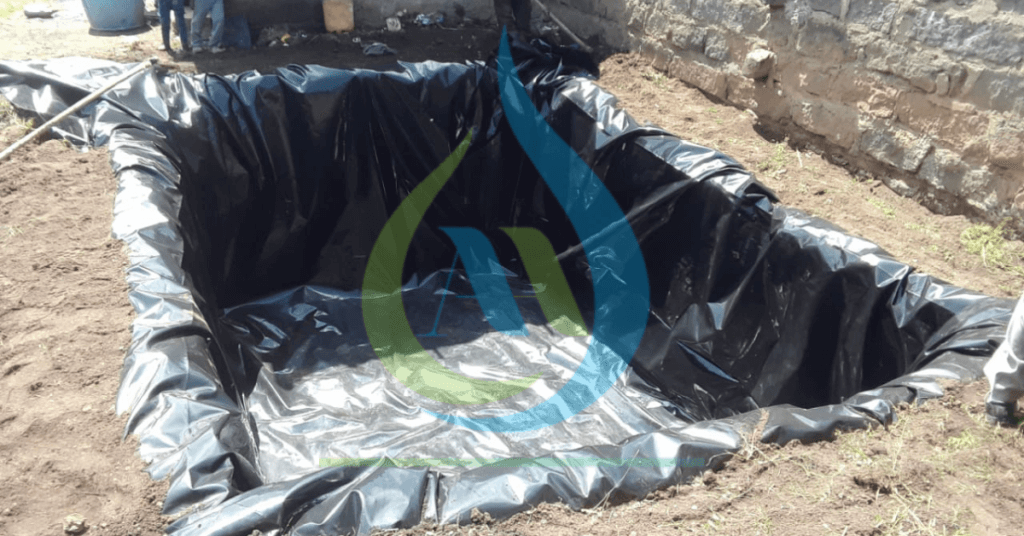 Characteristics of Our Fish Pond Liners
Flexible enough to conform to your pond bed's curves and contours
Lightweight enough for easy use.
Very durable and resistant to stretching.
Extremely resistant to puncture.
NON-TOXIC to plants and aquatic life.
Very resilient against UV damage.
Long-lasting enough to last for many years.
To match your pond design, you must determine how much liner material you'll need. For standard pond designs, there is a straightforward approach for determining the appropriate liner sheeting size. Find the points in your pond design that are the widest, longest, and deepest in feet. The pond's depth should be doubled, plus one foot. The sheet size you require is this number multiplied by this number multiplied by the breadth of your pond. Therefore, if your pond is 8 feet deep, 12 feet long, and 10 feet wide: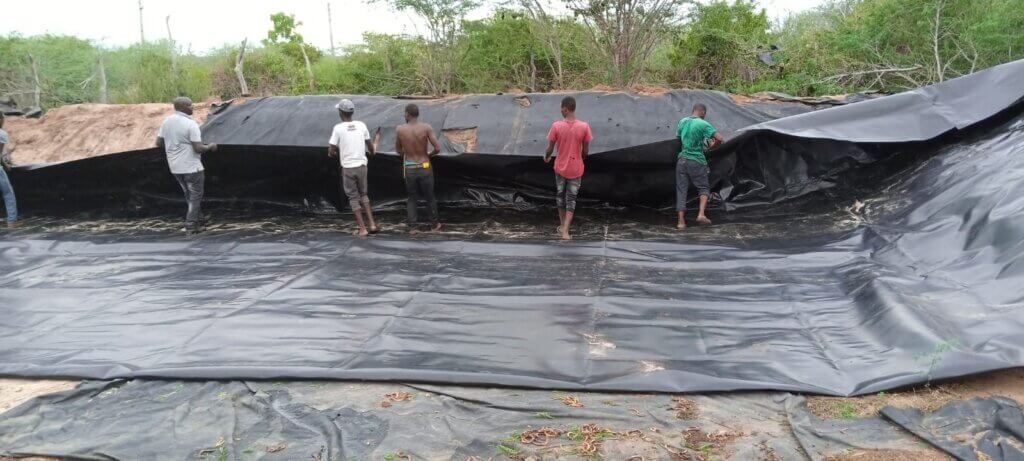 (8 feet deep x 2) + 1 = 17 feet
17 feet + 10 feet wide = 27 feet
17 feet + 12 feet long = 29 feet
Therefore, to cover the whole pond, you'll need a sheet of liner 29 feet long by 27 feet wide.
Where to get fish pond liner in Kenya
Aqua Hub sells high-quality pond liners. We realize how critical it is for you to have a high-quality fish pond liner for your project. As a result, we only sell high-quality fish pond liners that are built to last in a fish pond. Not only that, but our fish pond liners are not poisonous to the fish, so you can be confident that you will get the harvest you deserve.
Our fish pond liners are UV resistant, so you can be confident that your investment will survive for decades. We carry a broad range of materials, so you can be confident that you will find something suitable for your fish pond at reasonable fish pond liner costs in Kenya. Don't worry if you're not sure what material to buy for your pond. We are ready and willing to assist you in determining the best product for your needs and budget.
Contact us now to learn more, arrange a site visit, or receive a custom price for your project, NAIROBI: 0790719020 | ELDORET: 0759372241.
Get Quality Fish Pond Liners