Aqua Hub Limited is the leading Irrigation Company in Kenya. We provide you with all the requirements that you need for your irrigation. We can also advise you on the best sort of irrigation for your needs. As an irrigation company in Kenya, we offer the best services to our clients. Our irrigation systems are both affordable and of high quality. Our irrigation system cost and pricing in Kenya also depend on the unit's size, design, and type of irrigation. Based on this, we offer various irrigation options that may be appropriate for the crops you wish to plant.
Why Choose Aqua Hub as the ideal Irrigation Company in Kenya
Irrigation is one of the most important elements enhancing agricultural productivity in Kenya and throughout Africa. Several farmers rely on irrigation for agricultural productivity at the moment. This is because of the constantly changing and unpredictable weather conditions. Irrigation is the agricultural technique of applying regulated amounts of water to land in order to aid in crop development.
Aqua Hub will accompany you on your irrigation journey in order to boost agricultural productivity for both small and big-scale farmers in Kenya. Our goal is to see that agriculture in the country improves. We accomplish this by supplying you with all the irrigation equipment you need. We can also advise you on the optimum irrigation type depending on the crop and locality. Aside from that, we provide farmers with irrigation system installation services.
Irrigation equipment that we supplier
All of Kenya's irrigation facilities are provided by Aqua Hub. We are a significant provider of irrigation equipment in Kenya. Among the irrigation systems, we provide in Kenya are drip kits, rain hose systems, rain gun sprinklers, impact sprinklers, and pop-up sprinklers. We provide a variety of irrigation equipment for sale and installation. Factors include crop kind, topography, water availability, location, and customer budget.

We provide items for farms, greenhouses, lawns, and golf courses in our broad assortment of accessories, machinery, and systems. Our irrigation pipes for sale work with rain hose kits, drip irrigation gear, and overhead watering systems. To fulfill the demands of certain crops and producers, they are diverse within each category.
Drip kits: For the irrigation of both fruit trees and vegetables, as well as forestry. Drip tape, 16 mm HDPE pipe, starter connectors, off-takes, drip to-drip connectors, button or online drippers, and end caps are all included in this.
Rain hose kits: A rain hose pipe, off-takes, connections, and an end cap are all included in it.
Sprinkler systems: Pop-up sprinklers, Rain gun sprinklers, impact sprinklers, and butterfly sprinklers
Types of Irrigation systems that we provide
There are many different irrigation techniques available, and each person's farming needs determine the technique they use. If you don't know much about irrigation systems, you've come to the right place because we'll go over the most popular ones. You might want to have a more in-depth conversation with your chosen Kenyan irrigation equipment providers in order to get a product that matches your needs. Here are a few illustrations of the numerous choices: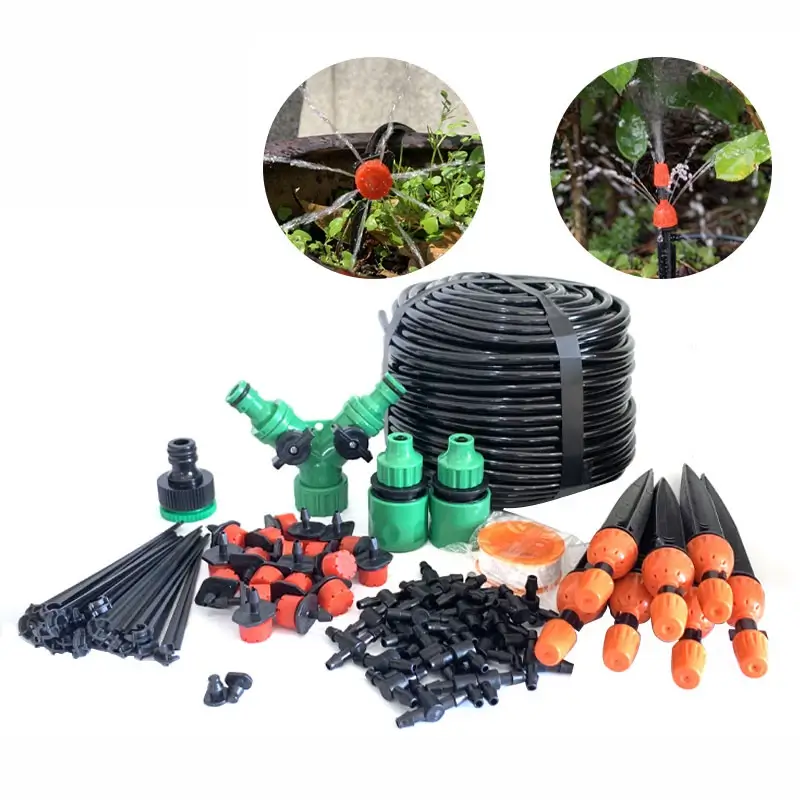 Farmers in Kenya frequently employ drip irrigation. Several farmers like the system since it uses less water and has inexpensive water costs. Although this strategy requires significant up-front costs, over time it saves money. The best supplier of irrigation equipment in Kenya is Aqua Hub Kenya, which offers a number of systems to irrigate farms in areas with limited water resources. This irrigation method is water-efficient.
Sprinkler irrigation systems
Sprinkler irrigation is another common irrigation technology. Sprinklers are the polar opposite of drip irrigation. This system gets its water from above. Rotating sprinklers water the vegetation on your farm from above. Aqua Hub Kenya has a large number of sprinkler irrigation systems. Regardless of their functional distinctions, they all serve the same purpose.
Overhead sprinkler irrigation, like rainfall, is a way of providing irrigation water. Pumping water supplies are then employed to deliver water via a pipe network. It is then dispersed into the air and sprayed with spray heads throughout the whole soil surface. As a result, it is broken into minute water drops that fall to the earth. Aqua Hub has the most cutting-edge overhead irrigation technology.
Rain Pipe Irrigation System
A low-cost spray irrigation technology is rain hose irrigation. It is an alternative to using sprinklers for irrigation. It is simple to set up and keep running. The Rain Hose is a flexible hose with drip holes. These drip holes were made utilizing nano-punching technology to ensure a steady flow of water. The rain hose is appropriate for close-spaced crops such as onions, vegetable crops, green vegetables, groundnuts, and so on. Aqua Hub provides all the necessary equipment for this sort of irrigation system.
Get High Quality Irrigation Systems