Irrigation Pipes for Sale in Kenya
Irrigation Pipes for Sale in Kenya |Aqua Hub Kenya Limited is a popular and most preferred dealer in irrigation pipes.
Our irrigation pipes are suitable for large scale and small-scale irrigation farming. We customize the sizes to meet the needs of the farmer.
Irrigation pipes by Aqua Hub are normally made of hard and UV resistant polythene material to resist the harsh solar radiation.
Our pipes come in various shapes and fittings for connections in any type of topography.
Types of Water Pipes
Aqua Hub has different types of irrigation pipes that are classified according to material they are made of, durability and respective sizes.
HDPE Pipes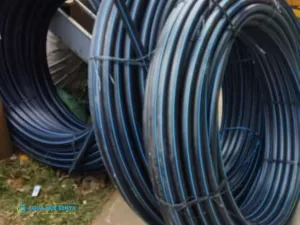 Plastic pipes made of flexible High density polythene material for supplying fluids such as water, gas, and oil.
They are best for transporting water for irrigation due to their flexibility.
They can bend and fit into other pipes, they can be cut and drilled easily for making connections.
HDPE pipes are also hard, a feature which prevents them from bursting when water is supplied under high pressure.
HDPE pipes are joined using heat fusion where a pipe is heated to expand and another inserted to it. Connecting HDPE pipes requires the application of open trench, drop burial and direction bore methods.
PVC Pipes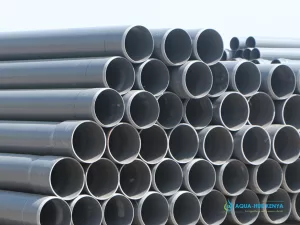 PVC pipes are light pipes are made from Polyvinyl chloride.
They are firm and non-flexible hence applicable in variety of uses in plumbing and irrigation systems.
They can function as fittings such as elbow pipes, connectors, angles, and adapters.
PVC pipes require a special type of glue sealant when joining them to ensure they firmly stick together to prevent water leakages.
Open trench and drop burial techniques are best for installing PVC pipes.
Polythene Tubing/ Poly Pipe
Polythene tubing is a common flexible plastic tubing used to transport fluids, water, sewage waste and other liquids.
It is manufactured from polythene materials and is resistant to corrosion and UV radiation.
The diameter thickness ranges from ¼ inches to 2 inches.
Poly pipes come with poly pipe fittings such as couplings, poly pipe elbows, poly pipe adapters and tee connectors.
Swing Pipes
Swing pipe is a polythene tubing used to link pop-up sprinklers and rotors to PVC or Mainline HDPE pipes in irrigation systems.
They have high thickness level to enhance strength to protect them from bursting or detaching when water is flowing under high pressure.
The farmers should consider the material type, flexibility, durability, and quality when choosing pipes for irrigation.
HDPE pipes are the most effective pipes for irrigation since they can withstand all seasons of cold and hot temperature for a long time.
Prices of Water Pipes in Kenya
| | |
| --- | --- |
| Size | Price for 100 m |
| 16 mm | 1,500 |
| 20 mm | 2,500 |
| 25 mm | 2,800 |
| 32 mm | 4,800 |
| 40 mm | 7,000 |
| 50 mm | 10,000 |
| 63 mm | 15,000 |
Irrigation Pipes Suppliers in Kenya
Aqua Hub Kenya has the most ideal irrigation pipes and fittings in all its branches in Eldoret and Nairobi.
Are you looking for Irrigation pipes? We have the best irrigation pipes at the most affordable prices.
Call us at 0790719020 or email info@aquahubkenya.co.ke.