Water Pipes for Irrigation in Kenya
Water pipes for Irrigation in Kenya, are available at Aqua Hub Kenya. HDPE pipes are pipes used to supply water for irrigation and transport gas in industries. They are made from high-density polyethylene material, reducing ultraviolet light's impact.
How are HDPE Pipes used?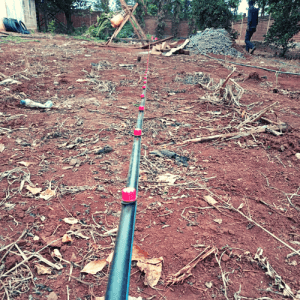 HDPE pipes can be laid underground or fitted above the ground. They can withstand high pressure and hence can cut maintenance costs since they are durable and robust. HDPE pipes are relatively light in weight and are easier to transport and install. They are also easier to install and repair since the broken part is only removed and a new pipe is fixed.
HDPE pipes are essential for various functions due to their flexibility, durability, and resistance to corrosion resulting from harsh weather conditions. They can irrigate crops, pipe water, and transport fluids such as oil, gas, and steam in industries.
Irrigation Systems Using HDPE Pipes
Drip Irrigation System

– HDPE pipes are suitable for drip irrigation systems since pipes can be installed in rocky or hilly/slope terrain owing to the flexibility of the pipes.

HDPE Sprinkler irrigation System

—The length of HDPE pipes is convenient for sprinkler irrigation systems to cover a large tract of land. The ease of joining the pipes and flexibility enables water to reach all parts of the farm.
How to Join Water Pipes for Irrigation in Kenya ( HDPE Pipes)
The common knowledge of joining and connecting HDPE pipes is more accessible for farmers to learn and understand the process. The steps to connect HDPE pipes are as follows:
Make the lid of the connector lose open.
Remove the black filter to check whether the connector has a rubber washer.
Attach the filter back to its original place.
Insert the HDPE Pipe from the back.
Make sure you have the white tightener in place.
Push the pipe to the limit end.
Start tightening the outer cover to seal all the possible leaking points.

Water Pipes for Irrigation prices in Kenya
HDPE Prices in Kenya
Size
Thickness
Cost per metre
16 mm
PN6
KES. 20/-
20 mm
 KES. 35/-
25 mm
 KES. 40
32 mm
 KES. 50
40 mm
 KES. 65
50 mm
 KES. 101
63 mm
 KES. 190
Where to Buy Water Pipes for Irrigation in Kenya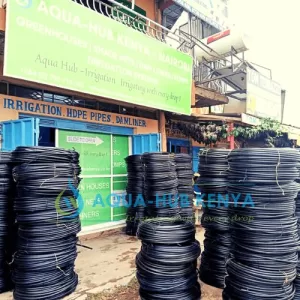 AQUA HUB KENYA LIMITED has the best quality and affordable HDPE pipes 100 m in length and varying colours and diameter sizes. Depending on the customer's specification, we offer HDPE pipes ranging from 16 mm-800 mm in diameter and pressure gauges of PN6-PN25.
To place your orders for purchase of HDPE Pipes and other irrigation pipes, call:
0790719720