HDPE pipes in Kenya are high resistance pipes that are flexible and durable, used for irrigation and water conveyance. We provide HDPE pipes and fittings in Kenya for usage in telecommunication conduits, irrigation, gas, and sewage systems. HDPE pipes are robust and long-lasting. In Kenya, we use high-density polythene materials that have UV stability to make our HDPE pipes. These high-density pipes are employed for irrigation and the piping of industrial liquids including water, oil, and other fluids. HDPE pipes of various wall thicknesses and lengths up to 100 meters are produced and offered by Aqua Hub.
Uses of HDPE Pipes in Kenya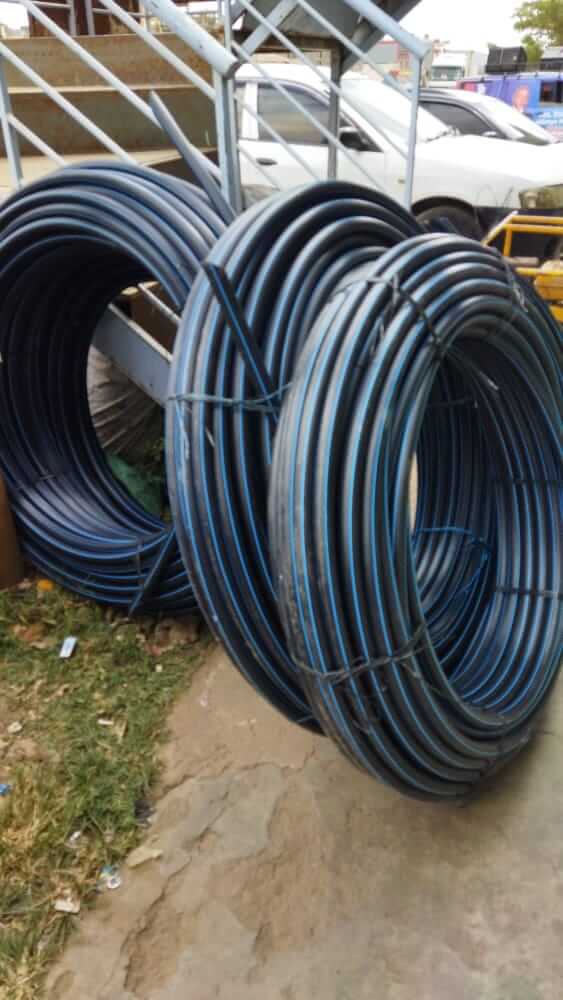 Urban water supply system.
Landscaping water supply network.
Oil and gas flow, gas drainage system.
Dredging pipeline engineering (sand sediment transport).
Underground firefighting system.
Cable covering (HDPE conduit).
Tunnel escape and ventilation engineering pipelines.
Industrial raw material conveying pipe network, industrial sewage discharge.
Fields of farmland irrigation and aquaculture projects.
Advantages of HDPE Pipes in Kenya
High chemical resistance and good low-temperature impact resistance.
Long-term dependability and potable water safety.
Resistance to deposits, deposits, and tuberculation.
Adaptability to expedite installations.
Resistance to freezing-break.
Lightweight and portable.
Low scrap value prevents theft on the job site.
Robustness and durability to withstand job site installations.
With several fitting and connecting choices, no flame is utilized for joining.
Eco-friendly, recyclable material
Fusible at high temperatures for almost leak-free operation.
What are the different sizes of HDPE Pipes?
The length of these agricultural HDPE pipes is standard up to 90mm, beyond which the length varies depending on the pipe diameter. Aqua Hub HDPE Pipes are available in diameters ranging from 16mm to 800mm, with pressure gauges ranging from PN6 to PN25.
In a nutshell, HDPE pipes come in diameters ranging from 16 mm to 800 mm, with pressure gauges ranging from PN6 to PN25. They are available in rolls with diameters ranging from 20 mm to 110 mm.
What is the cost of HDPE Pipes?
The price of HDPE pipes vary from ksh 1500 to ksh 33,000, depending on the size, length, and weight of the pipe. Prices range from PN6 to PN16.
| | |
| --- | --- |
| Size | Price |
| 16mm | 1,500 |
| 20 mm | 2,500 |
| 25 mm | 2,800 |
| 32 mm | 4,800 |
| 40 mm | 7,000 |
| 50 mm | 10,000 |
| 63mm | 15,000 |
Aqua Hub sells and services the best irrigation pipes in Kenya. Our HDPE pipes in Kenya are of the highest quality. We are Kenya's premier HDPE pipe provider. HDPE pipes for sale are available with a variety of HDPE pipe connectors. Please contact us at: 0790719020 NAIROBI | 0759372241 ELDORET