Filters for Drip Irrigation in Kenya|The goal of clean water supply is to avail pure water free from impurities, minerals, and dirt particles.
With Aqua Hub Kenya Water filters, you can meet the goal of effective water distribution on your drip irrigation systems.
What is an Irrigation Water Filter?
An irrigation water filter is equipment used to separate or remove dirt, obstacles, silt, and other particles that may clog irrigation pipes from the irrigation water.
Filters are important in sieving particles that could probably seal the pipes. Clogging of pipes affects irrigation as it reduces pressure of water and blocks water from reaching the drip lines.
How to use Filters for Drip Irrigation in Kenya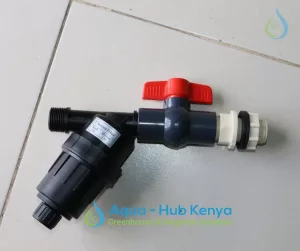 Connect the filter to the source ( From Tank)
Adjust to have control valve before the filter
Ensure the direction flow of water is connected appropriately
Specifications of our Drip irrigation Filters
• Our Screen & Disc filters are available in sizes of 25 mm, 32 mm, 50 mm and 63 mm.
Types of Water Filters
Screen Filters for Drip irrigation
• Used in irrigation systems with low pressure moving water.
• Screen Filters have screens with net-like plastic filters on the inner part of the filter.
Disc Filters for Drip Irrigation
• Made of plastic discs vertically attached together.
• The Disc filters are applicable to irrigation systems with high pressure requirements for particles to be captured.
Water Filters for Irrigation prices in Kenya
| | |
| --- | --- |
| Size (mm) | Price (KES) |
| 25 mm | 800 |
| 32 mm | 1,000 |
| 50 mm | 2,500 |
| 63 mm | 3,500 |
Where to buy Filters for Drip Irrigation in Kenya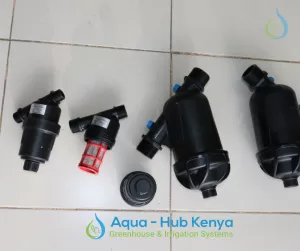 Buy Quality filters from Aqua Hub Kenya at cheap and affordable costs.
Call 0790719020 or email info@aquahubkenya.co.ke.
| | |
| --- | --- |
| Nairobi  | Utawala – Eastern Bypass Next to Lexo Petrol Station |
| Call: | 0790719020 |
| | |
| Eldoret : | Eldoret Annex -Next Moi University School of Law |
| Call:  | 0759372241 |
| | |