Dam Liners for Concrete tanks -Aqua Hub
Dam Liners for Concrete Tanks | Aqua hub Kenya offers effective and quality purpose dam liners convenient for securing your tanks. We also install them for our clients at affordable costs.
Why use Dam Liners in Concrete tanks?
The materials for constructing concrete tanks are not fully reliable to last long with water storing capability. Often concrete walls develop cracks, can be destroyed by water and this can result in water seeping to the ground. Concrete tanks need to be made waterproof and airtight for it to be 100 percent water retentive.
Specifications of Concrete Liners
Aqua hub dam liners are available and classified in various thickness levels. They are:
0.3 mm thickness
0.5 mm thickness
0.75 mm thickness
1 mm thickness
Application of Dam Liners
Dam Liners can be used to prevent the water leakages in concrete tanks. Due to its hardness, flexibility, impermeability, and resistant to corrosion, dam liners can store water for a long period of time.
Which thickness level dam liner is suitable for concrete tanks?
0.5 mm dam liner is the best for concrete tanks because they are flexible and less exposed to physical damage. 0.5 mm are not much heavier and are flexible to fit into different sizes of concrete tanks.
Features of Concrete Dam Liners
Plastic made materials – Dam Liners are made of plastic polythene materials.
Resistance to rust – plastic materials do not rust thus storing water using dam liners is not a problem.
Long term durability – Dam liners have a long period of durability and effectiveness. They can last longer than 15 years depending on the thickness gauges.
Flexibility and easier to install – Dam liners are easy to spread, hold and join. They can fold easily to fit into various shapes of concrete tanks or surfaces.
Resistance to wear and tear – Dam Liners are hard covers; they cannot tear up or get worn out easily.
How to Install Dam Liners in Concrete tanks
Fitting Dam Liners in concrete tanks is a very easy process. Concrete tanks are normally cylindrical or rectangular shape. Therefore, ensuring a perfect fit dam liner for a concrete tank is very important to ensure all surfaces of the tank are secure. Steps include:
Construction of Concrete tanks
Smoothening the tank surfaces on the inner part surface and walls of tanks
Obtain Measurements of the diameter and height of the tanks.
Measure the dam liner to match the tank dimensions.
Add an allowance of 1 m on the height for holding the liner onto the lid of the tank.
Cut the dam liner to fit the tank. The floor of the tank is either circular or rectangular, cut the liner to a shape which fits the floor of the concrete. The wall surfaces are either spherical or rectangular parts.
Join the surface dam liner to the wall dam liners using a welding machine.
Fit the liner into the walls of the tank pit.
 Hold the liner using planks of wood or cement it onto the concrete wall structure using blocks and gravel.
 Place water to test whether the liner is fully waterproof.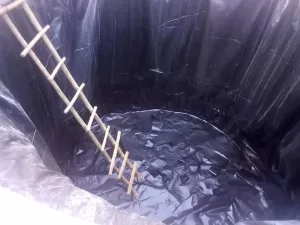 Prices of Dam Liners
| | |
| --- | --- |
| Gauge/ Thickness  | Cost per square meters |
| 0.30 mm | KES. 210/- |
| 0.50 mm | KES. 240/- |
| 0.75 mm | KES.330/- |
| 1.00 mm | KES. 410/- |
Aqua Hub Kenya has quality dam liners for dams, ponds, and concrete tanks.
Call; 0790719020 or email info@aquahubkenya.co.ke.