Greenhouse Materials for Sale in Kenya
Greenhouse Materials for Sale in Kenya by Aqua Hub Kenya. We have the best quality components of a greenhouse in Kenya. Our greenhouses come with various features that are discussed below:
Greenhouse Covers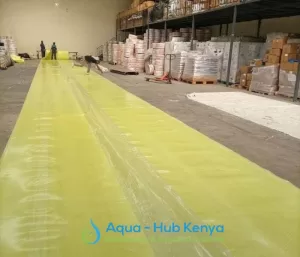 Greenhouse covers are special types of polythene material sheet used to shield the inner greenhouse environment from the outside. They are made of translucent material to allow light to penetrate.
Farmers can choose greenhouse covers by considering the thickness, drip prevention qualities and Ultraviolet heat prevention. However, the type of crops to be grown on the greenhouse will influence the choice of the greenhouse covers to purchase.
Anti Insect Nets
Insect Nets are Radiation-free nets used to prevent birds and insects such as white flies and aphids from destroying crops in greenhouses. Applying insect nets is significant in reducing the cost and use of pesticides in greenhouses.
Profiles and Wiggle Wires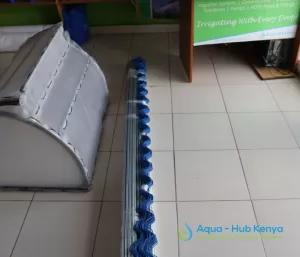 Wires used to hold greenhouse polythene sheets and shade nets for roofing of greenhouses.
Greenhouse Drip Kits
Drip kits are accessories for drip irrigation farming in a greenhouse. They consist of a water source, HDPE pipes, drip emitters, tanks, connectors, water filters and end caps.
Nylon Twines for Crop Support
Nylon twines are ropes made of nylon used to provide support for plants that have twining stems. In greenhouses, plants such as French beans usually have weaker stems due to low sunlight and many fruits they produce.
Gutters Water Harvesting in a Greenhouse
Gutters are steel metals frames and attached to plastic used to collect and drain rainwater in a greenhouse. It is easy to join gutters as they are sold with holes already drilled for screws to be fitted to the profile wires.
They can be 8–20 feet tall, depending on the model and size of the greenhouse. While choosing gutters for greenhouses, it is best to consider their resistance to rusting and corrosion. Steel and aluminium made gutters are not prone to rusting, hence the best.
Greenhouse Materials Prices in Kenya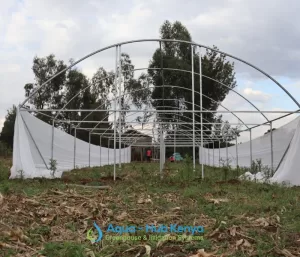 | | | |
| --- | --- | --- |
| Material | Dimensions | Price |
| Greenhouse Covers | All Dimensions | KES.100/-  |
| Profiles & Wiggle Wires | 4 M ( Plus) 2 wiggle wires | KES.600/- |
| Drip Lines | 1000 Metres | KES 8,000/- |
| Screen Filters | 25 mm & 32 mm | KES. 800/- |
| Insect Nets | (2.5 × 30 & 3×30) Metres | KES. 100 /-  |
| Shade Nets | (4 × 50 )Meters | KES. 90/-  |
Where to buy Greenhouse Materials in Kenya
Aqua Hub, Kenya has adequate supply of quality greenhouse construction materials. Other products include dam liners, shade nets and sprinklers.
We are located at Eldoret at JAMBONI, ANNEX and NAIROBI at BENEDICTA UTAWALA along the Eastern Bypass.
Call 0790719020 or email info@aquahubkenya.co.ke.