Greenhouse Polythene in Kenya
Greenhouse Polythenes .Aqua Hub Kenya offers quality greenhouse polythene.
They are 200 microns in thickness
UV-Treated
It offers you a longer growing season. Growing seasons can be extended even in cold seasons
Growing crops under a structure ensure pests are kept at bay.
The use of chemicals is greatly reduced.
There is an optimum growing environment for the plants.
Plants are protected from bad weather
Reduced use of dangerous pesticides
Types of Greenhouse Polythenes in Kenya
| | |
| --- | --- |
| Color | Microns |
|  Yellow |   200 Microns |
| Milky White |   200 Microns |
| Clear |   200 Microns |
Where do I  buy Greenhouse polythene in Kenya?
Visit Aqua Hub Kenya Limited or Call: NAIROBI : 0790719020 | ELDORET : 0759372241 
W

hy 

choose greenhou

se Polythenes?
L

onger 

growing seasons as the sun

'

s radiation are trapped in the structure, therefore,

retaining the heat hence ensuring they can be used even in a cold climate

M

ore 

plant o

ptions. 

Y

ou 

can grow a variety of plants as it provides an environment to 

experiment with

new pl

ants that are not found in the local 

area

W

eather 

protection ensures your crops do grow all year long that

guarantying 

productivity

P

est 

and destructive animal protection. 

T

he 

safety of your crops ensures returned 

yields

S

aves 

energy and investme

nt.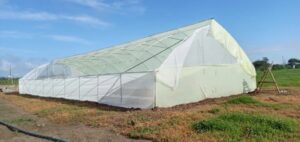 What are the prices of greenhouse polythene in Kenya ?
| | |
| --- | --- |
| Color | Prices |
|  Yellow, 200 Microns |     90/- |
| Milky White, 200 Microns |     90/- |
| Clear, 200 Microns |     90/- |
Steps for Installation of  Greenhouse using Polythene Sheeting  in Kenya
Choose the appropriate  location ( With help of an expert from Aqua Hub)
Conduct soil testing
Engage the technician to do the greenhouse structure ( Using procured materials from Aqua Hub Kenya )
Install the Polythene cover ( Strictly 200 microns, Uv Treated )
Install side Nettings for air circulation in the greenhouse
Provide for roll-up sheet ( To regulate greenhouse temperatures )
Conduct piping and Tank connections ( The tank should be raised to allow water to flow to the wooden greenhouse through gravity)
Ensure your filtration system is in check to disallow debris and other sand particles into your driplines
Install your drip kit system ( With control valves for easy navigation of water to various sections of your wooden greenhouse)
Conduct testing and prepare for planting