Coco Peat Treated
Buy treated cocopeat with ( Calcium Nitrate) from Aqua Hub Kenya Limited at an affordable price.
It is a multi-purpose growing medium made from the pith inside a coconut husk which make it
naturally anti-fungal and an excellent choice to start seeds. It is environmental friendly and reusable.
It retains moisture releasing it slowly to plant roots
Related products
Buy the best quality Seedling trays from Aqua Hub Kenya Limited  at an affordable prices .
Propagation trays are specially designed PVC uv-stabilized trays that hold seedlings from germination stage until they are ready for transplantation. They provide extra depth for increased soil volume designed to de-nest easily, save your time and effort while planting seedlings.
They are the most economical inserts for growers. With farmers currently pursuing agriculture as a business our seedling trays make it possible to account for seedling growth/survivor. Why choose planting trays; (i) Efficient use of space allowing one to account for each and every seed placed (ii) Make sowing, handling and transplanting of seeds easy (iii) Can be re-used (iv) Allows count of actual germinating seeds and seedling survivals (v) During transplanting the growth media covers the root system preventing transplant shock which would otherwise slow down crop growth and delay maturity Planting media This is a special medium/material where you grow your seeds. We have different types of solid medium; (i) Cocopeat (ii) Peat moss (iii) Vermiculate Advantages of using growing medium; (i) Supplies the seedlings with all nutrients needed for germination (ii) Have a shorter growing season also improving crop uniformity and more accurate prediction of harvest date (iii) Allows for maximum root growth (iv) Allows plants to be potted on with a minimum of root damage and prevent entangled roots (v) Low cost and efficient (vi) Re-useable from season to season (vii)They also cushion seeds against fungal diseases common in conventional methods Availability and specifications; Trays are available in the following cells – 32, 50, 72, 128, 105, 288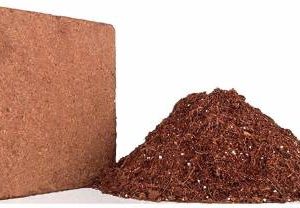 Buy Cocopeat block from Aqua Hub Kenya at an affordable price. It is a multi-purpose growing medium made from the pith inside a coconut husk which make it naturally anti-fungal and an excellent choice to start seeds. It is environmental friendly and reusable. It retains moisture releasing it slowly to plant roots