Coco peat in Kenya is available at conveniently lower prices at Aqua Hub Kenya. It is a growing substance or soil extract made from coconut husks. Coco peat is fine, less fibrous and light in weight with excellent water holding capacity. Cost of Coco peat in Kenya is a key consideration for quality and effective supply.
How is Coco peat Useful in Kenya?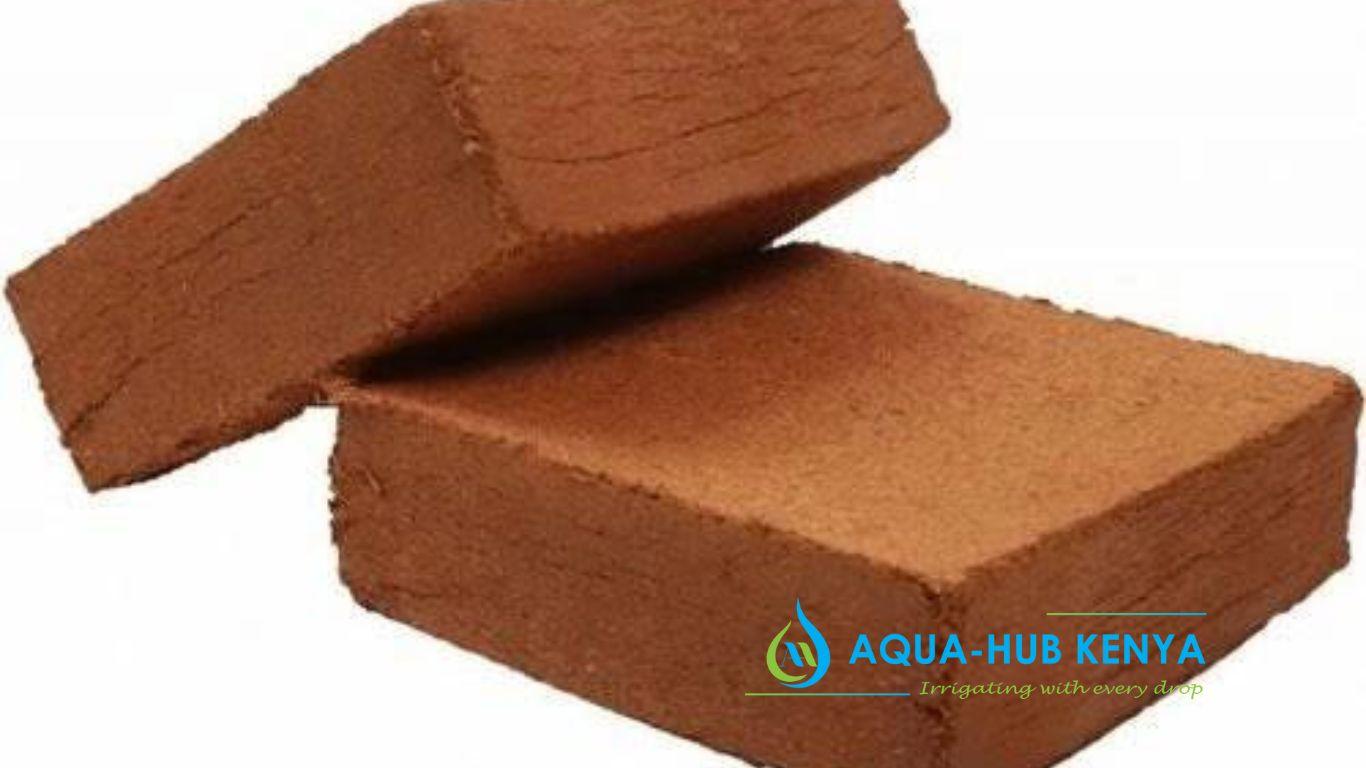 Coco peat is used as a growth medium in agriculture, hydroponics, cultivation of flowers and fruits.
Coco peat is an important soil conditioner in dry and sandy soils.
It is the best growth medium for container and potted plants.
A perfect alternative for peat moss.
Coco peat is a good mulching cover as it loses water slowly.
Can be applied as organic manure.
How to use Coco peat in Kenya
Coco peat is highly convenient with a great efficiency in agricultural use for flowers, seedlings, and potted plants.
To effectively enhance sustainable production and quality crops using coco peat, you need to be aware of the basic and ideal procedures of its application in agriculture.
The steps are:
You need to obtain quality blocks of coco peat from Aqua Hub Kenya, the best Supplier in Kenya.
Choose or identify a suitable or clean base or container for expanding and crushing the coco peat blocks.
Place the required number of blocks into a crushing base or container.
Fill the container with water, about 22 litres is required for a 5 kg block.
After the block has absorbed water, break it apart and wash it in water to remove impurities.
Filter the washed coco peat and pile it up to dry in a sack or container.
Mix the coco peat with soil for pot use, seedling tray or soil mulch. 35 percent of Coco peat is mixed with 40 percent soil and 25 percent manure.
Apply the mixture in a farm, garden, or seedbed.
Benefits of Coco peat in Kenya
Coco peat is an economical means of organic growth medium. It is affordable and requires less nutrient use.
Coco peat saves a lot of water and energy and time incurred on irrigation.
Less fertilizer requirement is a cost-effective and environmental conservation benefit of coco peat.
Increase in yield and nourishment in plants.
Coco peat is long-lasting – Coco peat rarely expires easily, instead as an organic matter, it decomposes to form manure.
Ease of storage and packaging. Coco peat is easy to pack and compress into blocks to occupy less space.
Advantages of Cocopeat
Coco peat is an organic and renewable substance.
High water retention capacity – Coco peat retains.
Enhances maximum air flow for root growth.
Coco peat is porous and can store nutrients.
It has a neutral PH which does not affect plants.
Does not support weed growth.
Lowers the frequency of irrigation.
Coco peat is very compressible, a feature that makes it easier for storage, packing and transportation.
Coco peat prices in Kenya
The cost of coco peat in Kenya depends on the weight of coco peat block or dust.
At Aqua Hub Kenya we 5 kg block costs KES. 900.
Convenient and affordable coco peat prices in the country.
Quality and reliable customer service.
We have a skilled workforce, who packs and deliver your orders on time.
Quality and arguably the best coco peat products in Kenya.
FREQUENTLY ASKED QUESTIONS
Is Coco peat suitable for use as a fertilizer?
Yes. Coco peat can be applied as an organic manure.
Is Coco peat reusable?
You can use coco peat several times without depleting its fertility or water holding capacity.
Is it good to mix coco peat directly with soil?
Yes. Mixing coco peat with soil is good to reduce fungal, bacteria and other organisms in soil from destroying plant roots.
What is the appropriate amount of water for a 5 kg block of coco peat?
Approximately 20 litres of water.
What is the cost of 1 block of 5 kg coco peat?
KES. 900.
What is the cost of 1 kg coco peat?
KES. 180.
Which nutrients are available in coco peat?
Potassium, Sodium, Calcium and Magnesium that facilitates growth in plants.
How Long does it take for a client's order of Coco peat to be processed?
Depends on the amount of Coco peat needed and the available stock of coco peat.
During low stock periods you may need to wait for your order to arrive.