Treated Coco peat in Kenya from Aqua Hub Kenya. We are a reliable Coco peat supplier in Kenya. We deal in all coco peat types treated or untreated. Coco peat prices in Kenya by Aqua Hub Kenya is KES. 750 per block. Our Coco peat blocks for sale come in 5-6 kg.
What is Coco Peat?
Coco peat is an important growth medium that is more suitable for growing young plants, seedlings, and greenhouse plants. For instance, greenhouse provides favourable conditions for growth of plants hence weeds also develop faster.
Coco peat is less susceptible to growth of weeds because it has fewer nutrients and salts.
Available Coco peat types (Aqua Hub LTD)
Coco peat exists either in its natural form or treated form. Treated coco peat that has been washed and separated from salts, fibres, and husks.
Our Coco Peat is available in fine weighted dust or blocks of 5 kg.  Coco peat blocks are easier to transport and pack.
The aim of treating coco peat is to enhance healthy growth and germination of seeds. Besides, use of untreated coco peat causes a leaching effect on seeds and planted crops. It also affects the water retention and sprouting of shoots and root growth.
How is Coco Peat Treated?
Treating coco peat involves a simple step-by-step scientific procedure. It includes.
 Soaking coco peat in water to wet it. Place Coco peat block in water until it is fully submerged.
Adding Calcium nitrate or chlorine. Add calcium nitrate in a ratio 1:3 to that of coco peat weight. For example, if the block weighs 30 g, then 10 ml of calcium nitrate is enough.
Crushing the Coco peat block and stirring the mixture. Stir the mixture to enhance the distribution of calcium nitrate. The salts in coco peat reacts and dissolves in calcium nitrate leaving fine coco peat in the bottom of the container.
Handwashing the coco peat. Using gloves wash the coco peat thoroughly to remove dirt and fibres.
Pour out the water containing salt and calcium nitrate.
Dry Coco peat under the sun and place it in planting bags, seed trays or pots.
Coco Peat treated in Kenya by Aqua Hub Kenya (0790719020)
Coco peat blocks for sale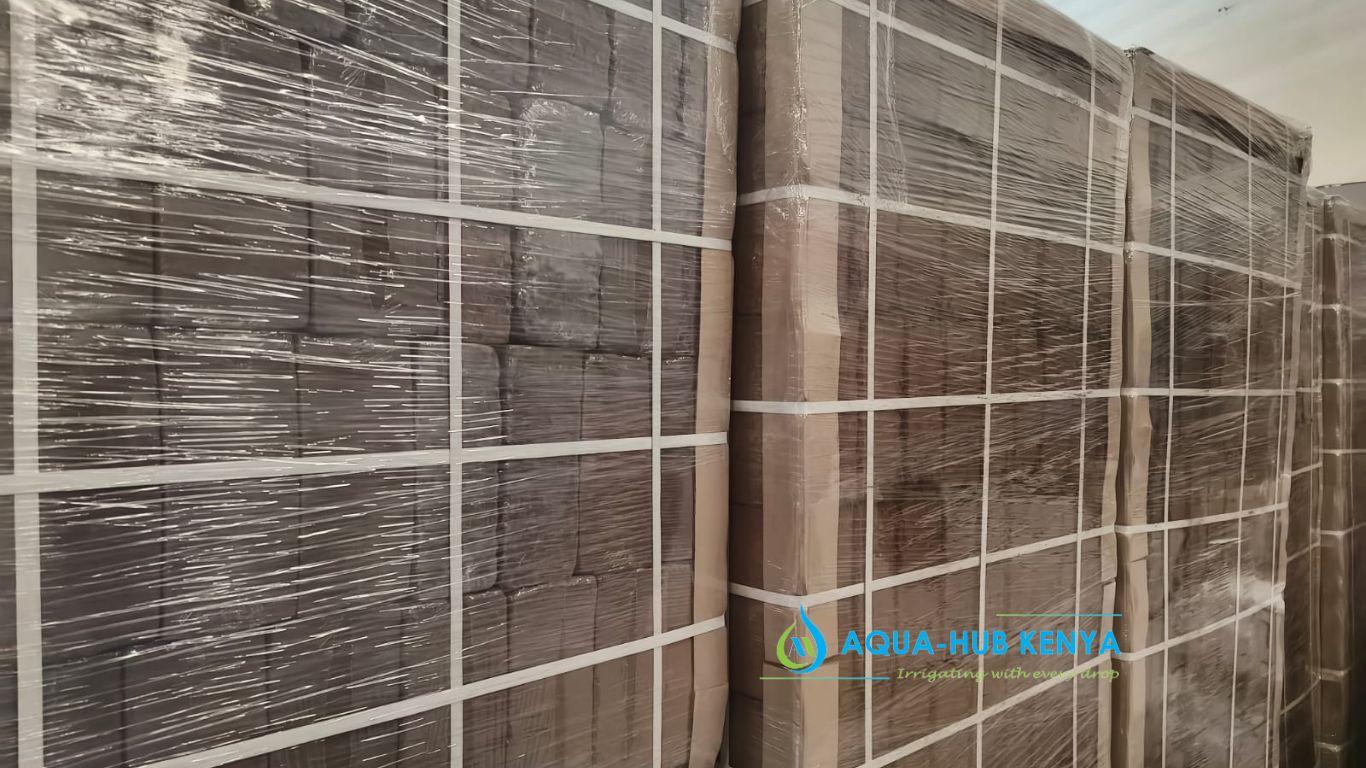 Treated Coco Peat Prices in Kenya
The cost of treated coco peat is higher than untreated or raw coco peat. Weight or size of Coco peat block determines the selling price of the product.
Treated Coco peat is KES. 150 per kg and untreated Coco peat is KES. 90 per kg.
We also have coco peat blocks retailing at KES. 750 per block.
We recommend that growers buy treated coco peat since most of them don't know how to treat it.
However, it is good to consult a supplier for the required coco peat to use on a crop, the right treatment, and availability.
Coco peat supplier in Kenya
Aqua Hub LTD will guide you through all the prospects, purchases and even delivery if need be.
Call 0790719020
You can also email us: info@aquahubkenya.co.ke.