Garlic farming in Kenya| onion farming in Kenya has become very popular due to its high return on investment owing to its demand and cost. The plant has medicinal value besides its use as spices in various meals.
Garlic has vitamins that boost the immune response of the body to prevent diseases such as flu and common cold.
Unlocking Success in Garlic Farming in Kenya
To achieve maximum income flow from garlic farming, a farmer needs proper knowledge, let alone preparation to start. Even with the necessary resources such as land, water, and proper irrigation, you must consult experts.
A bumper harvest of garlic bulbs will depend on the entire planning, steps, and the way you irrigate your garlic farms.
Moreover, there is a greater chance of producing a higher yield when you go for quality and certified garlic seeds.
You can grow garlic from portions of garlic bulb seeds often referred to as cloves.
Garlic Cloves (Seeds for Garlic Farming in Kenya)
Common garlic seed varieties that do well in Kenya are Creole, California Early, California Late, Roja and German Extra Hearty.
To get quality garlic seeds, you should visit reputable seed companies in Kenya. For example, Kenya Seed Company has extensive research on the most viable garlic seeds varieties to grow in Kenya.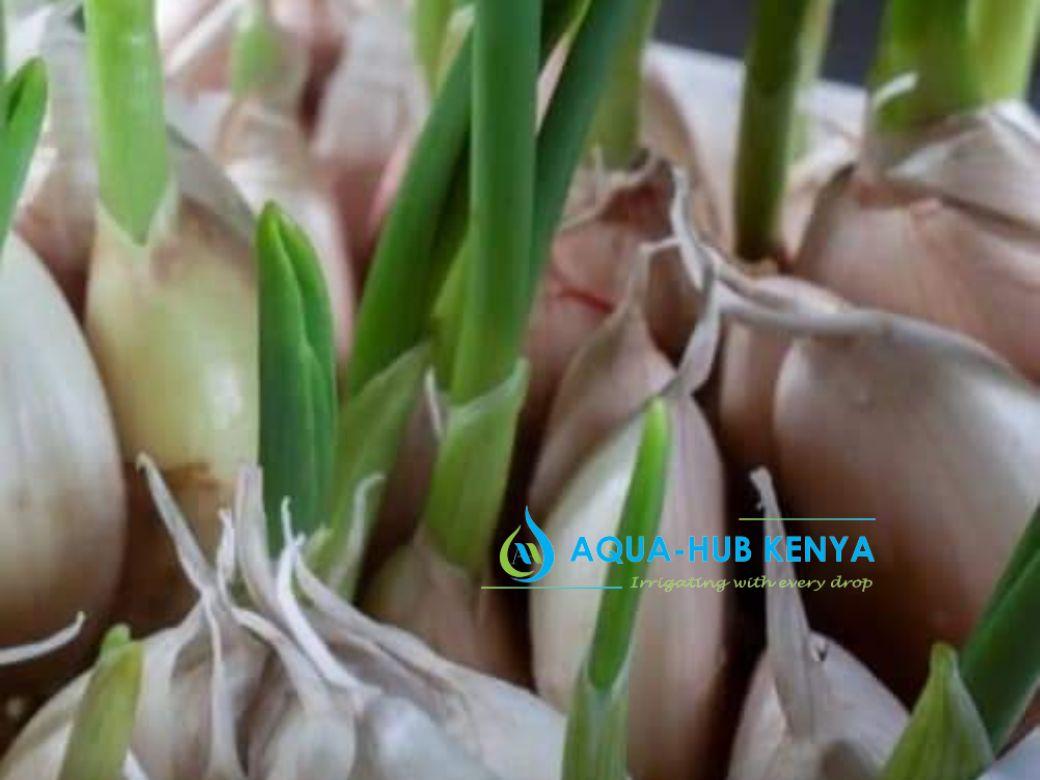 Conditions for Garlic onion farming in Kenya
Garlic Growing Conditions
Climate – Garlic plant grows well in a temperature range of 13°-26°.
Soil – Deep and well-drained fertile soils PH of 5.5-7.0
How to Prepare your farm for Garlic Farming
Garlic farms need to be well ploughed and soil soft enough to enhance faster germination of cloves and root development.
When you cultivate your land, soften your soils, and get rid of bushes, rocks, and sticks.
Make beds or farm sections to enhance ease of movement, weeding and general maintenance of your garlic plants.
Proper beds need to be raised at least one foot above the ground and spaced 1 meter apart.
Proper Spacing for Garlic Plants
The recommended spacing for garlic cloves is 20 or 30 cm, to ensure space for full bulb enlargement. Good spacing is convenient for nutrients, water, and sunlight availability to each garlic plant.
Planting holes of about 15-20 cm deep are good for a healthy-looking garlic plantation. This depth manages water reach on the ground depending on the drip kit you use.
Garlic Irrigation Farming in Kenya
Garlic cloves require sufficient water for growth and development of healthy leaves. Adequate water but ensure it is not excess to lower the chances of water logging of your garlic plants.
Ideal Irrigation System: Drip Irrigation System for Garlic Farming
Drip irrigation Kits in Kenya are better systems to water your garlic plants. Imagine all the benefits that can accrue from a garlic drip kit. A balance in moisture supply, soil warmth, nearby water supply when your crops need it.
It is also best to keep your garlic plants free from weeds and pests all the time. Some weed control methods are available, some effective while others less reliable. The advantage of drip kits in suppressing weed growth is their small wetting pattern. The area that encounters moisture is each garlic plant zone, all the other areas left dry.
Proper weed control
Weeding can be costly and entirely overwhelming as it takes time, posing the risk of digging out your garlic plants. Roots are also delicate; you can tamper with them. To avoid all these inconveniences, consider applying mulching covers to prevent weed growth on your garlic farm.
The paper covers the bare soil surfaces alone with modification that uncover individual garlic props.
Harvesting Garlic Plants in Kenya
The main factor of concern to adhere to when it comes to harvesting is the recommended harvesting period.
It normally takes about 5 months for garlic to mature fully into large bulbs.
During harvesting, uproot your garlic carefully to avoid the top dry leaves from cutting and bulb remaining under the soil. Remove the soil and cut roots and leaves near the bulb top. Leave them to dry outside for 1 or two days then pack them in bags. You can bundle them in packs of 5–6 bulbs per bag.
How do you know your bulbs are ready for harvest? Wilting and drying of leaves are a sign that garlic bulbs are mature. At this rate the uptake of water and photosynthesis has stopped.
Approximate Profit for 1 Acre of Garlic farming in Kenya
An acre of garlic farm can yield between 6–10 tonnes of garlic bulbs. The challenge is providing adequate water and good drainage growing soil. It is best to water using drip irrigation systems for better production.
Storage of Garlic
Observe a better storage condition for your harvested garlic bulbs, a suitable option for domestic and commercial drying.
Garlic drying, is it a necessary step? While harvesting, the moisture content can be high which is bad for storage. Garlic bulbs can be crushed and dried for better storage for future use as ingredients.
Aqua Hub Kenya, an agribusiness supplier of drip irrigation kits for ideal water supply for garlic farming in Kenya.
Look at our garlic drip kit prices below:
| | | | |
| --- | --- | --- | --- |
| Size/ Line per bed | 1 Line | 2 lines | 3 Lines |
| 1 acre | 75000 | 130000 | 160000 |
| 1/2 acre | 40000 | 61000 | 71000 |
| 1/4 acre | 28000 | 40000 | 50000 |
| 1/8 acre | 13000 | 23000 | 26000 |
Often, they fluctuate, but constant price determinant factors are your farm size, number of lines and spacing of emitters.
What we Do to Ensure Client's Success in Garlic onion Farming in Kenya
Aqua Hub ensures that you not only get quality garlic farming drip kits and mulching paper but also how to benefit from them.
We sell drip kits and variety of fittings at affordable prices to our clients all over the country. When it comes to installation, we recommend doing it for you to ensure proper connection and water supply.
Contact 0790719020