Pawpaw Farming in Kenya using Button Drippers
Pawpaw Farming in Kenya using Button Drippers is a venture that most farmers are shifting to due to its profitability.
Climate change has been an enormous challenge and has led to low rainfall, hence the need for irrigation in pawpaw farming.
Conditions for growth of Pawpaw Plants | Pawpaw Farming in Kenya using Button Drippers
The temperature of 21-33 degrees Celsius
Soil PH ranges from 6.0- 6.5.
 Light and well-drained soils
Propagation of Paw paws 
Pawpaw plants can be grown by planting seeds or through vegetative propagation of pawpaw tissues (grafting). Vegetative propagation is the best method since the plants acquire new quality traits such as resistance to diseases and a high rate of fruit production.
Transplanting of Paw paws
Seedlings are transplanted four weeks after germination. Prepare holes of dimension 60 by 60 cm and place them 3 meters apart. Mix the top layer of soil with manure and fertilizer and fill in the gaps for the varieties with female and male flowers on different plants, plant 3 in one hole.
Pawpaw irrigation using Button Drippers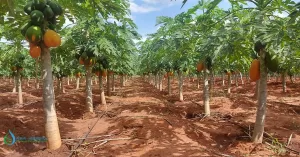 Button dripper irrigation is the most appropriate method to water pawpaw plants as it uses less water than other irrigation methods. The method meets the water requirement for the plant and does not affect the production level in humid areas.
Drip irrigation in pawpaw farming requires HDPE pipes, a water source (tank), and button drippers.
Cost of Button Drippers for Pawpaw Irrigation Farming in Kenya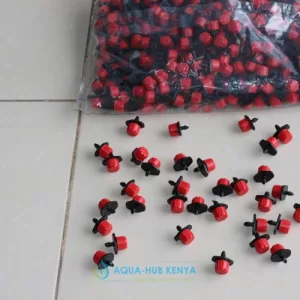 | | |
| --- | --- |
| Type | Cost |
| Adjustable | KES. 13 |
| Non-Adjustable | KES. 10 |
Button Dripper Irrigation Prices per acre in Kenya
Type of Irrigation Used cost in KES

Size of the Land

Drip Kits

Button Drippers

 Rain Hose Irrigation System 

1 acre
                              130,000
                          115,000
                                  100,000
1/2 acre
                                61,000
                            55,000
                                     50,000
1/4 acre
                                40,000
                            35,000
                                     33,000
1/8 acre
                                23,000
                            22,000
                                     20,000
Where are Button Drippers sold In Kenya?
Aqua Hub Kenya is the best dealer in quality and affordable button drippers.
If you need Button Drippers or installation of button drippers, visit our offices in Eldoret or Nairobi.
Visit our offices in Eldoret at JAMBONI, ANNEX, and NAIROBI at BENEDICTA UTAWALA along the Eastern Bypass.
We also install other irrigation systems, such as drip irrigation kits and sprinklers.
Other Products we sell include Shade nets, Dam liners, HDPE pipes, Sprinklers, and Greenhouses.
Call: 0790719020