We are a reputable supplier and manufacturer of a premium selection of commercial solar dryers. Our industrial solar dryers are used in East Africa to dry agricultural products. Commercial farmers in the area who sell dried foods to domestic and international markets have access to our solar dryers. The structural framework and cover of these dryers are made of food-grade materials.
They promote energy conservation, dry four to five times as quickly as open air draining, and are environmentally friendly. Our solar drying systems are a good value for highly perishable foods and an efficient method of food preservation. The designing of our low cost solar dryer is according to the product, location, and drying volume per session. Depending on the user's needs, this fixed or portable solar dryer for fruits and vegetables can be either passive or active.
What are solar dryers?
Solar dryers are artificial agricultural product dryers that use the sun's energy. Natural solar dryers are a type of technology applicable in Kenya to dry produce for later use when there is an abundance of it. In Kenya, fish, potatoes, vegetables, fruits, cereals, and meat are all dried using solar dryers. They use less energy, are safe for the environment, and dry produce much more quickly. If adopted, the drying technology will significantly reduce Africa's food shortages.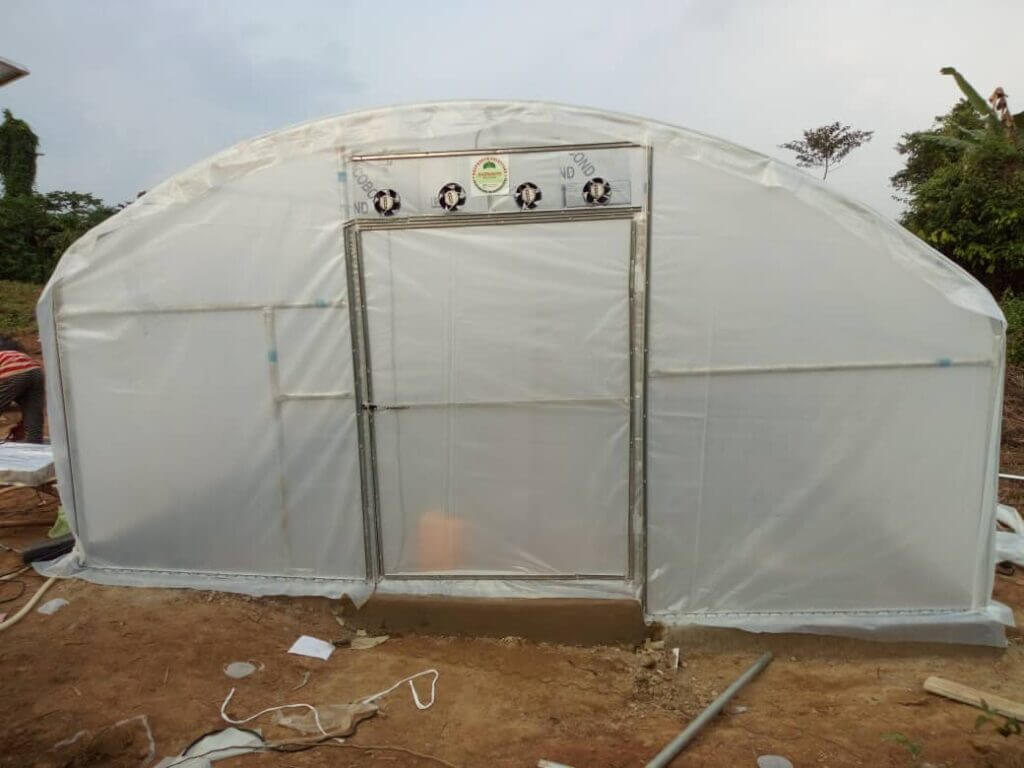 We use sunlight in our natural solar drying system to warm the air that dries the food product inside of it. It is a simple way to increase the value of food crops and meat, which helps to reduce wastage of surplus agricultural production. Open air drying is fraught with difficulties, including the UV's impact on food quality, rodent and insect pest susceptibility, and dirt contamination.
What are the benefits of a solar dryer?
Because it is warmer inside the dryer than outside, drying happens more quickly.
Decreased risk of spoiling as a result of rapid drying. (The fruit starts to ferment if the drying process is sluggish, spoiling the product.)
We shield the item from bugs, vermin, rain, and dust.
It saves on labor. The drying of the item may be overnight or during a downpour.
The product has improved nutritive, hygienic, and aesthetic qualities.
What are the available commercial solar dryers?
Both active/forced circulation and passive/natural circulation solar dryers are created by Aqua Hub Limited. In contrast to active dryers, passive solar dryers require no extra mechanical input. A biomass heating unit, solar-powered exhaust and extraction fans, and synchronizers are examples of additional mechanical inputs. Compared to passive drying, they increase drying time by 30% to 100%. Attached biomass heating units enable drying at night or on overcast or wet days.
Again, wooden or metallic sun dryers are available for agricultural products. The most popular sun dryers in Kenya are made of metal. They are long-lasting since they are constructed of galvanized steel. The cover is constructed from 200 micron-thick sheets of translucent, UV-treated greenhouse polythene. For drying fruits, meat, fish, and vegetables, it has shelves. The level of the shelves may vary depending on how much has to be dried.

What are the features and components of commercial solar dryers?
UV-treated transparent polythene paper that is light.
Heavy geomembrane with UV treatment.
Galvanized steel bars made of zinc or food-grade aluminum.
Thick gauge netting with UV protection.
What are the prices of solar dryers in Kenya?
| | | | |
| --- | --- | --- | --- |
| Solar Dryer Dimensions | No. of Shelves | Metallic Cost in Ksh. | Wooden Cost in Ksh. |
| 1.5 m x 1.5 m x 1m | 3 | 80,000 | 49,000 |
| 2 m x 2 m x 1.5 m | 3 | 100,000 | 58,000 |
| 3 m x 2 m x 2 m | 3 | 110,000 | 67,000 |
Where to find commercial solar dryers
Our solar dryers are accessible at our Nairobi and Eldoret branches. We install all around the nation. All you have to do is contact us at NAIROBI: 0790719020 | ELDORET: 0759372241. Our technical and agronomy experts provide assistance and advice to farmers on crop value addition. We design dryers based on crop and desired output quality.