Aqua hub is one of the leading greenhouse company in Eldoret. We provide metallic and wooden greenhouses in a variety of sizes and forms. Wooden greenhouses have an A-frame design, whereas metallic greenhouses have a tunnel shape. Our greenhouses are of high-quality, long-lasting frames that reach a height of 4.5 meters at the apex. We design greenhouses to fit certain climatic conditions. In warmer climates, we cover greenhouse structures with nets to enable ventilation. In cold climates, we cover the majority of the surface with polythene to aid in heat retention. Aqua hub's greenhouse polythene lasts for 6 years and comes with a 3-year manufacturer warranty. We utilize three layers of polythene in our covering to aid with heat retention. They are Antidrip, air pocket, and UV protection to endure the harshest sunlight.
About Greenhouse Construction in Eldoret
Greenhouses are one of the oldest and most dependable methods of growing and maintaining plants throughout the seasons. They help plants thrive by trapping sunlight and heat energy. Maintaining a moist, humid environment, regardless of how windy, cold, dry, or otherwise unpleasant the weather is outside. Many commercial greenhouses have heaters and coolers, allowing them to grow plants almost year-round in any climate. Individually, greenhouses may be desirable in a residential setting to allow you to grow and maintain vegetables, flowers, and other plants in your yard on a small scale. These are typically small greenhouses that are pre-fabricated and relatively simple to install.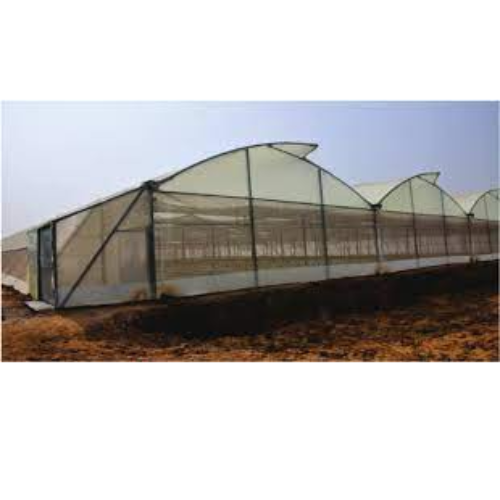 If someone, on the other hand, requires far larger greenhouses. These can be pre-fabricated pieces or completely custom-designed to meet the demands of the individual, farm, or business that wants them erected. They frequently include numerous exotic features that may not be in basic domestic greenhouses, like as complex built-in hydroponics, sprinklers, electronic climate controls, and similar, depending on the climate and intended usage.
Why greenhouse farming in Eldoret
Kenya, in particular, has a warm and humid environment throughout the year, with temperatures ranging from 15 to 40 degrees Celsius. Various sections of the nation, particularly Eldoret, have different levels of this. Plants such as flowers, tomatoes, capsicum, coriander, collards, and cucumber do not thrive in this environment. This necessitates changes in order for them to thrive. As a result, many farmers in Eldoret need to resolve to greenhouse farming, which provides a more regulated environment.
Weather unpredictability is one of the most difficult aspects of growing open-air plants. Farmers will suffer losses due to a lack of rain at critical times in the plant's life cycle. Greenhouses combat this by employing drip irrigation, an alternative farming technique that we will examine as the second technology. For a good portion of the year, 40 percent of Kenya's regions are dry, which poses a significant challenge to outdoor farming. Farmers then choose greenhouses equipped with drip irrigation systems.
Greenhouses increase production by ensuring that plants harvesting are for the course of their maturity rather than just a few weeks as is the case with open-air farming. A greenhouse may earn up to ksh 400,000 in a single season, making it a very successful investment.
The threat of pests and illnesses is another motivation for greenhouse farming. Aphids, white flies, moths, spiders, and a variety of other insects are widespread in Kenyan habitats. These insects are harmful to the plants' health, resulting in low yields and poor quality. To avoid this, farmers resort to greenhouse farming, which keeps pests at bay and management is easy.
Why choose Aqua Hub as The Greenhouse Company in Eldoret
In Kenya, we design and build specialized greenhouses for both non-food and food crops. Flowers like roses, carnations, and chrysanthemums, as well as herbs like geraniums, mint, basil, rosemary, and lemongrass, grow in our non-food greenhouses in Kenya.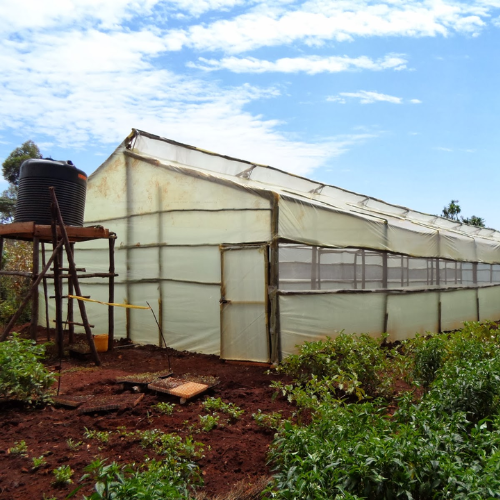 Self-pollinating crops like greenhouse indeterminate tomato, peppers, and cucumbers, as well as insect-pollinated crops like strawberries, are grown in our food crop greenhouse. These are high-value crops that require constant monitoring and protection against pests including hail, drought, pests, disease, storms, and cold. Aside from crop kind, we build our greenhouses to fit certain climatic zones.
Greenhouse Installation process
Site inspection prior to greenhouse construction
A pre-greenhouse survey is necessary to determine the following: water availability, soil type, installation site, windbreaker availability, and property history.
Greenhouse Soil analysis.
We do two types of soil tests for our growers at Aqua hub. Pathological and nutritional analyses are included in this test. A farmer should undertake a soil test to determine the fertilizer regime and soil-borne pathogen accessible in order to get the most out of their greenhouse investments.
Installation of the greenhouse.
We process and deliver on the third day after receiving a client's order. We install according to the client's preferences. Our greenhouses come in a variety of sizes and pricing. Depending on the size and conditions, installation might take anywhere from 3 to 7 days.
Production.
Production is determined by the stage to which a farmer wishes us to progress. Follow-up visits and training are included with the majority of our greenhouses. We offer good agronomic guidance and continuous monitoring to our farmers till harvest. We provide nursery kits, soil-specific fertilizers, and chemicals.